In this article I'm answering the frequently asked question: "which trekking bicycle should I buy?" I'll also explain the differences between trekking, and hybrid bicycles, and explain what to look (out) for when shopping.
This is not a "10 best trekking bikes to buy in year 20xx" article. This is what I answer when friends and acquaintances ask me for advice. I'm putting it "on paper" to save myself the time – so I can just provide a link. 🙂 My goal is to help and educate – not to sell bikes.
Related to this topic: how to ask for bicycle buying advice/help?
Table Of Contents (TOC):

1. Introduction
The article is long because I think it's best to explain everything. Then, you can see for yourself, based on your taste, wishes and priorities, what's the best option for you. After all, who knows that better than you?
Another consideration is that not all bicycle models are available in all sizes everywhere. So if a particular model I recommend is not available, this article explains what to look for, and what to pay attention to, when looking at what is available in your local bicycle shops (or the Internet, if you are buying a bicycle online).
I've already explained most of the very basic stuff in a lot shorter article. To better understand this article, it's probably a good idea to read that one first, it's called: "Which bicycle to buy?"
If you are wondering whether to save some money by buying a used bicycle, here's my new vs used bicycle buying article.
If you are in a rush, you can go to the table of contents (TOC), then "jump" straight to the part where I recommend specific bicycles.
Everything I wrote here is based on my knowledge, education and experience. Different people have different experiences, hence often different opinions.
If it helps, here's a full list of my bicycle buying guides:

2. What is a trekking bicycle?
Trekking bicycles are somewhere between the mountain bicycles (MTB), city, and road bicycles. Like a city bike that is a bit more "sporty," a bit more convenient for riding on hiking trails ("light off road riding").
They usually come with flat bars, unlike the curved, road bicycle drop bars.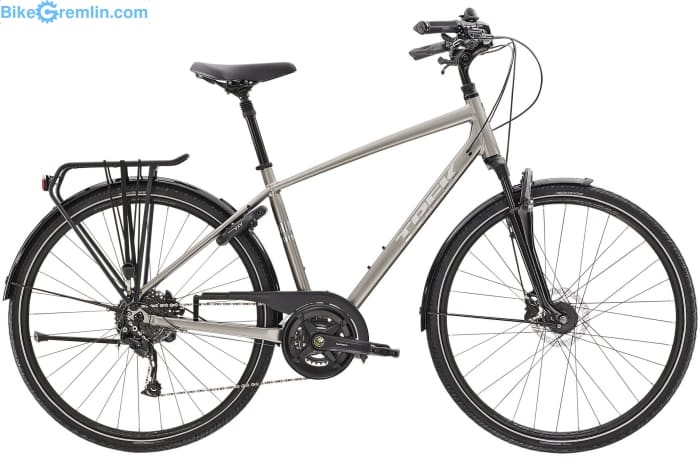 2.1. The difference between trekking and hybrid bicycles
While researching the market for writing this article, I've noticed that many bicycle manufacturers place trekking and hybrid bicycles into the same category. Sometimes the category is called "comfort," or "city," or "hybrid," and 100 other different names. I saw trekking bikes in practically every category except "MTB," and "road bicycles." 🙂
Let's compare a typical hybrid bicycle (picture 2), with a typical trekking bicycle (picture 1):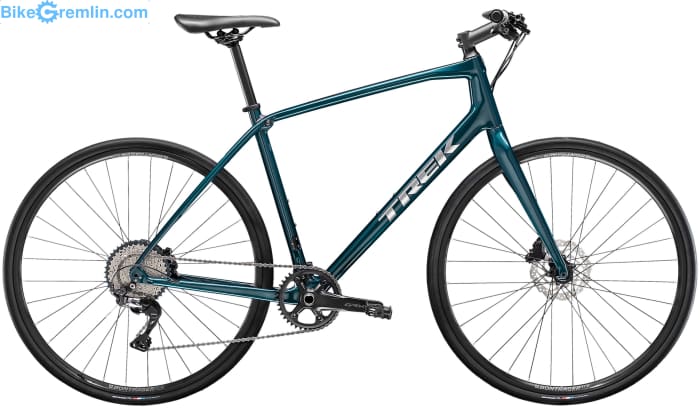 Can you notice the differences? Generally speaking:
Hybrid bicycles are like road bicycles with flat handlebars.
Hybrids are a bit more sport-riding oriented.
They usually have harder ("faster") gearing, road bike components (cranks, derailleurs, brakes) and are lightweight.
Trekking bicycles are like more sporty city bikes. Somewhere between a city bike, an MTB, and a road bike.
Trekking bikes are a bit more commuting, and leisure riding oriented.
These bikes usually have easier ("slower") gearing, more MTB components (derailleurs, brakes), and often come with a suspension fork.
There are a million variants in between. Like lighter trekking bikes with a rigid fork, and without any mudguards, or rear luggage rack.
That's probably the reason why trekking and hybrid bicycles are often sold under the same category. They overlap to a great degree.
In this buying guide, we'll define a trekking bicycle using the following two conditions that must be satisfied:
There's enough tyre clearance for mounting 37 mm wide tyres, with mudguards.
There are mudguard and rear rack mounts.
Everything else that looks like a trekking, or a hybrid bicycle, will be considered a hybrid, with buying recommendations in a separate article.

2.2. Who is a trekking bicycle for?
Do you want one bicycle to serve you for both commuting, and for weekend leisure rides, either on paved roads or on forest trails (with no extreme jumping over the bumps – for more details see: do I need an MTB)?
In that case, you could consider a trekking bicycle. It's comfortable for city riding and has low enough gearing to tackle long, steep climbs, and light off-road riding.

3. Modern patents – pros and cons
In my complete road bicycle buying guide, I dedicated the entire 2nd chapter to modern cycling industry patents that aren't always helpful (or safe).
In the mountain bike buying guide, I devoted a part of the 4th chapter to disc brakes and suspension (shock absorbers), explaining their pros and cons.
When you are buying a new bicycle, a vast majority of the models have many of the "novelties" discussed in those two articles. Here I'll just briefly discuss a few most relevant ones when it comes to trekking bicycles:

3.1. Disc brakes (vs rim brakes)
Disc brakes are getting hard to avoid on any new bicycle – regardless of the bicycle type.
If you ride in deep mud, or freezing temperatures, disc brakes will probably work a lot better than rim brakes (like V-brakes). If not, rim brakes do the job quite well.
Compared to rim brakes, main disc brake downsides are:
For more details, see my article on Disc brake pros and cons, then decide whether they are a good option for you.

3.2. Shock absorbers
Shock absorbers, like disc brakes, are becoming unavoidable. Road bicycles (and fat bikes) are the only types of bikes resisting this trend (for now).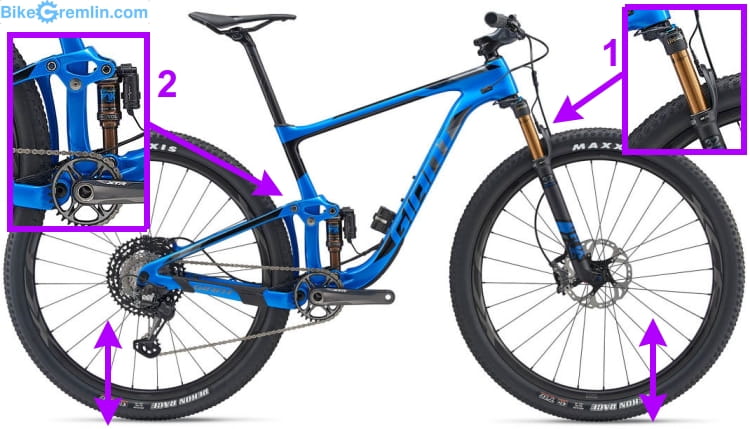 High-quality shock absorbers can improve tyre traction, increase comfort, and even make the bike go faster, on very bumpy terrain. But all this comes at a cost:
Good quality shock absorber prices start from 200 $.
They add a lot of weight (compared to rigid frames and forks).
They are complicated (and expensive) to service.
At that, cheap, poor quality suspension is more of a detriment, than help – in every way!
One whole article on this website is dedicated to the pros and cons of bicycle suspension (shock absorbers).
You can read it, and decide for yourself whether you want a bicycle with suspension.

3.3. Quill stems
Low-end (cheaper) trekking bicycles sometimes come with a quill stem. I've explained in a separate article why quill stems are unsafe, and why the modern "a-head" stems (and threadless forks) are a lot better choice.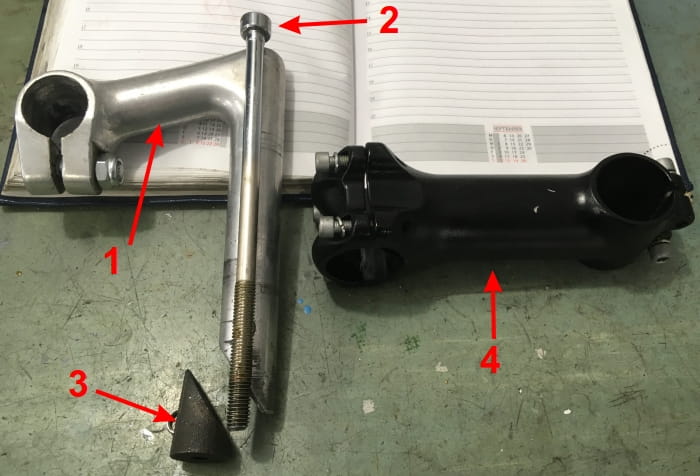 I've also made a video explaining the quill-stem downsides:
My advice is: avoid quill stems.

3.4. Other potentially problematic patents
OK, I've "hit the high points" as the Americans say. To find out about the other patents that could make your life easier, or more difficult (depending on your priorities, budget etc.), see these links:

4. Additional equipment
By additional equipment, I mean mudguards (fenders), luggage racks, lights, kick-stands etc. – all the stuff that makes your life easier if you are using the bicycle for commuting (to work, or school), or touring.
Unlike hybrid bicycles (in the narrower sense of that word), trekking bikes can be equipped with all these extras. Let's see about the pros and cons of these extras.

4.1. Mudguards (fenders)
In my city, when you ride through a puddle, it often contains more than just water – like byproducts of vehicles and various mammals. 🙂
In addition to keeping you dry from all the road spray, and keeping your clothes clean (some splashes aren't easy to wash off), mudguards also protect the bicycle's drivetrain (chain and chainrings), lower headset bearing, and rim brake pivots from getting extra dirt and water splashes – prolonging their life.
For riding in densely populated cities (with many cyclists), on wet pavement (even if it's not raining at the time), cyclists behind you will appreciate if you have mudguards – unless you are by far the fastest cyclist on the block. 🙂
What about mudguard downsides?
They cost – good quality ones are about 50 $.
Added weight and wind drag – noticeable at speeds over 30 km/h (20 mp/h).
One thing that can get bent, rub against the tyre etc.
High-quality mudguards like SKS Longboards (Amazon affiliate link) have a safety release system allowing them to break off in case something gets stuck between the mudguard and the wheel (like a branch).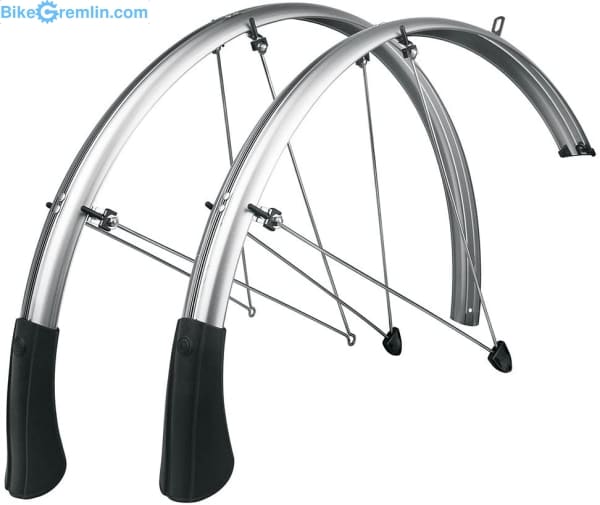 For more sports riding, and riding off-road, mudguards are more of a nuisance, than help. For commuting, and using a bicycle for transport, mudguards are fantastic.

4.2. (Rear) luggage rack
The downside of having a rear rack is some added weight. But if you are ever hauling anything on a bicycle, it is very welcome. If you carry the weight on you, like in a backpack, you will feel less comfortable, your back will sweat more, and the extra weight pushing you onto the saddle makes the saddle less comfortable.
Good quality rack lets you mount a backpack and panniers on the bicycle.
My favourite model is Topeak Uni Super Tourist DX (Amazon affiliate link).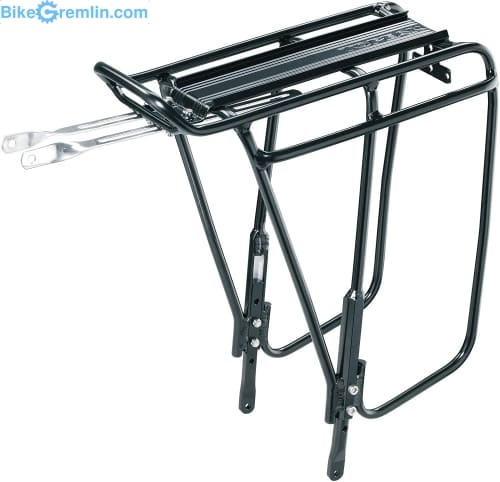 It's also made in the version for bikes with disc brakes.
I have an older model with a spring – too bad Topeak no longer make those.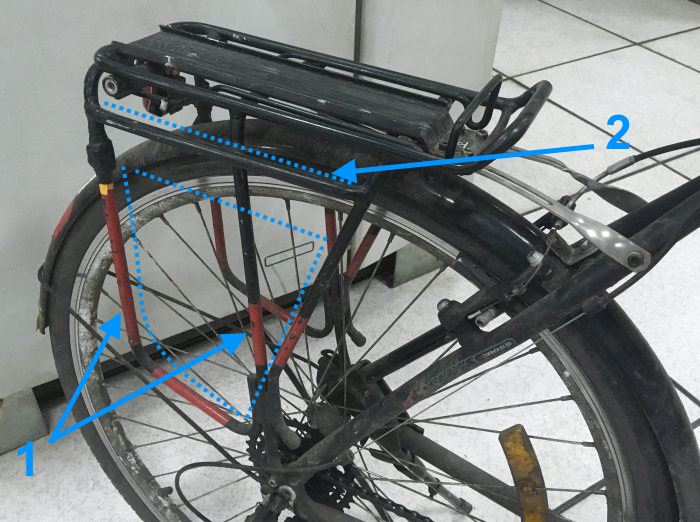 4.3. Kick-stand
Sometimes it's very convenient if your bike can stand on its own. Whether you are in a place where the owners don't like even the minimal risks of marks on the walls, or you are trying to un/load anything on the bicycle's rack.
Kick-stand does add some extra weight, yet for all but the super-light, super-fast bikes, or really aggressive off-road riding, I think it's a great addition.
There are several different types, I should devote a separate article to them, but I've had very good results with models that are mounted on the bicycle's rear triangle.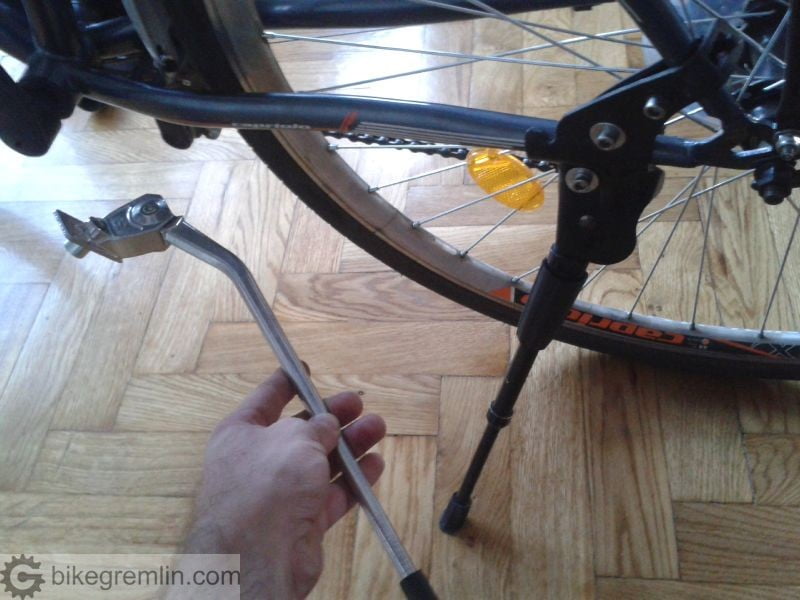 Here's what a decent-quality kick-stand looks like (Amazon affiliate link):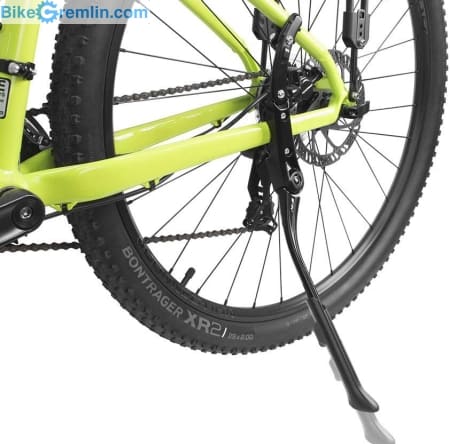 4.4. Dynamo front hub
Front dynamo hubs generate electricity for good, strong lights, without creating much drag. Germans love building trekking bikes with dynamo hubs and LED lights: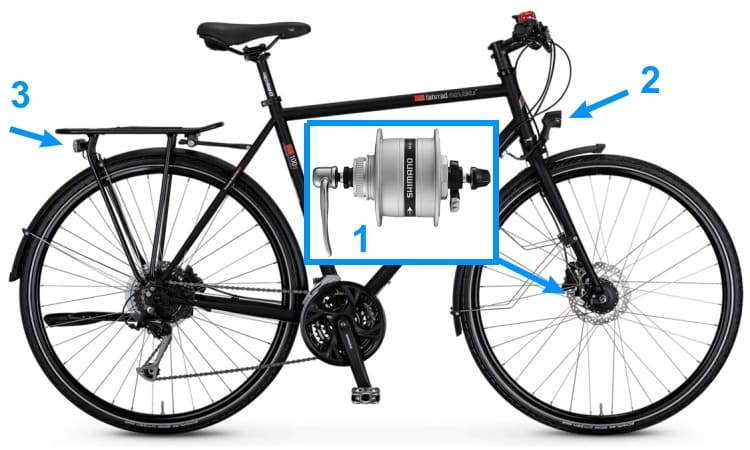 The main disadvantage of dynamo hubs is their weight.
But dynamo hubs offer a lot of advantages:
Lights are bolted onto the frame, hence less likely to be stolen – compared to most battery-run lights that are easily detached.
No worries about re-charging the batteries.
You can use strong lights, without hauling heavy high-capacity batteries (or risking a short battery life).
I've explained in a separate article why lights are necessary on a bicycle. You will be "caught" by the dark sooner, or later. Don't take needless risks.
Shimano dynamo hubs are decently sealed from water or dirt intrusion, last a long time, don't create much drag, and generally work well. High-end Shimano dynamo hub (Amazon affiliate link):

4.5. Do I really need all that?
Do you really need all this extra equipment? It depends.
I've tried to explain all the pros and cons, so you can decide for yourself. In my opinion, generally speaking:
If you aren't going for the absolute minimum weight (and drag) at all costs, dynamo hubs with LED lights are super-practical.
Rear rack – the only downside is its extra weight. How often do you haul stuff?
Mudguards – for commuting they are a really good idea. For sport and off-road riding, not so much.
Kick-stand – if you pack stuff on your bicycle, or use it for commuting, a kick-stand will make your life easier.

5. Bicycle size (i.e. frame size)
When buying a bicycle, it is of crucial importance to get the bike's size, that is the bike's frame size, right. If a bike is too small, or too large for you, you'll never be really comfortable on it.
Manufacturers provide a list of rider heights (in cm, or feet & inches) that fit a given frame size. For example, here's the sizing chart for the Giant Fathom 29 1 – XC MTB: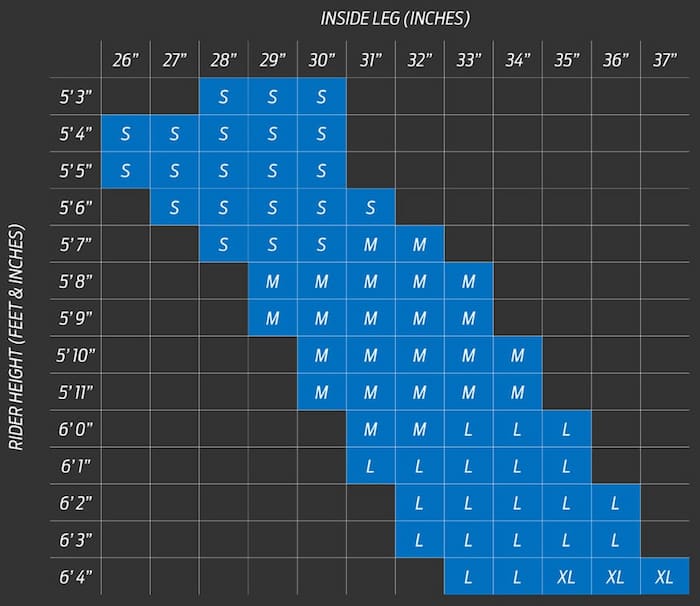 If you need it: on-line feet & inch to cm converter (give me the metric system, or give me death! 🙂 ).
As you can see from the pic, a 5'7″ cyclist, with a 30″ inside leg, can choose either S, or M sized frame. The choice boils down to personal preference (some people prefer smaller frames). But such a rider should not choose an L sized frame – it will be too big, and won't fit.
Some sellers only state the seat tube length – in inches, or centimetres. In the article on how to choose a correct bicycle frame size, I've explained why such numbers are useless without the manufacturer's sizing charts. Here, I'll just put a picture explaining the problem: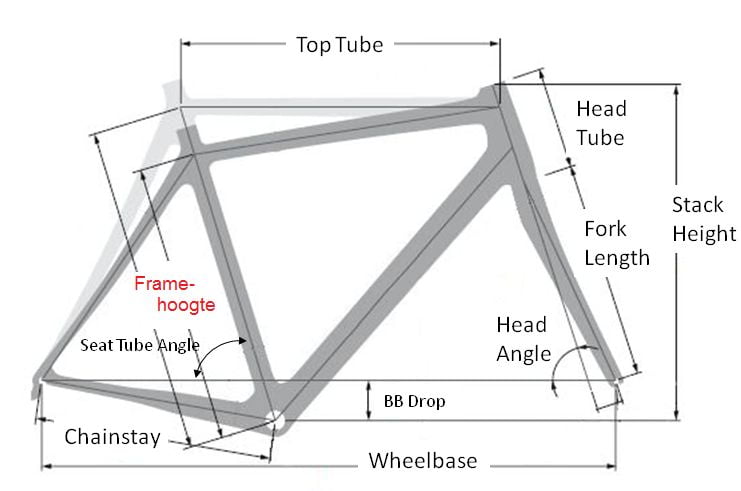 So, if someone tells you: "you should get an 18-inch frame," know that the person may not know what they are talking about.
Such statements only make sense when they are referring to a particular frame (bicycle) model. For example:
"For the Giant XTC ADVANCED SL 29, you need a 17-inch seat tube length" (which is the M size frame for that particular model).

6. Trekking bicycle for up to 500 $
My first pick in this price range is Trek FX 1 (link to Trek's website).
Price: around 500 $.
Aluminium frame and fork, threadless (a-head). The bottom bracket is threaded, British standard.

3 front chainrings, with 7 in the rear, give a huge gearing range (for the steep climbs, and fast descends), at an affordable price.

The rear derailleur is Shimano Altus.
Tektro V-brakes – OK quality.
This bike is sold in a version with a lower top-tube, for easier mounting and dismounting – called "FX1 Stagger" (Trek website link):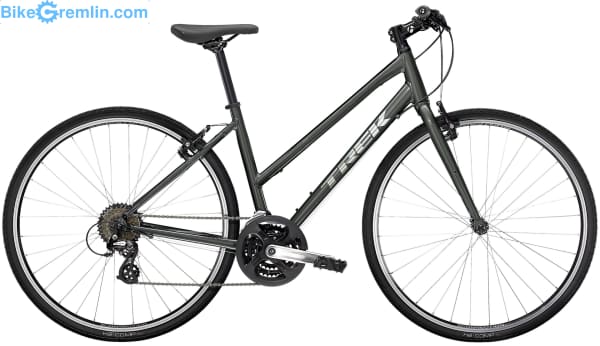 My comment:
Trek FX 1 comes with no additional equipment, but the frame has rack and mudguard mounts. If you replace the front hub with a dynamo hub, you could also mount dynamo LED lights.
I think it offers a good platform for customizations per your liking. My main complaints:
V-brakes could use some pad holders with replaceable pads. Like these Kool Stop V-brake pads (Amazon affiliate link).
The rear hub is a freewheel one. Heavier riders could benefit from a stronger freehub system, and 36 spokes instead of the factory 32. This calls for replacing the rear wheel, and cassette.
Freewheel vs freehub hub strength explained.
I like that, especially at this price range, they didn't go with any disc brakes or suspension. It would have made the bike heavier and probably less reliable (or a lot more expensive, if they went with the good quality parts). Externally routed cables and housing, along with simple equipment, make maintenance, easy, fast and cheap.
Shifters and derailleurs are lower class, but work OK with only 7 rear, and 3 front chainrings.
This bicycle is the lowest border of acceptable quality and affordable price. Beyond this, we are entering the range of low-quality suspension forks (that often do more harm than good), and low-to-just-acceptable quality disc brakes. Ranging all the way to about 1,000 $.
Only after we reach roughly double this price range can we find bikes that could perform noticeably better, but with higher maintenance costs of the more complicated, more expensive equipment.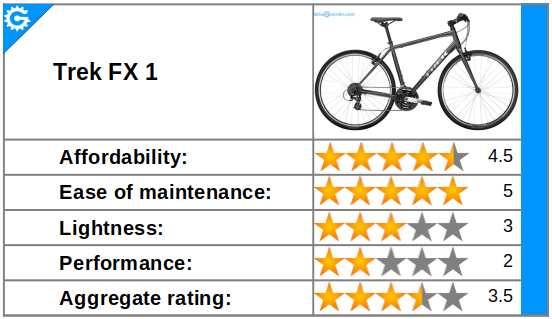 FX 1 is not the only such bike in this price range, just pay attention: many manufacturers put quill stems, and cut even more costs on brakes and derailleurs & shifters, in this trekking bicycle price range.

7. Trekking bicycle for up to 1000 $
In this price range, I still couldn't find a bicycle with good quality suspension. But I did find a bicycle that is a bit lighter, and with a higher quality of components, compared to the above discussed Trek FX 1. The bike is Trek FX 3 Disc (link to Trek's website). No, this article isn't sponsored by Trek. 🙂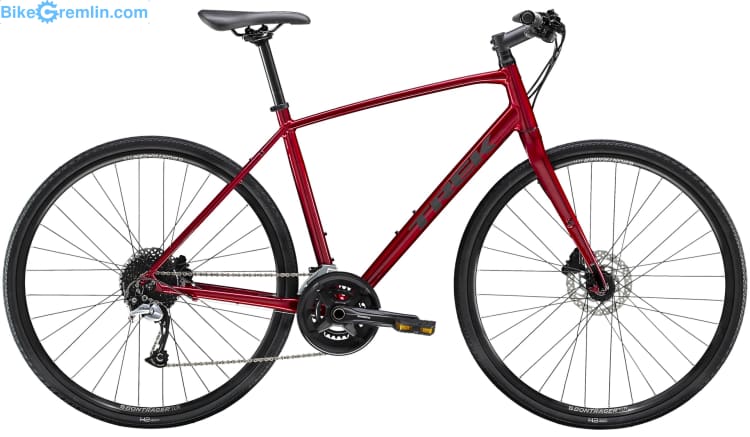 Price: under 1,000 $.
Aluminium frame, carbon-fiber fork (with all the pros and cons of carbon-fiber), threadless (a-head). Internally routed cables – no getting away from that today, unfortunately, as soon as you exit the lowest bicycle price range.
Cranks are with 2 chainrings, with 46, and 30 teeth – a very reasonable chainring combination for recreational cycling.
S, and M sized bikes come with 170 mm long cranks, while the larger-sized bikes come with 175 mm long cranks. Neat. 🙂
9 rear chainrings.
Shimano Acera (front) and Alivio (rear) derailleurs.
Shimano Altus hydraulic disc brakes. Disks are mounted with 6 bolts, they aren't centerlock (centerlock vs 6-bolt discs – video explanation).
My comment:
This bicycle comes with great quality equipment, except for the brakes, which aren't bad, but I wouldn't call them excellent. Good choice of cranks (front chainrings).
9 sprockets at the back are neither here, nor there. I wish they put either 8 (for more robustness and lower price), or 10 (for more gear choices between the slowest and the fastest).
An aluminium fork (instead of a carbon-fiber one), and V-brakes (instead of the disc brakes) would have kept the bicycle's weight about where it is, but with a lot lower price, and more robustness – important if the bike is used for commuting, and parked with other bikes.
This bike is not for riders heavier than 120 kg (270 pounds). Make that 220 if you carry luggage, add mudguards, good bicycle lock, rack etc.
This bike looks nice, it goes rather fast, brakes well, and allows you to mount any extras you like (mudguards, luggage rack etc.).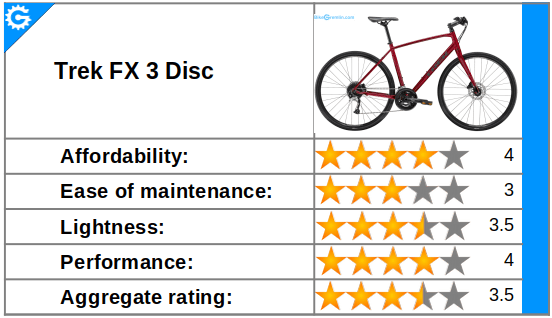 8. Fully equipped trekking bicycles
By fully equipped I mean dynamo hub, lights, mudguards, rack, and a kickstand (with their pros and cons explained in the 4th chapter). The first candidate is Cube Touring EXC (link to Cube's website).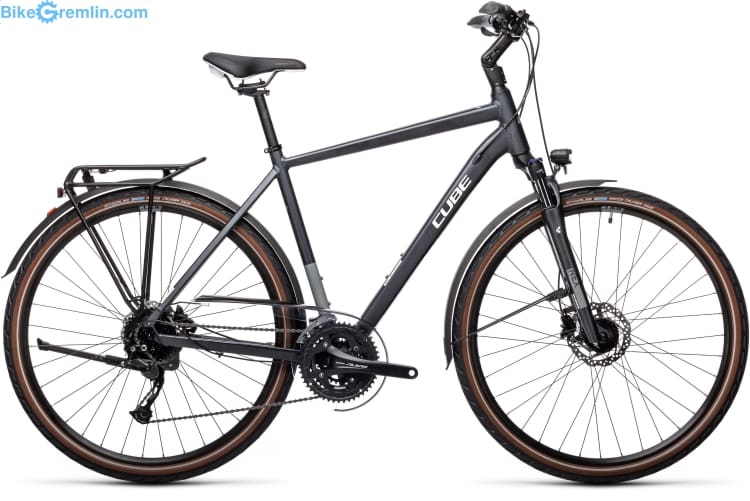 Price: around 1,500 $.
High-quality aluminium frame, with internally routed cables (which has its pros and cons).
Cheap and not very high-quality suspension fork (SR Suntour NEX HLO).
Cranks are with 3 chainrings, combined with 9 rear chainrings, give a wide gearing range for any occasion, from the steepest climbs to downhills, even with cargo.
Shimano Acera (front) and Alivio (rear) derailleurs.
Shimano Altus hydraulic disc brakes, with centerlock discs.
All the additional equipment: mudguards, chainguard, luggage rack, kick-stand, dynamo hub and lights.
Strong wheels with double-walled aluminium rims and 36 spokes.
It comes with the angled top-tube version, called Cube Touring EXC Trapeze (Cube website link).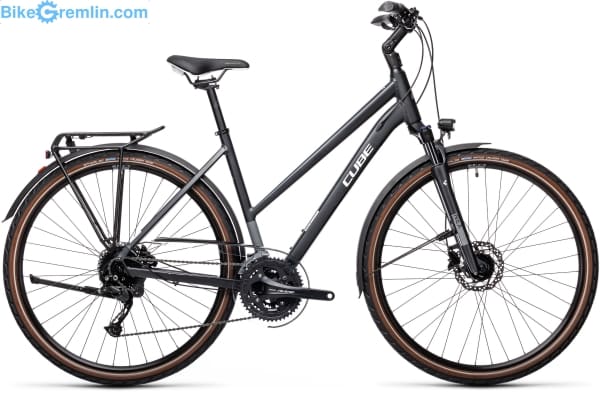 My comment:
With the exception of the low-end suspension fork, all the equipment on this bike is of high quality. All this equipment makes it rather heavy – around 17 kg (37 pounds). This bicycle is built for comfort, not speed.
Hydraulic disc brakes and internally routed cables make this bike a bit more complicated (and expensive) for maintenance. Personally, I'd rather invest more money into making the above discussed Trek FX 1 equipped with a dynamo hub and lights, better brakes and stronger rear wheel, than buy a bike like this. However, if you are looking for an out-of-the-box bicycle that is comfortable and with good-quality equipment, you won't easily find anything better than this for the price.
Note that the rear rack uses mudguard as one of its anchors, and the frame doesn't seem to have the standard rear rack mounts. If you plan or need to replace it, you'd be limited to Cube's proprietary mudguards and racks, or have to improvise using a rack like this or separate mounts that look like this rack (Amazon affiliate link).
For a bit less money, it's worth considering Cube Travel (link to Cube's website).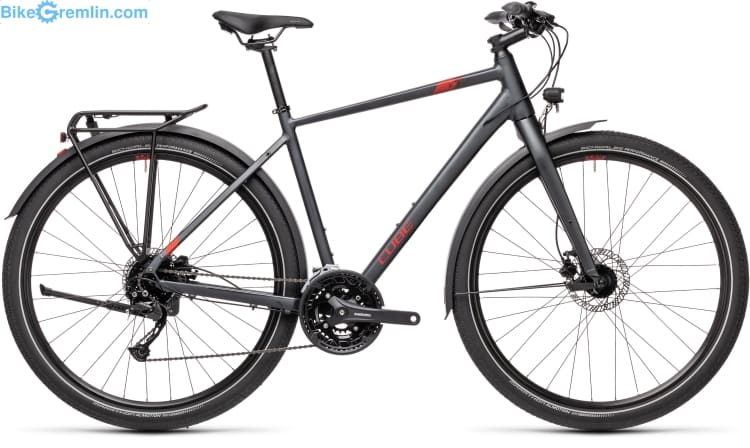 This bike is very much like the above discussed Touring EXC, except it has a light, rigid fork (so it's about 2 kg / 4 pounds lighter), but a bit poorer Tektro HD-M275 hydraulic brakes and 6-bolt mounted discs.

9. Upper-mid range trekking bicycle
Cube, again. I expect at least one bike for all this advertising! 🙂 Cube Nature EXC Allroad (link to Cube's website).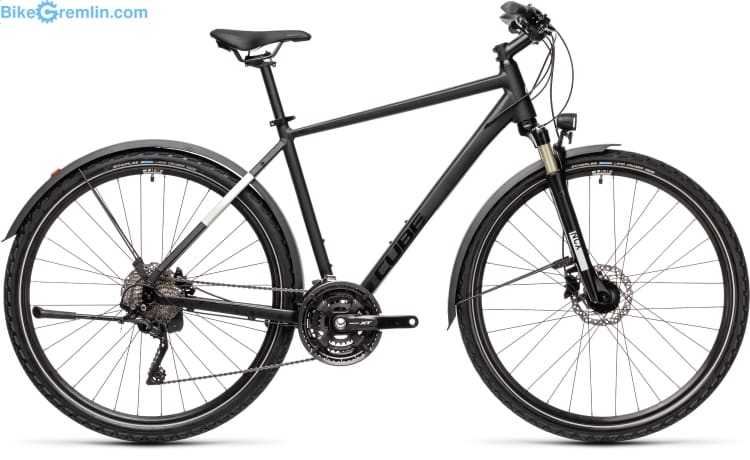 Price: around 2,200 $.
High-quality aluminium frame, with internally routed cables (which has its pros and cons).
Decent-quality suspension fork (SR Suntour NCX E RL Air).
Cranks are with 3 chainrings. Combined with 10 rear chainrings, you are provided with a very wide gearing range, with many gears to choose in between the fastest and the slowest one.
Shimano Deore (front) and XT (rear) derailleurs.
Shimano Altus hydraulic disc brakes, with centerlock discs.
All the additional equipment, except for the rear luggage rack: mudguards, chainguard, kick-stand, dynamo hub and lights.
Double-walled aluminium rims, but only 32 spokes per wheel.
My comment:
This bike has a decent suspension fork. The next most important thing, brakes, is the same as with the above discussed Cube Touring EXC, which costs 700 $ less, and has more spokes on its wheels!
To be blunt: this is a good bike. It will shift well, brake well and get you where you want to go. It's not perfect, but for the given price range (around 2,000 $), it's the best, or the least bad (glass half-full, or half-empty 🙂 ).
Most other models (by Cube, or other manufacturers) are less well balanced, and make less sense for the trekking bicycle's intended use: commuting, and weekend rides on paved roads and mountain trails (i.e. light off-road riding).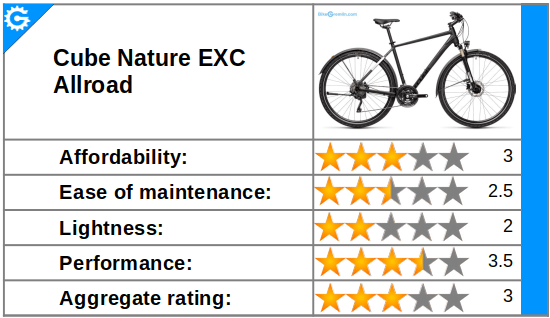 10. Conclusion
I hope you've already figured out the pattern: for every price doubling, manufacturers give you very slight improvements.
You don't need you most likely won't notice any difference between a Shimano XT, and an Acera rear derailleur on a bicycle designed for paved roads, and light off-road riding.
This is not any particular manufacturer's fault. The market and marketing are dictating the terms. When people pay a lot of money, they like and want to see high-end decals written on their shifters and derailleurs. Who's counting spokes, checking out the hubs, or the brakes ("as long as they are hydraulic discs" is what average Joe figures)?! Don't get me started on the "joys" of replacing hoses and housing that are internally routed…
My trekking bicycle, which I use for commuting, weekend rides, hauling groceries and small kids is mostly like Trek FX 1. Only with high-quality parts that I've added over the years (starting with good quality brakes, hubs and spokes). It's robust and rides well. Such a bike, made of all the new parts bought for today's prices would cost under 2.000 $. It's ugly, but rides great and is very cheap to maintain – friction shifters, 7-speed cassette, etc. – there's nothing to get broken, and any spare parts are dirt-cheap.
Sure, I built mine with 2nd hand (used) parts, but even if I had paid for all the new parts, this bike has saved me a lot of money over the past decade, because it's very cheap to keep running. Both in terms of time, and costs. Of course, no one sane would give that kind of money today, for a bike that looks like this: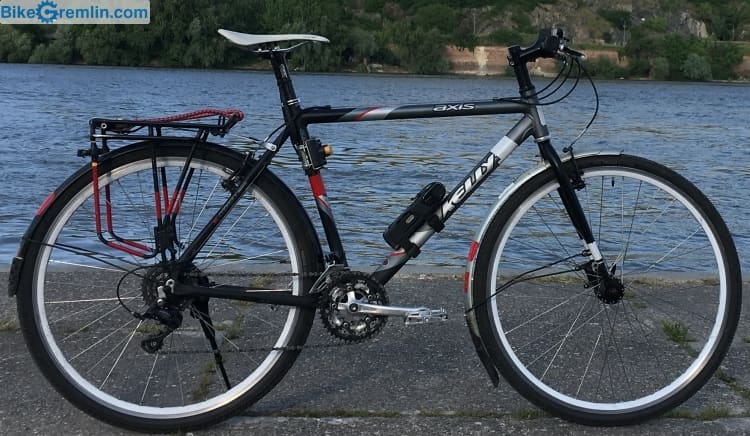 That's why no one builds bikes like that today, and we have to choose from what's available, or custom-build a bike (which is more expensive – when you are buying each part separately).