You want to buy a new (or a used) bicycle and wish to get some advice on which model is best for you? In this article, I'll explain what you can do to help experts and experienced cyclists give you some good advice – i.e. how to help us help you. 🙂
In a separate article, I explained how to ask for bicycle repair and tuning advice?
Table Of Contents (T.O.C.):

1. WHERE to post a question – introduction
YouTube often blocks comments, especially if they contain links (to bikes, or to images).
So the best place to ask for advice is either BikeGremlin's Q&A section or bikeforums.net (link to that forum) and other forums. A problem we often face is the lack of information. What do I mean by that?
An introduction note: there are at least ten different types of bicycles. In addition to that, we all have different tastes, needs and priorities. In order to get useful bike-shopping advice, you must explain the things that are important to you – and this article will help you "translate" that into the "cyclist" language. 🙂
Before we start, you could do a quick test/query to determine the best bicycle type for your needs.

2. The needed INFORMATION
Your privacy is important. However, for giving any useful bike-shopping advice, some info is still necessary.
This website and most forums allow you to post anonymously (using a nickname of your choice).
Here's a list of the four important pieces of information you should try to provide:

2.1. Your height
A cyclist's height is important in order to recommend an optimal bicycle frame size. Some bicycle models are sold in a relatively narrow frame size range.
The rider's height can also help to choose the optimal wheel size. Very short riders are often better served with smaller wheeled bikes, while very tall ones shouldn't go below 622 mm (also called 28″ or 29″ wheels – see bicycle tyre dimension standards for an explanation).

2.2. Bicycle's intended use
It's not the same if you are looking for a bicycle for commuting, as it is if you are looking for a bike for riding over rocks and through the mud in the mountains.
Yes, most bikes are quite versatile, but it's best if your bike matches your riding style and conditions.

2.3. Type of bike you prefer
In spite of what I wrote above about the intended use, if you prefer a certain bicycle type (like an MTB, or a road bike), please let us know.
Yes, we'll probably let you know that, for example, a road bike is not ideal for riding in the mud, but if you insist on getting a road bike, at least we'll try to recommend a more "off-road worthy" road bike model.
Similar goes if you prefer to not have a horizontal top tube (i.e. you're looking for a "women's bicycle"), you like certain colours etc.
Let us know what you deem to be important, otherwise we can't know and won't take that into consideration when giving you advice. Just bear in mind that too many specific and/or exotic criteria can exclude many, otherwise very good, bikes.
If you are considering a particular model (or several models), please post a link to the bike(s) you are asking about (preferably from a manufacturer's website). Manufacturers often change components they "pack" on a particular model and no one can memorize all that, so unlike with cars, just the make and a model don't cut it – so a link to the particular bike with its specifications (derailleur model, brakes etc.) helps a lot.
How to add pictures in comments/posts on websites/forums
Bikeforums.net won't allow you to post any links or pictures until you have at least 10 posts there – for spam prevention reasons, but here's how to work around that restriction.

2.4. Budget – and will you consider buying a used bike?
If you're buying a car and have only $1,000 to spend, that drastically narrows your options – to only quite old, used cars. The same principle goes for buying a bicycle.
Another caveat is that used (second hand) bikes in good condition can often be a great choice. With some patience and luck, you could get a high-end bicycle in great condition for up to 50% lower price compared to a new bicycle. However, buying a used bicycle can be risky if you don't know what to check, so you risk buying a lemon.
With all this in mind, please let us know:
What is your budget?
Will you consider buying a used bicycle?

2.5. Country/state where you are shopping
The Internet is global, but bicycle transport is still relatively expensive. Hence, model availability differs from country to country. Likewise, ordering a bicycle from abroad can end up costing a lot more.
If you are willing to order a bicycle from abroad (without a pre-purchase test-ride), please state that.
If not, please state which country you are from, so any recommendations could be relevant for you.

3. IMPORTANT notes
Regardless of whether you ask for advice on this website or on some forum, please take the following four things into consideration:

3.1. Use the website/forum search
Many questions related to bicycle shopping, especially on forums, have already been answered. Questions like: "Commuting bicycle for under $400," or "A new MTB for under $800" etc.
Most forums have a decent search option, and here's how to use BikeGremlin's search: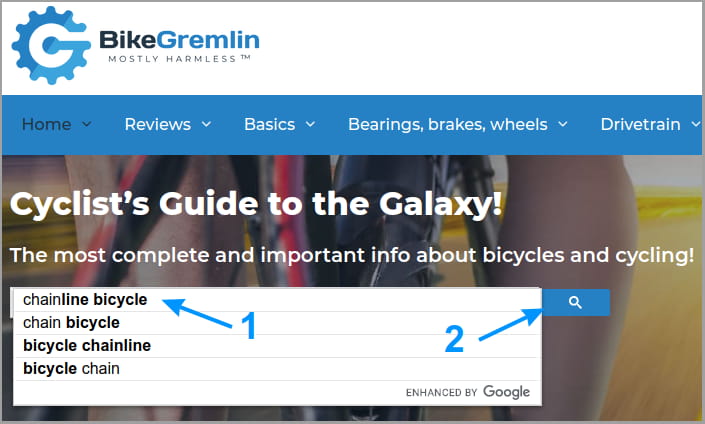 You can also check out my bicycle buying guides – sorted by bicycle type:

3.2. It's not a chat or customer support
If you want advice that experts give of their own free will, in their own free time, for free, please be patient. It is quite normal to wait for a few days, or even a week to get a high-quality, helpful reply.
As far as I'm concerned, from March through August, I get dozens of bike-shopping advice questions each day. During that period, I really can't promise to provide any useful responses in a remotely reasonable time. I suggest you find a local cycling-related forum for help.
For the very urgent, or very personalized help/advice, I offer a paid consulting service.
The following two notes are related to using forums:

3.3. Choose the appropriate forum section
Most cycling-related forums have separate sections for road bicycles, mountain bicycles etc. Some even have a separate section for buying tips and help.
It helps a lot to start on the right foot – by posting in the proper forum section.

3.4. HELP?!? – forum topic title
Unless you need an ambulance (and haven't got a phone), please don't use ALL CAPITAL LETTERS for your topic's title, or use only the word "Help" or similar.
Name your topic so that it's clear what it's about. Here are a few well-written forum topic title examples:
"MTB 29er for up to $500"
"Hybrid, touring, or trekking bike for long tours and mild off-road?"
"Bicycle for commuting for under $400"
Here's how NOT to do it:
"Buying help"
– Congratulations, you've probably got the right forum section and that's probably what it's called.
"Which bicycle to buy?"
– Variation on the theme above.
"Noob needs help"
– Most questions are asked for this reason, but we can't have all the topics with the same name, for easier later search.
"Urgent!!!" or "HELP!"
– Unless you need urgent medical help and aren't able to use a phone, please don't give us a scare. Thanks in advance.

4. Conclusion
The goal of this article is to help you get expert advice faster and better – and to help the experts provide useful advice by receiving all the needed information.
To wrap this up, I'll recommend that you don't spend too much time and energy looking for "the perfect bike." For a start, it's important to just go cycling – and things will clear up along the way. No matter how hard you try, it's usually only the second or third bike that is just right – because only you, with experience, will see what exactly works best for you. Others can only help steer you in the right direction.