Should you buy a bicycle on Amazon, or another on-line shop – what are the pros and cons? And how to find a good bicycle on Amazon? I won't provide any concrete shopping recommendations in this particular article. Just discussing the Amazon, and other on-line bike shopping options.
Table Of Contents (T.O.C.):

1. Introduction
A good friend asked me a few months ago: "Which bicycle should I buy, can I see that on your website?"
Well… no. Not at the time. So I had to go on and give a recommendation "live." Planning to write some concrete recommendations when I find the time. Of course, for explaining why I'm weary of cheap carbon-fiber frames and forks, and to address the fear of aluminium frames "lasting just five years" (I hear that a lot), I sat down to write the article called Bicycle frame materials – explained. Of course, completely understanding that topic requires some basic knowledge on frame design, which is why I first wrote and published: Bicycle frame design explained.
With that out of the way, I was ready to recommend some particular bike models. So I went to Amazon, to see what's being sold nowadays.
Digression:
I already explained in detail why I link to products from Amazon. Briefly put: it's a highly reputable "shop" (with a very good buyer protection) that ships practically world-wide, since I don't know where any website visitor comes from.
Anyway, I went to Amazon, looking for road, MTB, and city bicycles that I'd recommend… only to be a bit unpleasantly surprised, which is the reason for writing this article. I'll first discuss the cons, before discussing the pros of on-line bike shopping, with an emphasis on Amazon.
If it helps, here's a list of my bicycle buying guides:

2. The cons of buying a bicycle on Amazon
Here's a list of stuff I don't like when looking for a bicycle on Amazon, though the same goes for many other on-line shops:

2.1. Search and sorting is lacking in functionality
I wanted to find road bicycles on Amazon. See the prices, see what's offered. That's where I hit the first wall. Search was not very helpful in narrowing the choices down. An example is shown in picture 1 below, and here's a link to test for yourself (Amazon affiliate, of course 🙂 ). Just try to sort the prices from "low to high."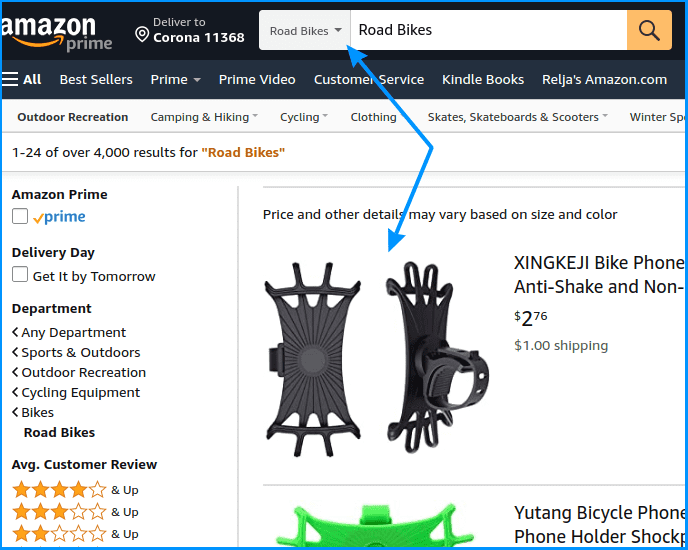 OK, I may not be the brightest guy on Earth, maybe I'm doing something wrong? It's possible, but after some trial and error, and some Googling, I still found their filtering and search options to be very limited, to put it mildly. See how the Germans on bike24.com (link to test by yourself) do it: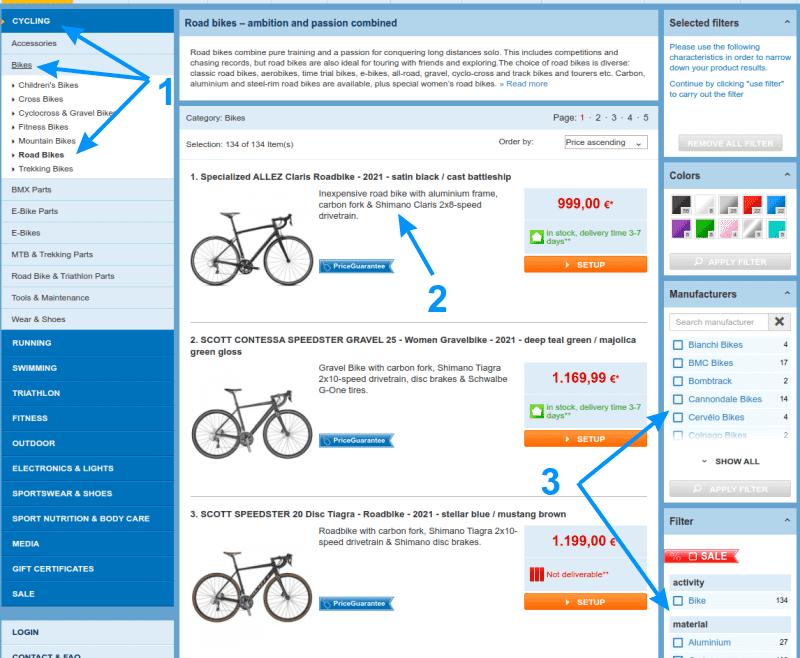 That's how it's done! Clear, simple, efficient. The only problem with Bike24 is they don't ship bicycles outside the EU apparently – Amazon is a lot more "world-wide" in those terms.
Digression 2:
Amazon is a huge market-place, selling all kinds of stuff. I understand it's very difficult to enforce such pedantic product descriptions as the specialized bicycle web-shops often have. Yet, understanding this doesn't help me see their road bike selection and pick the best available option.
Now let's get on with the other problems I've faced.

2.2. No detailed product descriptions
Case in point – Tommaso Forcella Endurance Aluminum Road Bike (Amazon affiliate link) product description, in its entirety: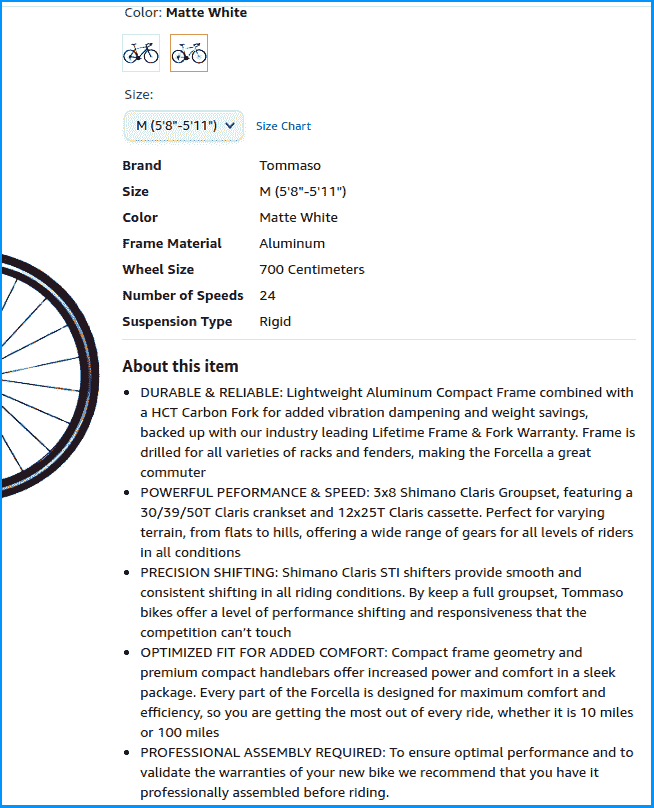 For a comparison, here's just a (snipped) part of a bicycle description on Bike24, for Specialized ALLEZ Claris Roadbike – 2021 (link to the info on their website):
Sorry for the huge images, but I wanted to demonstrate the basic idea, even if the links get changed, broken (happens sometimes on websites).

2.3. Expected extra costs
Can you assemble a bicycle that is "half-assembled?" Quotation marks are because there is a more-less standard way of pre-assembling bikes for shipping, that usually means most of the bearings are set, but bars and pedals need to be mounted, and brakes and shifters need to be tuned (my YouTube demo of shifter & derailleur tuning).

Do you have all the tools and knowledge? If not – how much does a bicycle assembly cost at your local bicycle shop?

When buying a bicycle in local shops, assembly and tuning is usually included in the price. This is important to consider when comparing prices, but there's another catch:
What happens in case of any warranty claims? Where do you ship the bicycle for a warranty claim, and how do you organize that? Amazon has very good buyer protection, I'm not arguing that – just considering the technicalities: disassembling the bars & pedals, and finding a large enough box for shipping (unless you saved the original one, or the seller has a more convenient warranty policy – many do, but many don't).
This goes generally for any on-line bike store, not just Amazon.

2.4. No fitting and test riding
This one is probably obvious, but worth mentioning. Do you know exactly what size of bike fits you? Local bicycle shops worth their salt offer educated advice on the recommended frame size, offer some basic riding position fitting, and some even offer a test ride.
When buying on-line, most of this goes out of the window, for obvious reasons. Some frame and bicycle manufacturers offer sizing charts. That's very useful, but not everyone provides those. When it comes to test rides and fitting by the seller – that's still practically impossible to provide for on-line shopping.
Again, this is an unavoidable problem with buying a bicycle anywhere on-line.
The way some people solve this is by testing a bicycle at a local bicycle shop, then ordering it on-line (similar goes for any cycling clothes, helmets etc.). I personally find this unethical: taking LBS hard-working personnel's time and taking advantage of their expertise, with a clear intention of buying the product somewhere else. This "extra-time" is paid for by the other, I'd call them "honest customers," and calculated in the service and product prices.
Similar, what I'd call "abuse," happens to on-line stores. Customers not trying to get at least some info on what they are buying, then asking for a return, with a full refund. The seller being left to cover the shipping, and handling costs. Same goes for requesting a refund, or a discount for a shipment being late, even when the seller can't reasonably be expected to control the entire delivery chain. All of this as well is paid for by the other customers (i.e. it's included in the price).
It's nicer when people are being fair and reasonable – goes both for sellers, and the buyers.

2.5. Lack of seller's advice
On-line stores sometimes have some decently written guides, articles, and descriptions (a great example of that by Amazon – affiliate link), but it's usually better to talk to a real expert, live. Bicycle shop people are often knowledgeable and able to offer advice on what kind of bicycle to buy for your intended use (link to my fully automated attempt at that 🙂 ).
Yes, some (many?) will try the "up-sale" trick – i.e. talking you into buying a lot more expensive stuff than is optimal for your needs, but not everyone does that. While I worked at a local bike-shop, none of my colleagues, or I ever did such things, nor was that ever encouraged by the owner. I only recommend paying more in case that offers more savings in the long run (more durable), or is a lot more suitable choice for the intended use (better fit, ergonomics, or performance – for the use cases where that objectively matters).

3. The pros of buying a bicycle on-line, or on Amazon
To quote an outstanding economics teacher: "The reality isn't black, or white… it's gray." With all the bad sides of shopping on-line, there are a few good points. What are those?

3.1. Speed and convenience
This goes for most on-line shops, not just Amazon: sometimes, for some people, it's a lot simpler to do the shopping from an armchair, and have a bicycle delivered to the doorstep – or straight to their local bicycle shop (if they can make such an arrangement). For example, I'm very passionate about bicycles, but hate most kinds of shopping. Doing it from a computer (especially if there's a good search & sort option) is a lot less tiring – for me at least.
It takes a lot less time to see the products in 100 different shops, in different countries even, when doing it on-line, than it takes to walk around two, or three local shops and look at the products. Sure, you need to wait for the shipping to arrive, but that waiting isn't something that takes away from your spare time.
In addition to this: some people simply don't enjoy talking to sales-people (even the truly professional, non-pushy ones).

3.2. Information and price-comparison
While you are at a computer, it's very easy to Google for product reviews, and also to compare the prices at several different shops. True: modern smartphones allow you to do this anywhere, even while you are viewing products at brick-and-mortar stores, but it's easier when done from home, at one's leisure.
This is especially good if you know exactly what you are looking for: brand, model, and frame-size.

3.3. Buyer protection
This is where Amazon shines – though there are many on-line shops that are very good at it too. You are practically guaranteed to get your money back in case of any problems that could even remotely be attributed to the seller – whether it's a faulty product, or a misguiding product description.
Digression 3:
Amazon prime (affiliate link – with a 30-day free-trial) offers special benefits like discounts, free delivery, faster shipping, shipping on a prearranged week-day, and, most importantly: All or Nothing: Tottenham Hotspur documentary series, for all the fellow Jose Mourinho fans! 🙂

4. Conclusion – and my personal opinion
All the above listed pros and cons are quite objective. However, you are the one deciding how much each of those matters – to you. Depending on your particular situation, priorities, and preferences.
The bottom line: there's nothing inherently wrong with buying a bicycle either on-line (even on Amazon 🙂 ), or at a local, brick-and-mortar bike shop. It all depends on your particular situation.
My personal opinion is that local bicycle shops should be supported and kept in business, because they provide an important service, especially when malfunctions, or other problems occur. I shop on-line only when the goods aren't available locally.
Note – that's just my point of view and opinion. Not claiming that I'm right, nor that it's what everyone should do. I just felt the need to sort of "get this out of the way" before recommending any bicycles for riding on road (road bike buying guide), off-road (MTB buying guide), or grocery shopping. 🙂
Of course I will link to on-line shops when talking about particular bicycle models. If those shops offer affiliate programs, I'll definitely be using affiliate links (and if you buy using those links, you'll be supporting my work). But I still love seeing local bicycle shops thriving. Often stopping buy for a coffee (since no one is allowed to have a beer at work nowadays 🙂 ) and chat (when it's not hectic, peak-season rush). Having said that, as far as I'm concerned: it's OK to shop on-line too – whatever works best for you (after weighing all the pros and cons) is good.