If you are wondering what bicycle size to buy for your kid, this article may help you.
Table Of Contents (T.O.C.):

1. Introduction and older kids 🙂
For bicycles for grownups, manufacturers usually provide a chart with recommended frame size for a given rider height (for every model they are offering). Depending on the bicycle model (and whether it is a bike "for women"), the smallest frame size offered is for riders that are 150, or even 160 cm high (over 5 feet imperial).
For kids that are still too young for these charts to be useful, I will explain below how to pick the right bicycle size.
The charts usually look like this: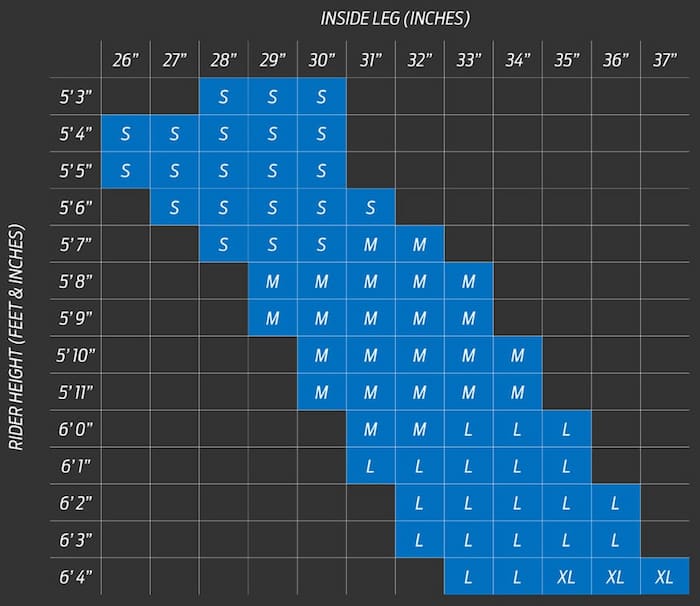 Note:
Many bike sellers will give the seat tube length info. That information is practically useless today. I've explained here why seat tube length is imprecise (and what effective top-tube length is).
So, if your child is tall enough that you can find a suitable model for grownups, just stick to the manufacturer's sizing charts and you're good.

2. Bicycle size for smaller children
For smaller kids, there usually aren't different frame sizes of the same model. With small kids' bikes, the bike size is determined by the wheel size. Bikes with smaller wheels have matching smaller frames, while bikes with larger wheels have larger frames.
Bicycle wheel size is usually expressed in inches (though that is often misleading – for details see: bicycle tyre and wheel size standards explained). Here's a list of recommended kids' bike wheel sizes depending on the child's age and height:
Child's
age
Child's
height
Recommended
wheel size
2 – 3 years old
80 – 100 cm
2′ 8″ – 3′ 4″
12″
203 mm ISO ETRTO
3 – 4 years old
95 – 110 cm
3′ 1″ – 3′ 7″
14″
254 mm ISO ETRTO
4 – 5 years old
105 – 125 cm
3′ 6″ – 4′ 1″
16″
305 mm ISO ETRTO
5 – 8 years old
120 – 135 cm
4′ – 4′ 5″
20″
406 mm ISO ETRTO
8 – 10 years old
130 – 145 cm
4′ 4″ – 4′ 9″
24″
507 mm ISO ETRTO
10+ years old
140+ cm
4′ 7″ +
26″
559 mm ISO ETRTO
Table 1

Note 1/2
The table is just a rough guide. Depending on how tall the child is, the child's riding experience and motor skills, you may go with a larger size sooner. Likewise, it's not the end of the world if the kid rides a bike that is a "half size smaller" than optimal.
Similar goes if your child is in between two bike sizes. If the child is brave and confident (experienced with cycling), they will handle a larger bike. You must judge this by yourself and decide.
My first bike when I was 3 years old had 16″ wheels, the next was my father's 20″ city bike, and only at the age of 13 did I buy my first 26″ wheel MTB – and my brothers and sisters, and my son, went through similar "size mismatches" without any problems.
You can buy used bikes, and kids can inherit bikes that are too small for their older sisters and brothers.
I did not include 10″ wheel balance bikes – they can be suitable for small children below 2 full years of age if they can't fit comfortably on a 12″ wheel balance bike.
Starting with the 20″ wheel size, it is easier to find bikes with gears – which is good for riding on hilly terrain.
"Relja, you senile man, you forgot the 18-inch sized wheels?!?"
I personally don't see the point of that wheel (and bike) size. Based on my experience, even 14″ size is questionable. You can easily go from 12″ over 16″ straight to 20″ (and after that straight to 26″).
Most bicycles offer a wide range of saddle and handlebar height adjustments to make it needless to buy every size in between as the child grows. Also, the tyre selection for 14″ and 18″ sized wheels is pretty thin in my country at least (it's a hassle finding spares).
Note 2/2
Here-given recommendations refer to bicycles made and sold as "for children." There are bicycles with 20″ or 26″ wheels with frame sizes designed for people that are 6 feet tall. When that is the case, the manufacturer usually notes which frame size is suitable for which range of rider heights.

3. The first bicycle (if the child doesn't know how to ride)
If the child is small enough for a balance bike (small bike without pedals, usually with 10″, 12″ or 14″ wheels), that's the best way to quickly learn how to ride all on its own.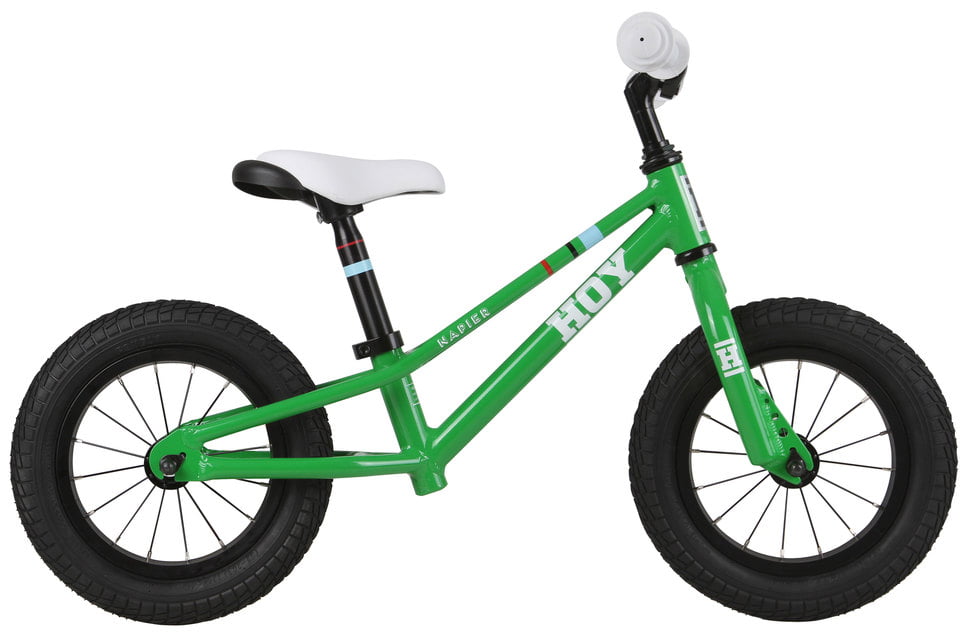 If the child is too big for such bikes, you can take a "normal" bike that is small enough for the child to put their whole foot down (flat) while seated in the saddle. Remove the pedals and let the child ride by pushing the bike from the saddle, and learn how to keep balance.
Very often, on the very first afternoon, you can mount one pedal back, and let the child start by pushing on the pedal. After some more practice (again, often on the same day or the next), you can mount both pedals and let the child ride. 🙂
I wrote a separate article about why training wheels are harmful (and why you should never mount them).
It goes without saying that you should keep an eye on your child and practice in a safe environment (so, not on a motorway 🙂 ). And remember: a fall is just a short flight! 🙂
Check out my other bicycle buying guides: