Which mountain bicycle (MTB from now) to buy if you only have $ 400? Based on today's prices, that's considered rather cheap, so in this article I'll recommend "the least bad" models in this price range.
Contents:

1. Introduction
I gave some basic bicycle buying advice in a short, "universal" article called: "Which bicycle to buy?"
In my complete MTB buying guide, I wrote about everything that matters when it comes to mountain bikes: suspension, brakes, bicycle types (like CX, or DH), etc. There I explained why it might be a better idea to look at used bicycles if your budget is below 700 $.
The problem with used (2nd hand) bicycles is that many people don't have enough expertise, or enough time, to look over several used bicycles and determine if they are in good condition, or require a lot of investment in parts and repairs. I did write a guide for checking a used bicycle, and that does help, but it's not for everyone.
In other words: I still get a lot of questions along the lines: "I've only got about 400 $, which MTB should I buy?" Here's my take on that.

2. What kind of MTB to seek for under $ 400?
In this price range, it is definitely true that: "less is more!" What I mean by this is: avoid anything remotely "exotic", like suspension (shock absorbers), disc brakes, more than 8 rear sprockets ("speeds"), or 1X drivetrains.
Basically: if you buy a "spartan-configured" bike, it might be OK in the sub-400 $ price range. While, for example, disk brakes on a bike that costs 400 $, or less, usually perform worse than some good quality V-brakes.
Same goes for any suspension on "budget mountain bikes" – it's usually so bad, that it harms, more than it helps.
Now I've cleared that up, I can start with the MTB buying recommendations:

3. 29-inch wheels MTB for under 400 $
For riders that are 178 cm tall (5′ 10″), or taller, I'd recommend a bike like Capriolo Level 9.0 (link to Capriolo's website). This bike is sold in my country (Serbia), and I can only recommend the cyclists from other countries to look for something similar – I'll explain what's important.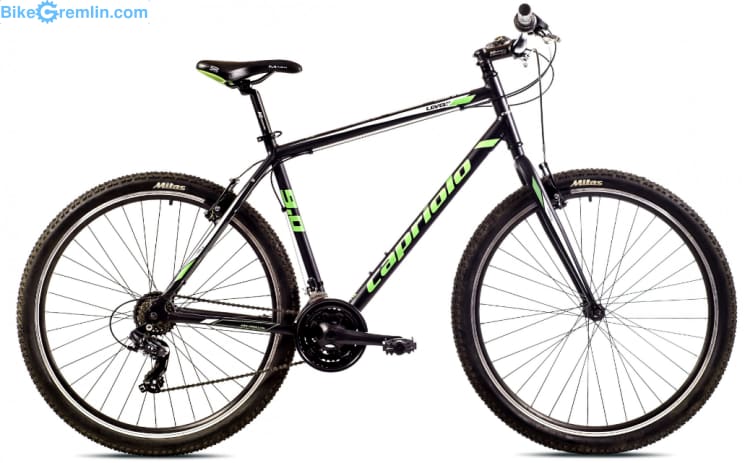 Basic info (derailleurs, brakes etc.):
Price: around 300 $.
Strong aluminium frame (not the lightest), with a BSA (English standard), threaded bottom bracket.
Capriolo sells only two sizes, marked as 19″ and 21″.
19″ is for riders that are 178 to 185 cm tall.
21″ is for those from 185 to 193 cm (cm to feet & inches converter).
The fork is rigid (no suspension), made of steel, a-head (threadless) type, with a 1 1/8″ steering column diameter.
Wheels are with 29″ tyres, and Quando hubs (cheap cup-and-cone hubs that last me for years with regular maintenance).
The rear hub is a freewheel one, not with a freehub mechanism.
3 front chainrings, with 6 in the rear, give a decent gearing range (for the steep climbs, and fast descends), at a very affordable price.
Front and rear derailleurs are Shimano Tourney – low-end class. Shifters are Shimano Tourney grip-shift (I prefer shifters with levers, to those that are twisted).
Brakes are V-brake, with more-less OK Logan brake callipers (all metal), and poor quality plastic brake levers.
Cables are internally routed, which is super convenient for maintenance.
My comment:
This bike gives a decent platform for building on, but because of the low price, some aspects are lacking. What would I improve?
I'll use Amazon affiliate links for product pictures & descriptions.
This bicycle comes with a strong frame, fork, and strong 36-spoke wheels. For riders that aren't too heavy, or don't ride over very rough terrain, it might work fine out of the box.
Building this bicycle with higher-quality parts straight from the factory would increase its price by about 200 $ (i.e. by about 70 %), and then no one would buy it. People are looking for suspension and disc brakes, even of awful quality, rather than a "basic, rigid frame" bike that costs about as much.
Prices are what they are. This bike isn't perfect, but it costs around 300 $ – and I couldn't find a better MTB for under 600 $.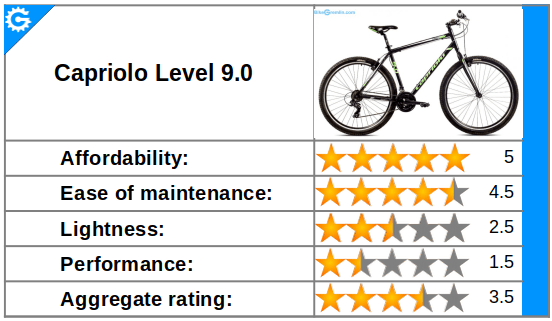 I don't think Capriolo bikes are sold abroad, but I've tried to explain what to look (out) for, and what to expect with sub-400 $ price range MTBs.
If you want a bike that really is better, and of higher quality, you'll have to invest about 800 $ for a bike like Cube Aim Race.
For cyclists that are shorter than 178 cm, Capriolo Level 9.0 will be too large. There are no frames offered in a smaller size than that. But I hope this article has explained the basics, so you can look among the makes and models available to you, and find something not-too-bad on a budget.

4. Conclusion
No one is crazy to sell high-quality stuff at low prices. If something looks too good for the price, there's always some catch.
What I personally don't like is that no manufacturers seem to be offering more basic-equipped bikes, with high-quality parts. For example, the above described Capriolo Level 9.0, with all the "upgrades" that I've suggested. I understand that marketing and consumer demand dictate a lot – nobody would probably buy such a bicycle. Marketing and sales are about feelings, not common sense (reason).
If you want a decent-quality bike, and can't afford to spend 1000 $, perhaps a good option is your local bicycle co-op (Wiki link), and see if something can be built with used parts. The times are tough, and people in communities supporting each other can help. I try to contribute by making helpful articles and YouTube videos.