In the summer of 2018, a new MTB groupset Shimano XTR M9100 saw the light of day. What are the first impressions? What do the technical specifications look like? What has changed? In this post, I'll give an overview of the new XTR M9100 groupset.

Update 2022: here-explained new tech has "trickled down" to the Shimano 12-speed Deore XT 8100 groupset as well.
Rear chainrings are often referred to by the common cycling term "sprockets", or "cogs". The same goes for mass – "weight."
Contents:

0. History of Shimano XTR
Shimano first introduced XTR groupset in 1991 – as their "elite" MTB group. Since then it's been sold as a top-class, "the best Shimano has to offer in the MTB world". Emphasis has always been on "lightweight" (small mass) and "performance". Shimano usually introduces the new technologies and patents in their "flagship" group, then "trickles it down" to other groupsets – both the good, and the less good patents.
After a period of Shimano's domination in the MTB groupset market, other companies like SRAM emerged as serious competition. In those terms, XTR is supposed to be "better than the competition". In 2015 SRAM starts introducing 1 X systems (groups with only one front chainring), announcing the "death of the front derailleur". In 2016 SRAM introduces a 1 x 12 group "SRAM Eagle" (1 front and 12 rear chainrings) with a new rear freehub design (SRAM XD) allowing for cassettes that have the smallest chainring of only 10 and largest of 50 teeth!
It must be said that 1 X drivetrains, except for those riding in deep, sticky mud, are something that solves a problem that doesn't exist – elimination of a front derailleur does indeed eliminate a place where mud would get stuck, but that hasn't been a problem for a very large percentage of cyclists. Other effects of leaving only one front chainring are felt in practically all the riding conditions:
For better or worse, the battle for the new 1 X trend market domination is raging, and XTR M9100 is Shimano's reply to SRAM's offer. In more detail about the pros and cons of 1x systems.

1. XTR M9100 highlights – what's new?
1X, but also 2X cranks – Shimano offers both options.
New freehub mechanism design.
Cassettes with teeth number spans of 10 to 45 and 10-51, with a new "Hyperglide+" teeth profile.
New chain design, including a "quick link" and a new "Hyperglide+" chain design.
Redesign of all the levers and lever attachment to the bars. And the addition of a dropper seatpost remote operation lever.
Allegedly better brakes – both in terms of power and modulation.
Shimano tried to improve it all: lower weight, better ergonomy and improved performance. How they managed that I'll explain in the remainder of this article – component, by component. One of the things that is noticed right away and has become a rule for most bicycle equipment manufacturers: new parts can't be combined with the old – shifters, derailleurs, chain, cassette – all different, all incompatible with the previous generations. Some would reply to that: "but it works flawlessly". Yes: it's new and costs an arm and a leg – should it also not work in addition to all that?
Most components come with models containing M9100, or M9120. The 100 models are intended for XC, while 120 are also suited for enduro MTB riding.

2. Cranks ("Crankset")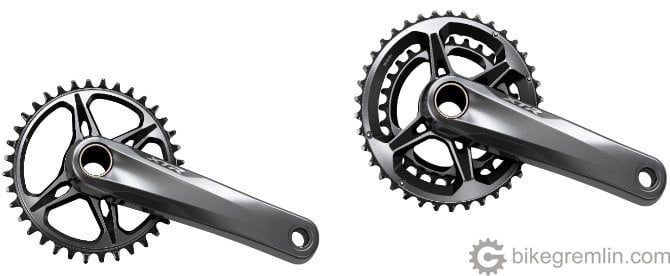 Double chainring size combo is 38-28 teeth.
Single chainring options are: 30, 32, 34, 36 and 38 teeth.
Q-factors are 162 mm (model FC-M9100-2) and 168 mm (all the other models). The narrower one is meant for cross-country MTB-s, since DH ones have wide chainstays that a 162 mm Q-factor crank would hit against, being too narrow.
Available chain lines are 49 mm (model FC-M9100-2) for rear hubs with 142 mm hub "OLD"; and 52 mm (all the other models) for 148 mm wide rear hubs. Single chainring cranks only come with 52 mm chainline – relying on the new chain's flexibility (later on that) and design to compensate for cross chaining on "slow" gears with hubs that have smaller chainline.
Chainrings are direct mount type (hey, just like SRAM had introduced a bit earlier! 🙂 ), so the same cranks can be used for both 1X and 2X chainrings, generally. The teeth profile is designed to optimally engage the newly designed chain. And it goes without saying that the newest cranks are "lighter and stiffer than the previous generations" – as with most newly introduced groups (lightness is fine, but how much stiffer does it get? 🙂 ). I must notice that most manufacturers keep making the cranks thinner and wider, as if pedalling force tents to push them from the narrow side, instead of trying to twist them around their longitudinal axis with the load on the (outer end of the) pedal shaft.
Bottom bracket bearing preload has finally been done decently – which has been the biggest downside of previous Hollowtech II BBs and cranks in my opinion and experience. Shown in picture 2.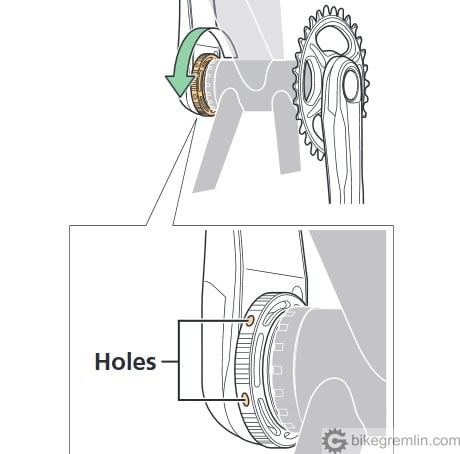 3. Freehub (rear hub)
Some interesting solutions. Firstly, the freehub is designed so it can take sprockets with fewer than 11 teeth. Shimano did something similar a long time ago with the Capreo group – designed for small-wheeled folding bicycles, in order to achieve "fast" enough gearing. Capreo came with as little as 9 teeth sprockets, while XTR M9100 stays with less unreasonable (for too sharp chain bend over a too-small sprocket) 10 teeth – for now.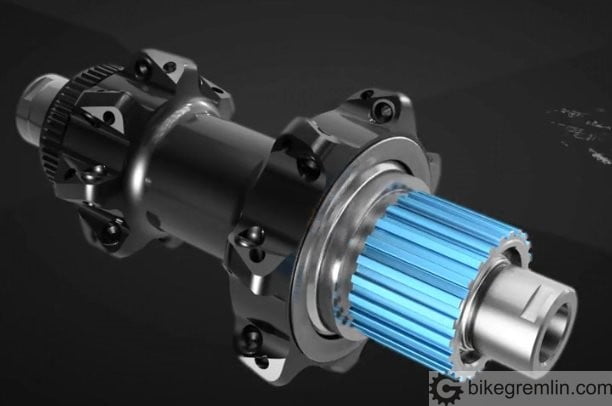 As far as dimensions and speed count are concerned, hubs with model name containing "-B" have 148 mm OLD, while the others are 142 mm wide. Model FH-M9125-B is designed for 11 speeds only, allowing for a slightly better drive side spoke bracing angle thanks to a slightly narrower freehub body (no room for 12 sprockets) – the right flange sits farther to the right by 4.7 mm. Models with "S" at the end are for straight spokes, the others use regular "J-bend" spokes.
New Hyperglide+ freehub has 23 splines for sprockets to be slid on. Shimano calls this "Micro Spline". Old Hyperglide system had 13 splines. Shimano claims that the new design provides for better load distribution among the splines, allowing freehub bodies to be built from (lighter, but softer) aluminium, instead of (harder, but heavier) steel. To me, it seems that the decisive factor is the spline height, higher than the old Hyperglide. That way sprocket load is distributed over a wider area, creating less pressure per square mm. I think that the number of splines is less important, because when the load is applied, and the cassette isn't preloaded on the splines, elastic deformation of materials will result in only one spline carrying most of the load. More splines would only enable the damage from spoke cutting into the splines to spread less quickly (more splines = fewer rotation degrees of load carried on one spline) – until a new groupset arrives. 🙂
Update 1st of May 2020: Shimano has apparently given up on introducing this type of ratchet mechanism – for the time being at least. An interesting innovation is the freehub ratchet design. Teeth are spring-preloaded, so they are completely disengaged from the hub until cassette forward rotation pulls and locks them against the hub-side ratchet. That way less drag is produced when coasting and there is no characteristic freehub "buzzing" sound – Shimano calls this patent "SCYLENCE". Video below shows how that works:
As can be seen from the video above, pedalling forward pulls the ratchet mechanisms together, creating preload. This enables practically all the ratchet teeth to share the load, unlike most other systems I've seen that claim it is so (but it isn't and can't be, not without the preload, no matter how tight the manufacturing tolerances are). In terms of proper teeth preload, SCYLENCE patent is similar to "RingDrive™" patent by Chris King company. With locking (engagement) after only 7.6 degrees of rotation, which is important for technically demanding trails. Hooray for Shimano!

4. Cassette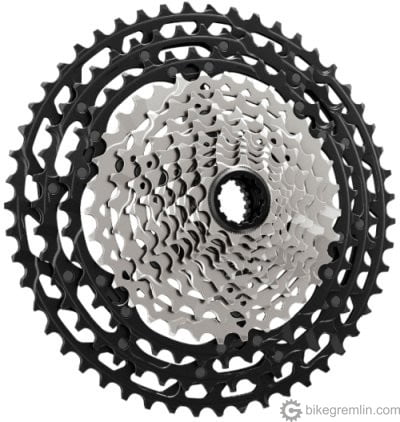 New Hyperglide+ cassettes come with 11 and 12 sprocket versions, bringing several novelties:
The teeth profile is redesigned to allow for controlled chain movement from larger sprockets to the smaller ones, not just the other way round like the "old" Hyperglide. This should improve shifting under load and eliminate the feeling of jerking when the chain "drops" from a larger sprocket onto a smaller one.
Sprocket width and spacing are the same for 11 and 12 speeds, only the first one has one sprocket removed. Both cassettes use the same chain!
The smallest sprocket is attached to the inside of the 2nd smallest, which overhangs the freehub body – allowing the smallest sprocket to be of a smaller inner (and outer, of course) diameter than the rest of the sprockets on the freehub body, enabling it to have 10 teeth only.

Unlike SRAM, Shimano sticks with spline mounted cassettes even with less than 11 teeth smallest sprocket. Why? For one, it enables quicker and cheaper production with less waste material – stamping sprockets, instead of using CNC cutting from a single piece of metal. Secondly, weight reduction, by using different materials. The two largest sprockets of 11 speed, i.e. is three largest sprockets of 12-speed cassettes are made of aluminium and mounted on a single aluminium spider, to distribute the load of each sprocket to a wider area, so there's no damaging of the sprocket-hub interface with using lighter and softer aluminium. The same spider also carries the middle 5 sprockets, made of titanium. Only the last 4 sprockets are made of steel and don't use a spider – they are mounted separately.
As the sprocket diameter and teeth count decreases, it carries more load per tooth, and wears faster, so Shimano made a gradual increase in sprocket material strength (and weight) as the sprockets go smaller along the cassette. With a wide contact area spider for carrying the largest sprockets. Smart move!
11-speed cassette comes with a range of 10-45 teeth (10-12-14-16-18-21-24-28-33-39-45) – model CS-M9110-11.
12-speed cassettes come with 10-45 (10-12-14-16-18-21-24-28-32-36-40-45) and 10-51 (10-12-14-16-18-21-24-28-33-39-45-51) – model CS-M9100-12.
Nicely spread gearing range development, except perhaps for the 10-12 two tooth count jump – higher speeds are better served with smaller gear ratio changes. Still, this is a necessary difference because of the design of the smallest sprocket mount (hooked on the inside of the 2nd smallest).
Another interesting thing is that 12-speed hubs take 11-speed cassettes without any spacers. In other words, both 11 and 12-speed cassettes take up the same space on the freehub body, only 12-speed ones overhang towards the wheel a bit more, with their largest sprocket. Similar to Hyperglide 11-speed MTB cassettes which can be mounted on 8, 9 and 10 speed Hyperglide freehubs. On the other hand, the 11-speed freehub model FH-M9125-B can not accept 12-speed cassettes, because the freehub's right flange is more to the right and the largest 12th sprocket would get into the spokes.

5. Chain
The New Hyperglide+ chain, with a model name CN-M9100, is made to work with 11 and 12-speed XTR M9100 Hyperglide+ cassettes. The inner part of the outer chain plates is thicker, with a cone-shaped area (picture 6b). This enables a better "grip" on narrow-wide 1X chainrings, and also a better tooth-chain contact interface when the chain is severely crossed (severe cross-chaining is often the case with 1X drivetrains). The chain drops much harder and is more silent.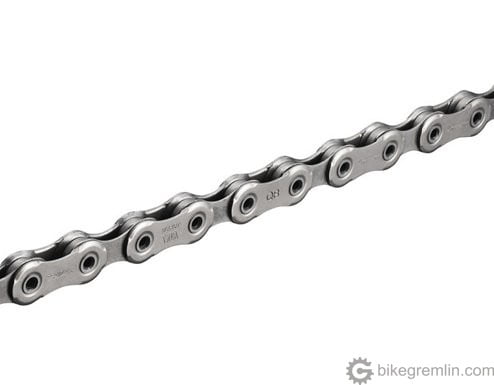 The chain is asymmetric – chain logos should be facing outwards.
The new chain comes with a "quick-link", for easier assembly, but it is single-use only (not recommended for several mounting-removal uses). The explanation of why it is not safe to reuse quick links for narrower chains for 9 and more speeds is given in the article: How to lubricate a bicycle chain.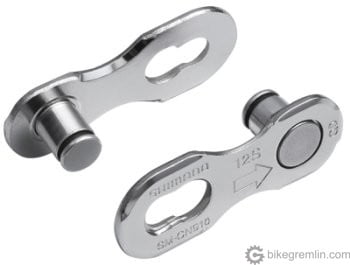 The Quick link has a direction arrow (picture 7) which should point to the chain movement direction when it is pedalled forward. It is also asymmetric and the arrow side needs to be facing outwards.

6. Levers (shifters, brakes and dropper seatpost remote)
Ergonomy of all the levers has been improved. Also, changes in mounting clamp position and design have enabled for better integration of all the required levers with the handlebars – for a handy and easy to use layout. All the levers come with "I-Spec EV" mounting option, enabling them to be attached to brake levers, instead of clamp mounted directly to the handlebars. Electronic shifting is not planned for now – Shimano sticks to the tried method of cable-actuated shifting.

6.1. Shifters
Shifters come with clamps, or integrated brake lever mounting (these have the letter "I" in the model number).
Rear shifter levers can change one, or two gears at a time (with one push, or pull of a lever). Also, the lower lever has a double function – it can shift both up and down, depending on whether it is pushed or pulled. Also up to two gears at a time. After the first gear change, the second gear change (if doing a double shift with one stroke) requires more force on the lever – to prevent accidental double shifting. Nice feature.
The same lever is used for both 11 and 12 speeds – operating mode set up with a screw (picture 8b).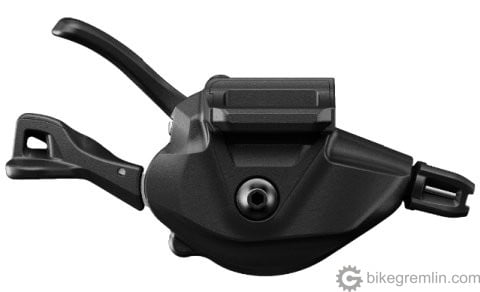 Shimano claims 35% less lever actuation force, which means more tightly packed cassette sprockets, or more lever travel (or both). Shimano claims it's the "shift internals and a refined parallelogram design".
Front shifters have only one lever that can be pushed or pulled and the chain is shifted to the smaller, or larger front chainring. After shifting, the lever is automatically returned to the starting position, which can be tuned (picture 9b). They also come in handlebar, or brake lever attachment versions ("I-Spec EV").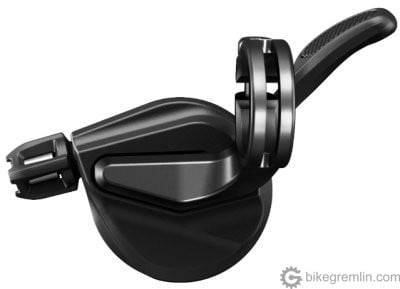 6.2. Brake levers
The biggest problem of previous generation levers has been their flexing, due to narrow clamps. A narrow clamp, on the other hand, is necessary to make enough handlebar room for mounting all the other levers (shifters, remote control levers for dropper seatposts and suspension lockout…). This was solved by making a brace near the outer part of the levers, away from the clamp, with the area between the clamp and the brace having enough room for mounting other levers (picture 10b). Less flexing is sure to provide more braking power with the same lever pull force.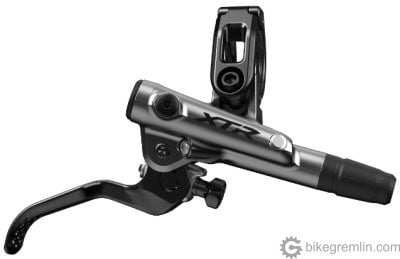 It is possible to adjust lever distance from the bars, and the point of lever travel at which the brake pads contact the disc. Levers have "I-Spec EV" interface for mounting shifter and dropper seat post levers onto them.

6.3. Dropper seat post remote control lever
New product type in Shimano's range – dropper seat post remote lever. I-Spec EV mounting only – requiring compatible brake levers to mount onto. No clamp version for now. It pulls 7 mm of cable.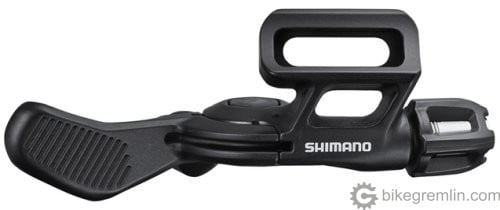 Direct brake lever mounting enables use along with a front shifter lever – without messing up the cockpit. Nice.

7. Derailleurs
Derailleurs are among the most interesting parts of the ever lasting race for more and more "speeds." 🙂 Derailleurs are, just like all the other components, "better and lighter" than the previous generations.

7.1. Front derailleur
There is only one FD model, marked FD-M9100, with the rest of the mark depending on the mounting type: "-M" for clamp mounted, "-D" for direct mount and "-E" for the E-type mount. The rest of the derailleur body is the same. Parallelogram movement is a side-swing type.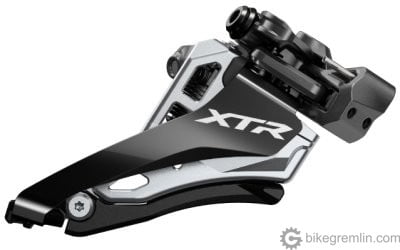 7.2. Rear derailleur
Rear derailleurs are offered in a long cage (SGS) and mid-size cage (GS) variants. They all work both with 11 and 12 speeds. However, the GS option works only with cassettes that have up to 45 teeth on the largest sprocket, but it is a bit lighter (by whole 3 grams, see table 1) and provides a few more cm of ground clearance, thanks to a shorter cage – to whom that is important.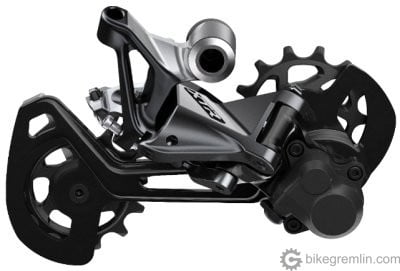 Pulleys have 13 teeth, while attachment is conventional direct-mount. Models are:
RD-M9120-SGS – long cage, for 2X drivetrains, in which case the cassette can have up to 45 teeth. Chain-wrap capacity is 41 teeth.
RD-M9100-SGS – long cage, for 1X drivetrains. The largest cassette sprocket is 51 teeth. Chain-wrap capacity is 41 teeth.
RD-M9100-GS – mid-size cage, for 1X drivetrains. 45 max sprocket size, 35 teeth capacity.
Peak Torque had some (well-founded I'd say) complaints about the design, and functioning of the clutch design (noted at 4:29 minutes of the video):

8. Brakes
The last but not the least important: brake callipers and discs. With the new, more rigid brake levers and quality hydraulic hosing, the new brakes offer more braking force (for the same force of lever pull) and better (more linear) modulation. There are two brake calliper models:
BR-M9100 – callipers with two brake pistons. Improved stopping power, light weight, but modulation is not as good as the model below:
BR-M9120 – four-piston brake callipers with cooling fins ("ICE Technologies")! These brakes provide good stopping force along with very good, linear, modulation. Enduro MTB cyclists often used Saint groupset brakes before, for their better stopping power. The biggest downside of Saint brakes, poor modulation that could lock the wheels accidentally is fixed with these new XTR brakes.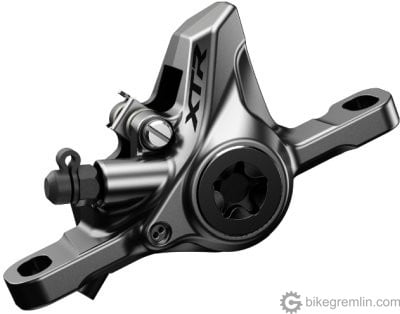 Brake disc, model RT-MT900 uses new "ICE TECHNOLOGIES FREEZA" construction for better heat dissipation.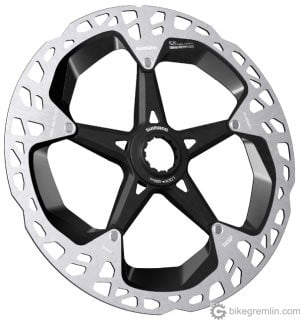 Available sizes (diameters) are: 140, 160, 180 and 203 mm.

9. Mass ("weight") and prices
For all the weight weenies, table 1 shows the (average, claimed) mass of each component. You can reduce the weight of your bike by over 60% by riding it on Mars! 🙂
"Manufacturer's suggested resale price" is included in the " * Price" column. Prices are expressed in US Dollars ($). Figures that insult one's intelligence, like "99.99" are rounded (up). As can be seen from table 1, while not all the masses are known, most prices certainly are. 🙂
| | | | |
| --- | --- | --- | --- |
| Component type | Model | Mass (g) | * Price ($) |
| Shifter | SL-M9100-R | 121 g | $ 130 |
| | SL-M9100-IR | 117 g | $ 130 |
| | SL-M9100-L | 79 g | $ 130 |
| | SL-M9100-IL | 74 g | $ 130 |
| Dropper seatpost lever | SL-MT800-IL | 35 g | $ 60 |
| Front derailleur | FD-M9100-M | n/a | $ 125 |
| | FD-M9100-E | 86 g | $ 125 |
| | FD-M9100-D | n/a | $ 125 |
| Cranks(et) | FC-M9120-B2 | n/a | $ 590 |
| | FC-M9100-2 | n/a | $ 590 |
| | FC-M9120-1 | n/a | $ 420 |
| | FC-M9100-1 | 511 g | $ 420 |
| 1X chainring | SM-CRM95 | n/a | $ 130 |
| Chain guide | SM-CD800-E | n/a | $ 50 |
| | SM-CD800-I | n/a | $ 50 |
| | SM-CD800-D | 28 g | $ 50 |
| Rear Derailleur | RD-M9100-SGS | 240 g | $ 260 |
| | RD-M9100-GS | 237 g | $ 260 |
| | RD-M9120-SGS | 241 g | $ 260 |
| Cassette | CS-M9110-11 | 310 g | $ 325 |
| | CS-M9100-12 | 367 g | $ 380 |
| Chain | CN-M9100 | 242 g | $ 65 |
| Quick link | SM-CN910-12 | n/a | n/a |
| Brake lever pair | BL-M9120 | 385 g | $ 210 |
| | BL-M9100 | 312 g | $ 215 |
| Brake calliper pair (set) | BR-M9120 | 385 g | $ 350 |
| | BR-M9100 | 312 g | $ 310 |
| Brake disc ("rotor") | RT-MT900 | | |
| | 140 mm | 90 g | 140/160 mm pair |
| | 160 mm | 108 g | cost $ 160 |
| | 180 mm | 133 g | 180/203 mm pair |
| | 203 mm | 149 g | cost $ 180 |
| Front hub | HB-MT900-BS | n/a | $ 80 |
| | HB-MT900-B | n/a | $ 70 |
| | HB-M9110-BS | 151 g | $ 190 |
| | HB-M9110-B | 138 g | $ 180 |
| | HB-M9110 | 134 g | $ 180 |
| Rear hub | FH-MT900-BS | n/a | $ 200 |
| | FH-MT900-B | n/a | $ 185 |
| | FH-M9125-B | 228 g | $ 330 |
| | FH-M9110-BS | 235 g | $ 340 |
| | FH-M9110-B | 231 g | $ 330 |
| | FH-M9110 | 231 g | $ 330 |
| Hub "thru" axle | SM-AX76-B | 71 g | n/a |
| | SM-AX76 | 69 g | n/a |
| | AX-MT700-148×12 | 76 g | n/a |
| | AX-MT700-142×12 | 75 g | n/a |
| Pedals | PD-M9120 | 405 g | $ 180 |
| | PD-M9100 | 320 g | $ 180 |

10. Conclusion – the verdict
It can be said that with the XTR M9100 groupset, Shimano has made a leap forward in the 1X market segment, offering a decent alternative to SRAM's offer. For those sticking with the good old front derailleur, the 2X version works fine, better than the previous 2×11 – and it's the first 2×12 groupset on the market.
A silent and friction-free freehub mechanism is well thought of (haven't implemented it though, still on the drawing board). New cassette mounting "standard" allows for 10-toothed cogs. Deeper splines of the Hyperglide+ freehubs allow some "weight" reduction thanks to cassette design with one spider for all the mid-sized and large sprockets. The new chain works very well, especially noticeable with 1X systems.
High price and incompatibility with previous series' components are the price paid for the improvements. Planned obsolescence, here we come! 🙂
Amazon affiliate link for buying the new Shimano XTR M9100 components.

Related post – Bicycle – how many speeds?


11. Sources
Sources are listed by order of relevance.