Note: this article explains compatibility in terms of rear sprocket mounting and proper gear shifting. For other important facts about rear hubs, read the following articles:
Rear hub
Freewheel vs Freehub
Before you start, to avoid any misunderstanding:
please take the 5 minutes needed to read the compatibility articles use instructions.
Compatibility categories will be sorted by number of rear sprockets. It is important to note that there are three major rear freehub standards – a) Shimano standard supported by most other manufacturers (SRAM as the biggest one), b) Campagnolo standard and c) SRAM XD standard that accepts cassettes with the smallest sprocket of only 10 teeth.
Campagnolo uses different spline design, so Campagnolo cassettes can only fit Campagnolo freehubs, while Shimano cassettes will only fit Shimano compatible freehubs.

Help BikeGremlin
stay online & independent
This website is educational, free, objective, and not commercial
(sponsors don't enjoy paying if you mention all the product downsides that you notice 🙂 ).
How much does a WordPress website cost?
If you find this site to be good and helpful,
and if $5 per month is what you can afford to set aside,
please consider supporting my work with a Patreon donation:
Current support in total: $30.00 per month
(Patreon support: $21.04
YouTube subscription: $4.29
Other platforms: $4.67)

a) SHIMANO standard
Stated compatibilities also go for SRAM (and most other manufacturers') cassettes with the same numbers of sprockets – they're compatible with Shimano, except the SRAM XD cassettes.

6 and 7 speeds, freewheel
All the current (since the year 1990) freewheel hubs are compatible with all the 6 and 7 speed freewheel sprockets.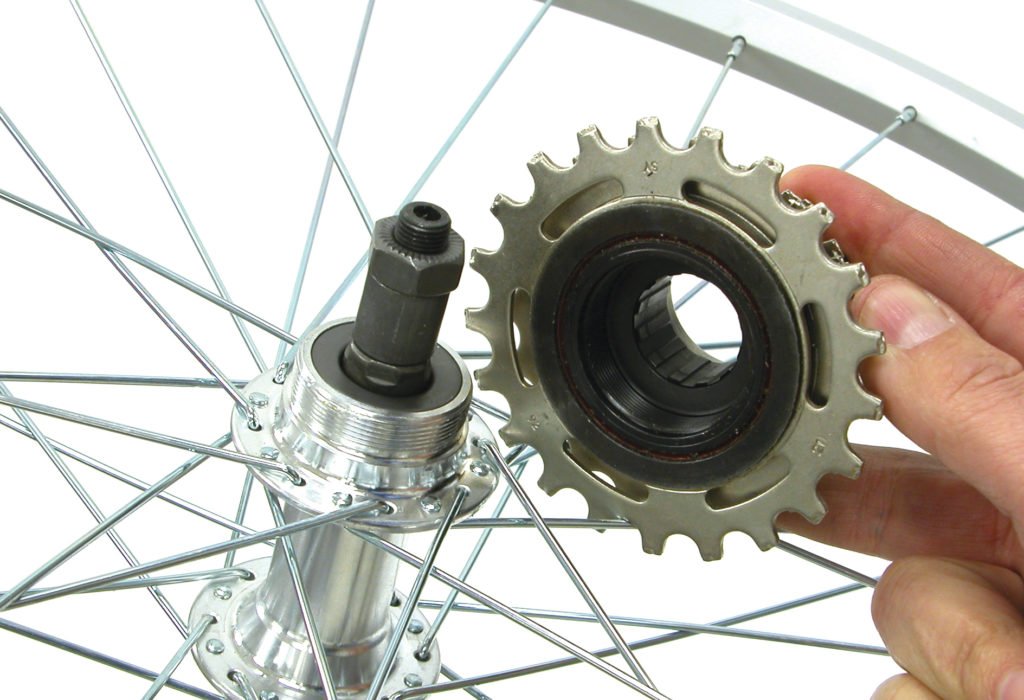 7 speed freehub
7 speed freehubs accept 7 speed cassettes.
Cassettes with more sprockets can also be fitted onto 7 speed freehubs, but some sprockets need to be removed. The smallest sprocket must never be removed since it is profiled to accept the lockring holding the cassette in place. When removing sprockets, if it is not the largest one, expect shifting between the two adjacent sprockets left to be a bit sluggish, since sprocket teeth are profiled to allow faster shifting, but removing one sprocket messes up that pattern.
8, 9 and 10 speed cassettes can be used if one sprocket is removed.
11 speed MTB cassette should also fit with just one sprocket removed, but here, along with the smallest, the biggest sprocket also mustn't be removed – it is specially designed to take up less space on the freehub body.
11 speed road cassette – two sprockets need to be removed. Unlike with 11 speed MTB, here the biggest sprocket can be removed.

8-9-10 speed freehub
It accepts all the cassettes, except 11 speed road ones.
When placing a 7 speed cassette on such freehub, a 4.5 mm spacer needs to be placed before the cassette. Then check if the smallest sprocket engages the freehub splines. If it doesn't, check if the largest sprocket has gotten over the spacer correctly (the spacer mustn't be too "tall"). If this doesn't help, try using a bit narrower spacer, to make sure the smallest sprocket is slit onto the splines properly.
This is important whenever mounting the cassette: smallest sprocket should engage the freehub splines, so it doesn't turn freely, but it mustn't be aligned with the freehub body all the way – it should be a bit "taller". Otherwise lockring won't be able to lock the cassette in place. If the last sprocket sits too deep, add a (thicker) spacer. If it turns freely, remove a spacer (or one sprocket, if there are no spacers used).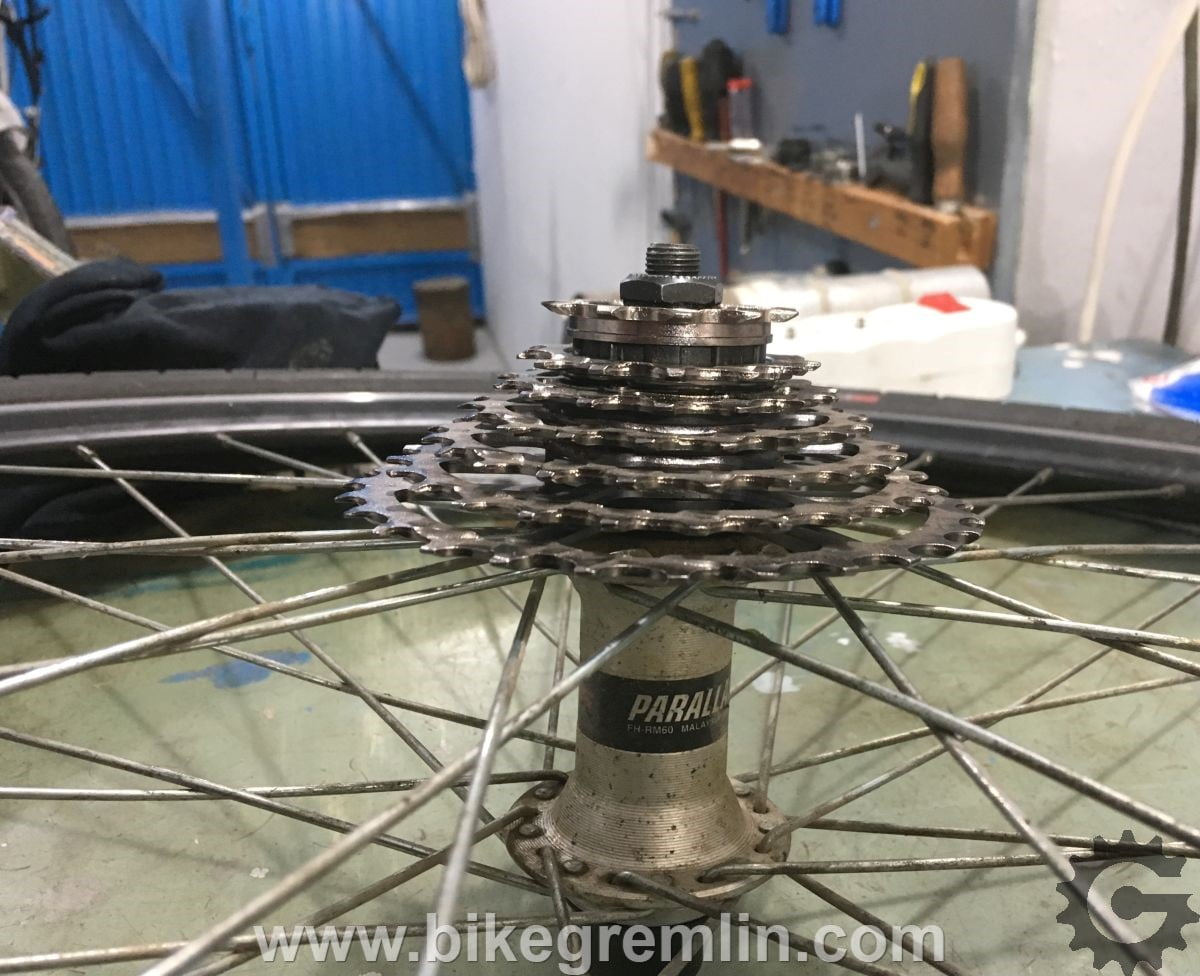 Pictures above don't show a case when there are too many spacers (or they are too thick) – then the last sprocket would not be able to sit on the freehub splines properly.
8 and 9 speed cassettes are placed directly, without any spacers (9 speed cassette has narrower and more tightly spaced sprockets, so it has the same overall width as an 8 speed cassette).
10 speed cassettes have even narrower, more tightly spaced sprockets, so their overall width is actually smaller than that of 8 and 9 speed cassettes. That is why placing a 10 speed cassette on a 8, 9 and 10 speed freehub requires a 1 mm wide spacer.
To make things more complicated, Shimano "builds in" the spacer on some 10-speed cassettes. For example: Tiagra 10-speed (road) and many MTB 10-speed cassettes have a bit wider spider that carries the largest cassette chainrings, so there is no need for adding the 1 mm spacer.
11 speed MTB cassette is put straight on, just like 8 and 9 speed ones.
11 speed road cassette doesn't fit this freehub. One sprocket needs to be removed (not the smallest one because of the lockring). Then a 1 mm spacer needs to be put before the cassette (do check alignment and put a thicker spacer, or remove the spacer if it all fits).
I demonstrated how to check whether spacers are just a bit too thick, or narrow in this video (watch until the end).

10 speed freehub
Shimano also used to produce special 10 speed only freehubs for a while, which are a few mm narrower than 8 and 9 speed freehubs. Only 10 speed cassettes can fit these freehubs. 10 speed cassettes are mounted onto these freehubs without any additional spacers. There are also 10 speed freehubs with aluminium body. Splines are taller, so that more material comes in contact with (narrower) 10 speed sprockets so they don't cut into the freehub body under load. These hubs can not fit 7, 8, or 9 speed cassettes because of taller splines.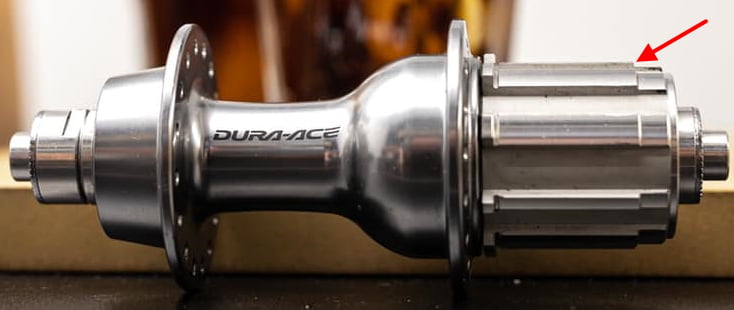 Another "catch" is that the newest 10 speed cassettes, Shimano Tiagra 4700 model, won't fit these freehubs, because they are not cut deep enough for the taller splines. Just to make things more interesting. 🙂 The same goes for many 10-speed MTB cassettes.
In practice, when a term "10 speed freehub" is used, it is usually meant the 8 and 9 speed compatible one, not the exotic 10 speed only Shimano stuff!

11 speed road freehub
Since MTB 11 speed cassettes can be mounted on the 8, 9 and 10 speed compatible freehub, this one is meant for road 11 speed cassettes only.
8 and 9 speed cassettes can be used with a 1.85 mm wide spacer. Same goes for 11 speed MTB cassettes (thanks to Christophe for the feedback).
10 speed cassette requires an additional 1 mm wide spacer (along with the 1.85 mm wide one) – just like when putting a 10 speed cassette on a 8-9-10 speed freehub (for catches and caveats, see the 10-speed freehub section above and the 8-9-10 speed freehub section).
7 speed cassette will require 4.5 mm spacer, in addition to a 1.85 mm wide one (used when mounting 8 and 9 speed cassettes).

11 and 12 speed MTB XTR M9100 freehub
From summer of 2018, new standard, completely different from all the others. Freehub splines and cassettes are mounted differently and can't be combined with other standards.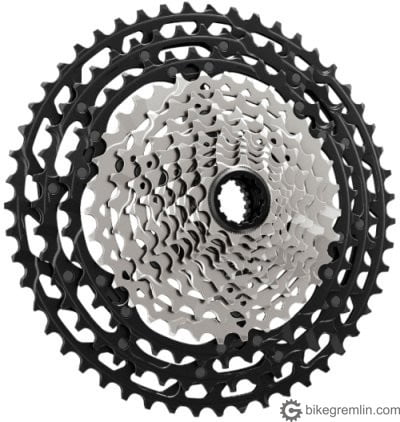 New cassette teeth design is called Hyperglide+, while the new mounting interface is called "Micro Spline". It has 23 deeper splines, where Hyperglide has 13. Detailed explanation is at the following links: Hyperglide+ freehub and Hyperglide+ cassette.

b) Campagnolo standard
Campagnolo hubs are compatible with Campagnolo cassettes only. Even there, they have different standards, by generations and by numbers of speeds, like it is explained here:

7 and 8 speed freehub – old standard
7 speed freehub is about 5 mm narrower, but all the old 7 and 8 speed cassettes will fit both 7 and 8 speed freehubs.

8 speed Exa-Drive freehub
Current Campagnolo 8 speed standard. There is also a discontinued 8 speed standard for titanium cassettes, that are no longer produced.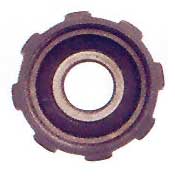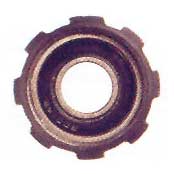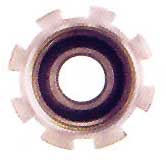 9 speed freehub – old standard
Standard for old, Exa-Drive 9 speed cassettes.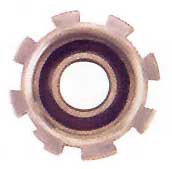 9-10-11-12 speed freehub – current standard
Current Campagnolo standard – suitable for all the modern Ultra-Drive cassettes, whether they are 9, 10, or 11 speed (12 speed as well from 2018).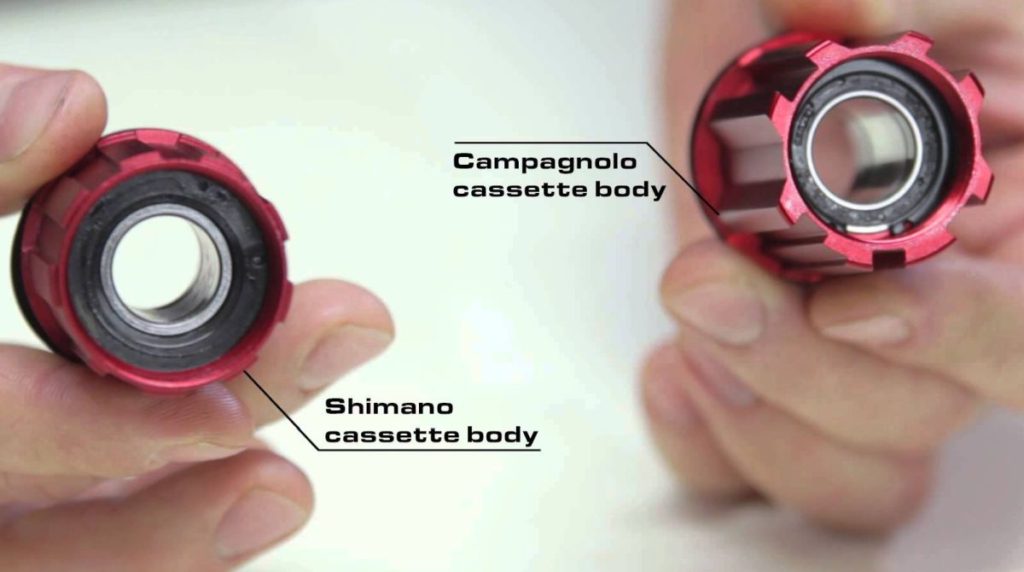 Since Campagnolo is next-to-impossible to come by in my country (Serbia), I can't provide much info on their newer (13-speed) stuff, but this post on the CycleChat forum seems to be correct and reliable, and that's the best info I can offer on the topic for now:
https://www.cyclechat.net/threads/trying-to-clarify-what-11-32-means-re-cassette.294834/page-2#post-7096287

c) (SRAM) XD 10, 11 and 12 speed MTB standard and 11 speed road
Cassette carrier (freehub) has been redesigned and accepts cassettes with the smallest sprocket of only 10 teeth!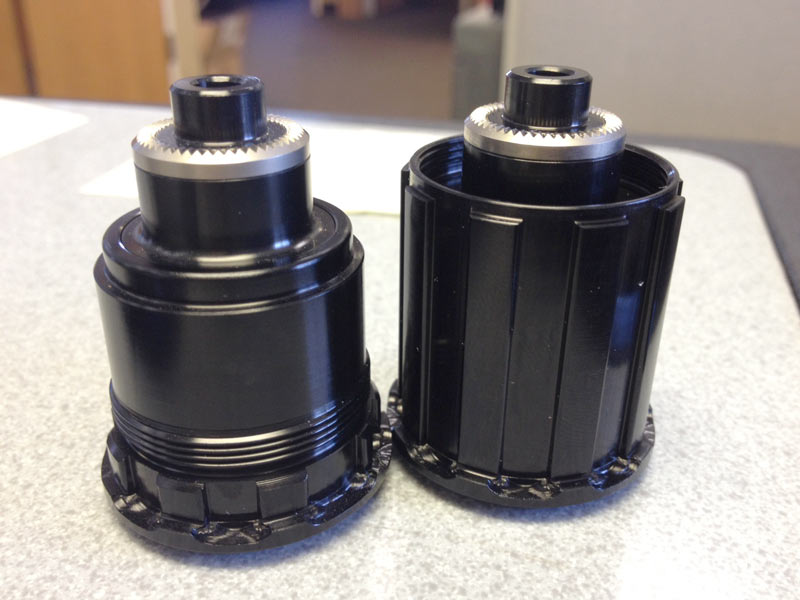 XD freehub standard accepts only XD cassettes. There are 10, 11 and 12 speed cassette versions (same XD freehub body).
Many wheel and hub manufacturers make XD compatible freehub bodies that can be screwed onto the hub instead of the old Shimano compatible freehub. Unfortunately, as far as I know, Shimano is not among them for now.
As of mid-2018, SRAM has introduced NX Eagle groupset, which includes 12-speed cassettes compatible with Shimano (and SRAM) standard freehubs (for 8, 9, or 10-speed cassettes). However, they don't allow for the smallest sprocket to be smaller than 11 teeth.
SRAM has also made an XD road freehub, named XDR (XD Road), that is wider by 1.85 mm than the XD freehub. 11 and 12-speed XD cassettes can fit XDR hubs with a 1.85 mm spacer added (like when mounting a 10-speed Shimano cassette on an 11-speed Shimano road hub). On the other hand, XDR cassettes won't fit XD hubs, because they are wider by 1.85 mm, so will stick out on the outer end too much.
Related post – Bicycle cassette compatibility:


Compatibility posts are also available in eBook (printable and Kindle) and paperback editions on Amazon: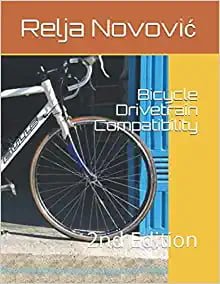 If you have any questions (or additions and corrections), please use the BikeGremlin forum's compatibility section:
https://www.bikegremlin.net/forums/bike-compatibility/