This post will explain how exactly a bicycle chain gets worn and what happens with it as it wears. First things explained will be the chain construction and chain pitch so that explanation of chain wear can more easily be understood. A separate post explains how to measure wear and when to replace the chain.
Table Of Contents (T.O.C.):

1. Bicycle chain construction
Parts of a bicycle chain are shown in pictures 1 and 2: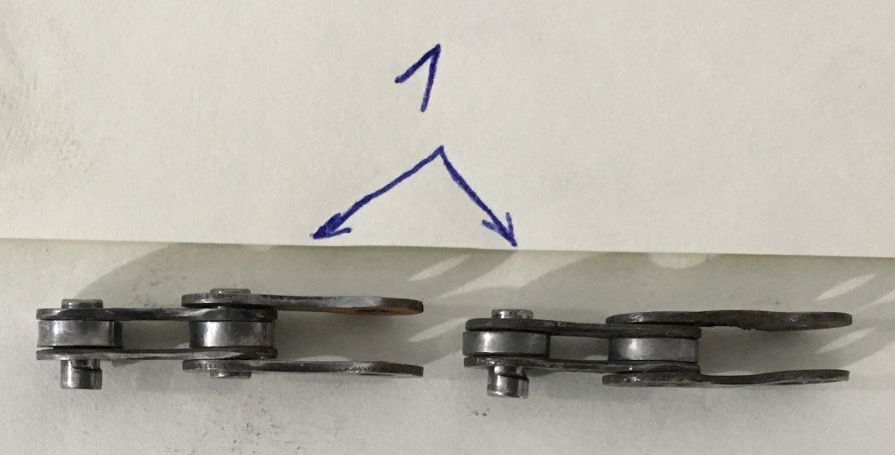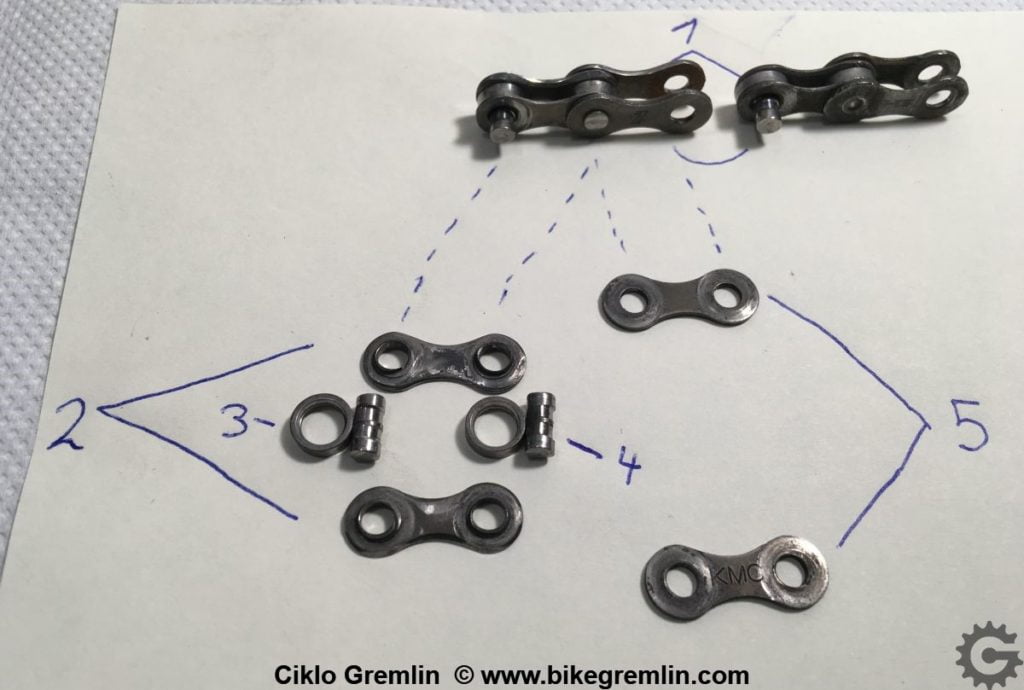 Note in picture 2 how inner plates (marked with number 2) have grooves for holding the rollers in place. Pins are pushed by force into the holes in the outer plates, while the inner plates freely rotate (slide) on the pins between the two outer plates. That is shown in picture 3.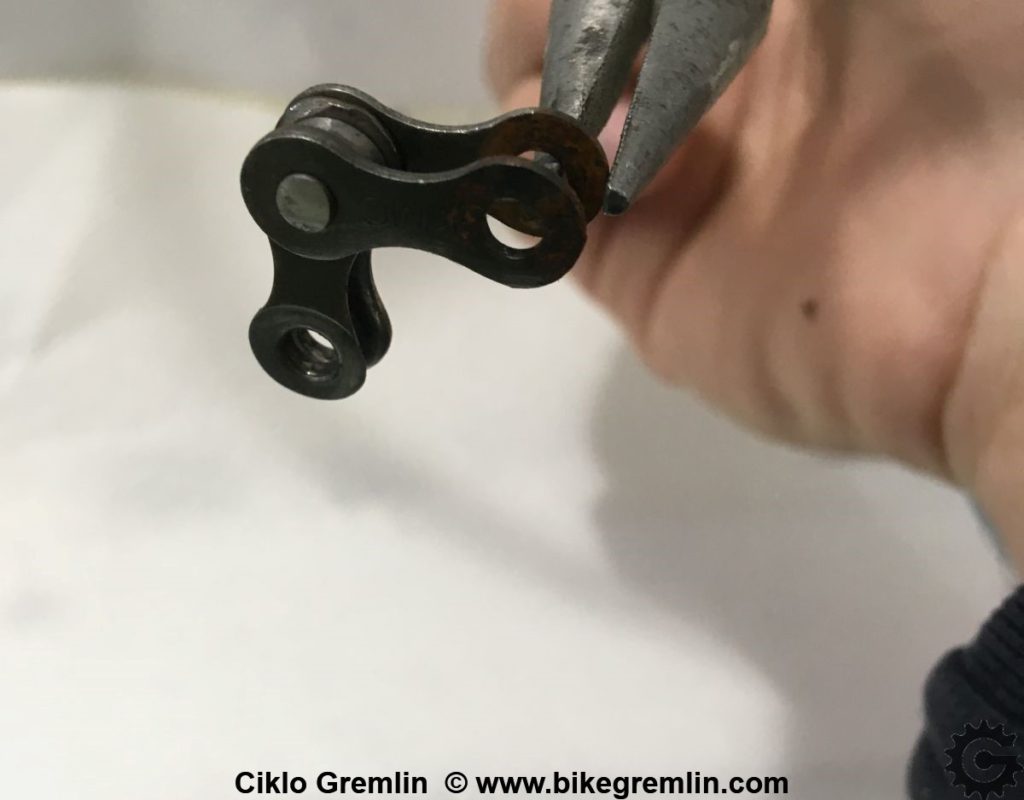 What happens as the chain wraps around the chainrings: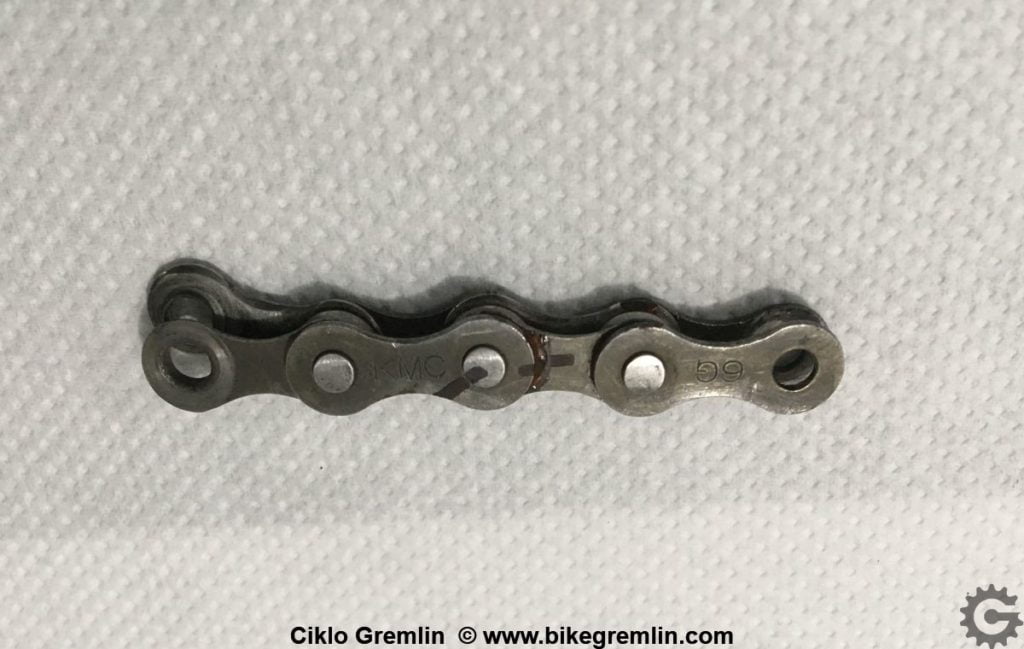 2. What is the chain pitch?
Chain pitch is the distance at which the pins are placed. It is measured by measuring the distance between 3 links, then dividing it by two.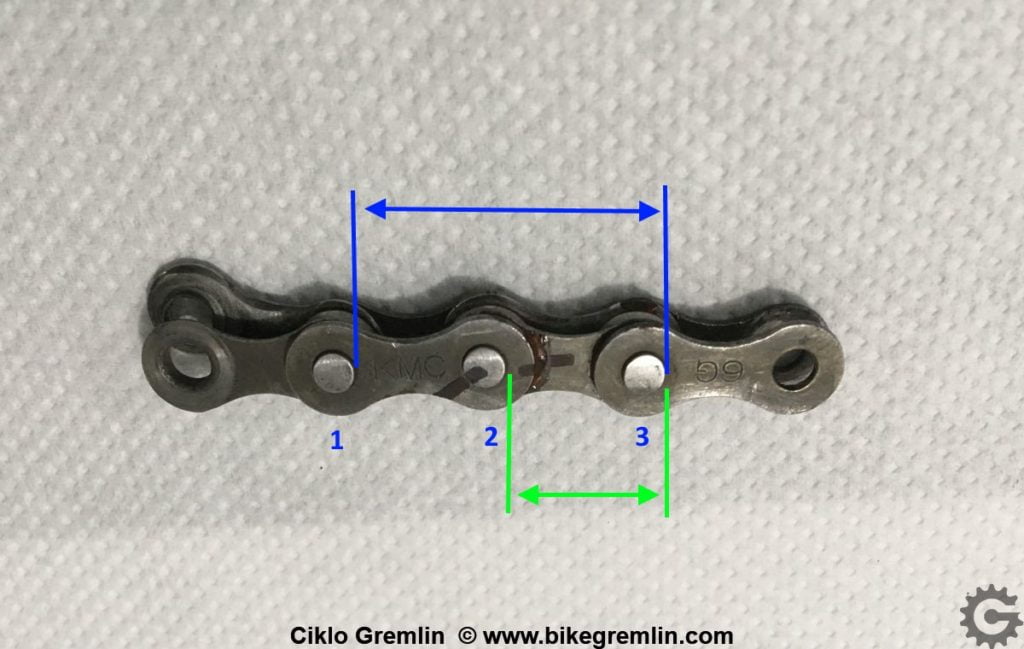 When chain wear process is explained, it will be clear why (at least) three pins are used (that is one full chain link, i.e. one pair of inner and one pair of outer plates) for pitch measurement (chapter 4).
A new bicycle chain has a pitch of 1/2″ (12.7 mm), which is, of course, the pitch chainrings are designed for.

3. Chainring (and "sprocket") wear
Quotation marks in the heading are because, in cycling literature and terminology, rear chainrings are often referred to as "sprockets". As chainrings wear, they don't change in pitch – teeth always remain at the same distance from each other. What changes is the teeth profile. They get a "hooked" profile – like shark fins. How this affects chain engagement of both new and worn chains will be explained in the following chapters.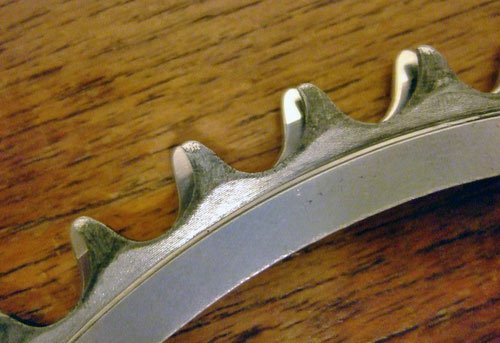 4. Chain wear
Chain wear is often (also incorrectly) referred to as chain "stretch", because a worn chain does in fact elongate (i.e. the pitch is increased), but the chain material doesn't stretch at all – elongation happens due to wear, as will be explained. What gets worn is the interface of pins and inner plates, as is shown in picture 7.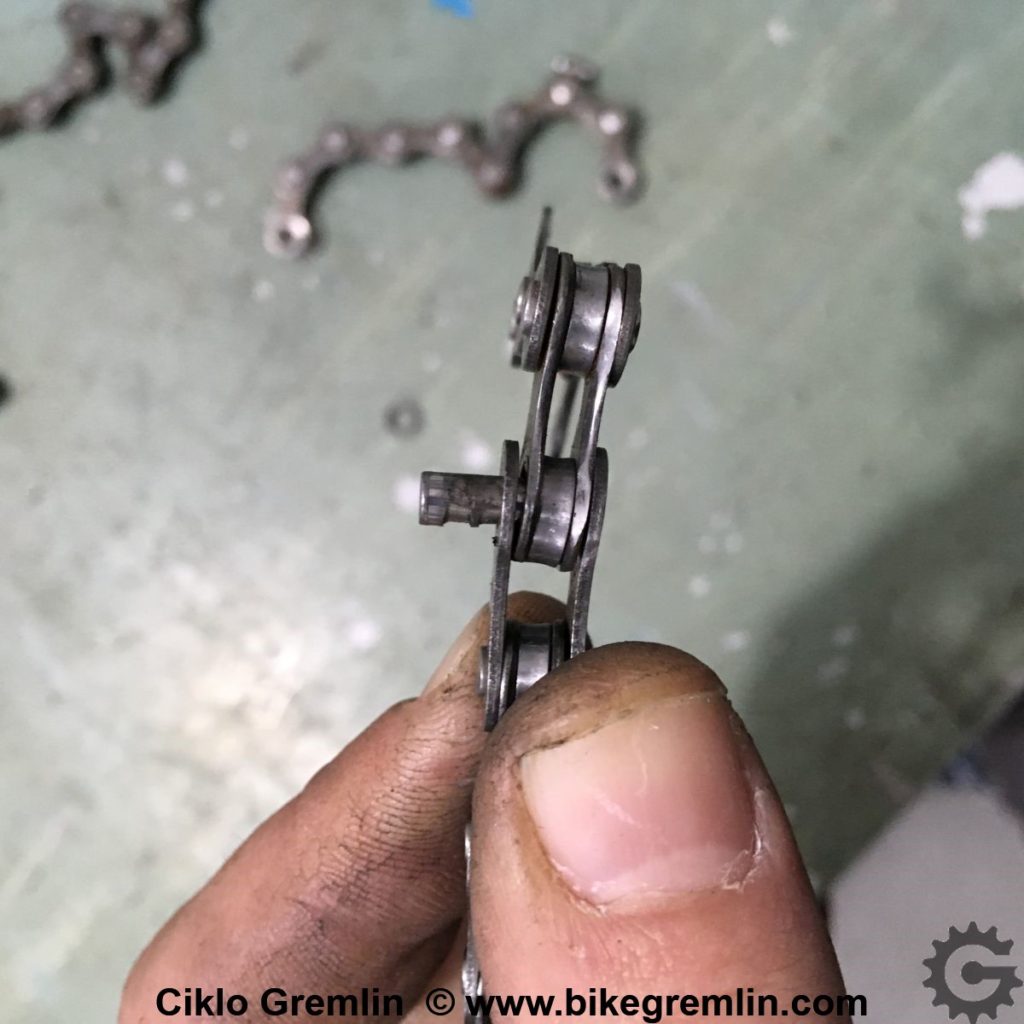 Since pins are fixed to the outer plates, no wear happens there. That is why, even on a heavily worn chain, the pitch between the two pins in the outer plates remains always the same. What changes is the distance between two pairs of outer plates. In other words: two pairs of outer plates get further apart when inner plates and pins interface gets worn – because they are what links two adjacent pairs of outer plates. This is shown in pictures 8 and 9.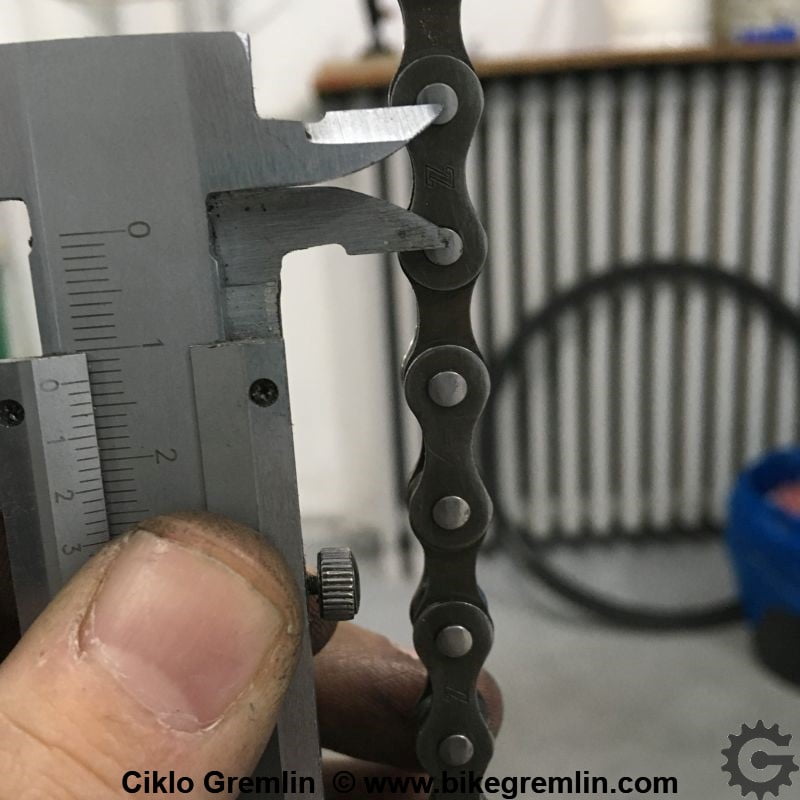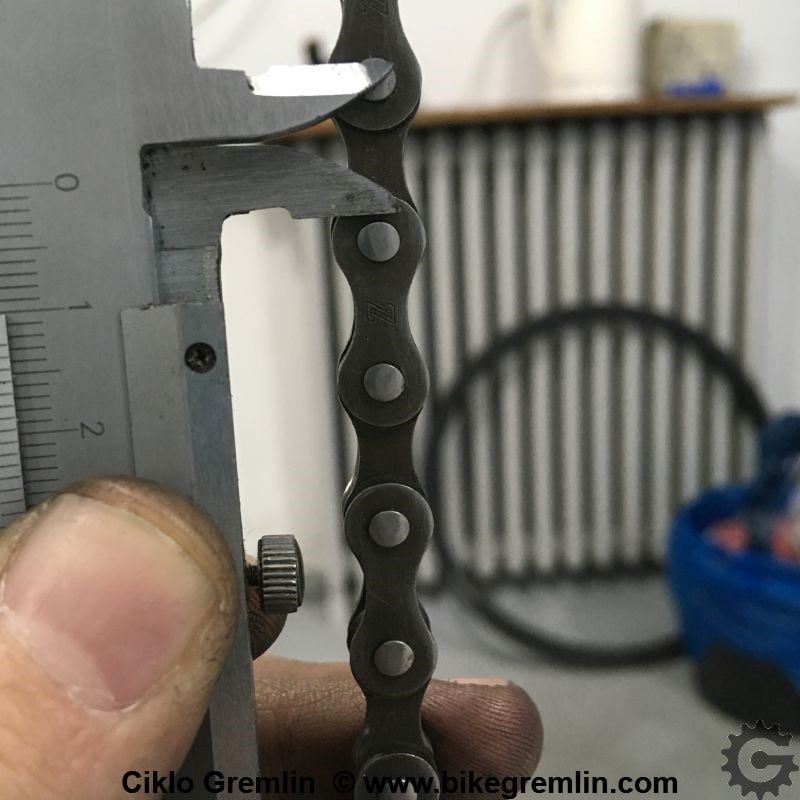 It needs to be said that even roller wear doesn't affect pitch – because pins is what holds the rollers in place.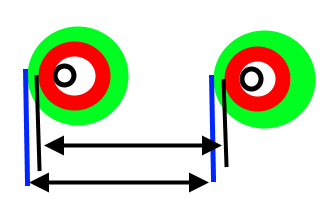 This effect, the change of distance between two pairs of outer plates is demonstrated in this video:
Another effect of chain wear, apart from elongation, is easier sideways bending. This makes gear shifting more difficult on bikes with multiple chainrings and derailleurs.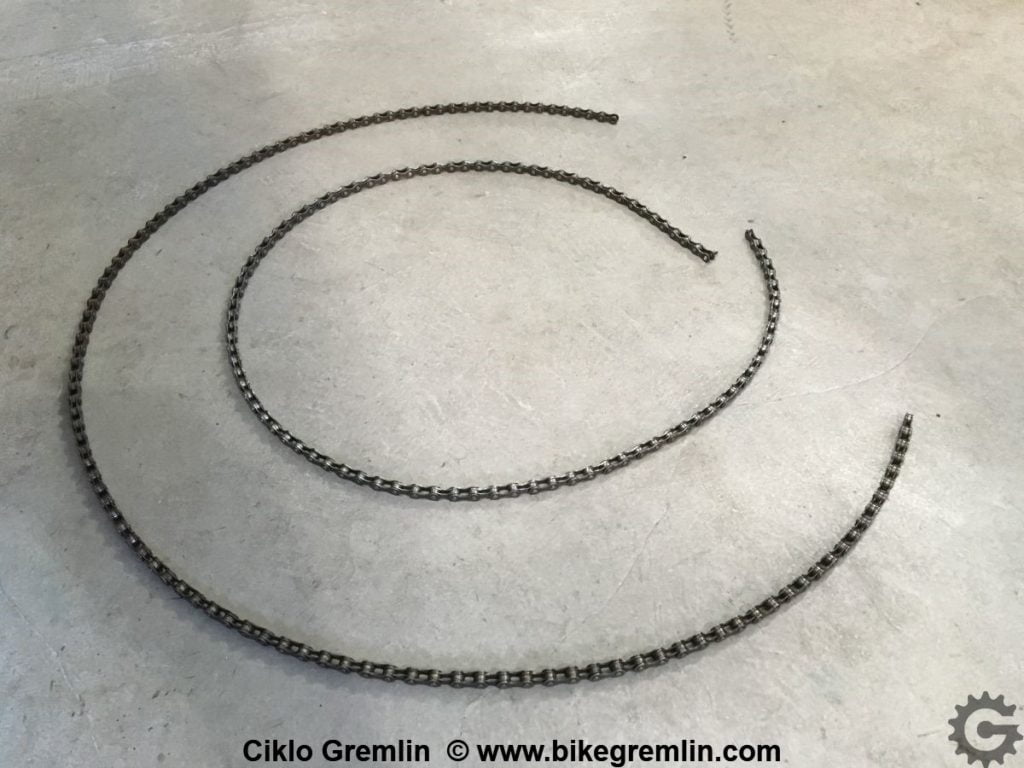 As a derailleur moves the chain sideways, a worn chain is more likely to just twist a bit, than move from one chainring onto the next one. The tighter the chainrings are packed (i.e. more "speeds"), the more this effect is present – since the derailleur moves for a shorter distance per gear change on tightly packed cassettes with 10, 11, or more speeds.

5. Chain to chainring engagement
What happens to a chain's engagement with the chainrings as the chain gets worn? The more a chain elongates (pitch increases), the more engagement worsens. Worn chain carries load only on the last one, or two rollers, while the rest are just hanging loose over the chainring. This is because the chainrings don't change the pitch, even as they too get worn. A worn chain will start climbing over the chainring teeth, since other links are not engaged to hold it in place.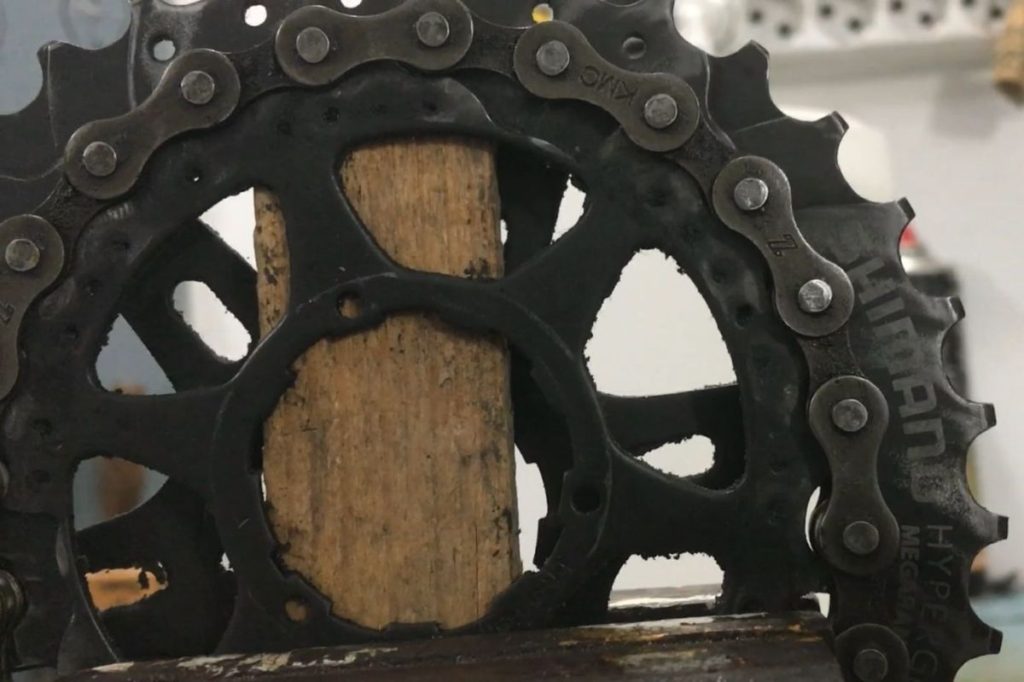 Both chains in picture 12 are under load by a weight attached on the right hand side. Note how a worn chain climbs off the teeth before it disengages (at about 3 o'clock in picture 12b). So a worn chain not only carries most load with the last link, but also does it at the very top of a chainring tooth – increasing the risk of breaking the tooth off. I've tried to show this load distribution and poor engagement in this video:

5.1. New chain on a worn chainring
Why does a new chain skip on a worn rear chainring and get sucked into a front chainring. Like it was said, as a chainring gets worn, it keeps the same pitch, but the teeth get hooked like shape.

5.1.1. New chain on a worn front (driving) chainring
Because the teeth of a worn chainring change shape, the chain will climb on the teeth when it is loaded. This way, chainring pitch is effectively increased, since the chain rides on a circle of a larger diameter. When a new chain needs to disengage a worn chainring, since the diameter it rides on is larger, it would need a longer pitch (the chain) for adjacent loaded links to take up the load and let it disengage, i.e. so it could become unloaded. That is why a new chain on a worn front chainring tends to get stuck and pulled upwards, instead of disengaging at 6 o'clock – effect known as "chain suck".
Picture 13 shows how a chain, by climbing the sloped teeth of a worn chainring, effectively engages a chainring of a longer pitch.
Video showing the effect of chain suck:

5.1.2. New chain on a worn rear chainring ("sprocket")
Rear chainring doesn't keep the chain under tension, the chain is pulled by it's links from the front chainring. Here, principle is the same, but reversed, compared to the front chainring. Worn teeth here also make the chain ride higher, and this prevents it from engaging (since it rides on a circle of an increased diameter) as it comes from the lower side of the chainring. That is why a new chain will skip on a worn rear chainring ("sprocket").
This sums it up. When to replace a chain and how much wear is tolerated is explained in this post: When to replace the chain on a bicycle?