On this website's Q&A page, on BikeGremlin YouTube channel, and on bikeforums.net forum, many people post questions about how to repair or tune (something on) their bicycle. In this article, I'll explain how to ask for advice and what information to provide in order to get useful help and tips.
In a separate article, I explained how to ask for help when buying a bicycle?
Table Of Contents (T.O.C.):

1. WHERE to post a question – introduction
YouTube often blocks comments, especially if they contain links (to bikes, or to images).
So the best place to ask for advice is either the BikeGremlin forum or bikeforums.net (link to that forum) and other forums.
Now, when you go to this website or some cycling-related forum and ask for advice on how to fix or tune something on your bicycle, the people you're asking have no idea what your particular bicycle looks like.
OK, you can add photos (that can certainly help), but that's still not nearly as good as looking with one's own eyes.
Bikeforums.net does not allow posting pictures or links until you have at least 10 posts – for spam prevention reasons – but here's how to work around that restriction.
You are the only person that can see your bike and provide the needed information.
In other words, when asking for help over the Internet, imagine you are talking face-to-face with a very good mechanic who is blind.
Now I'll briefly explain what info is important and how to express it in "cycling" language. 🙂

2. The needed INFORMATION
Your privacy is important. However, for giving any useful bike-fixing advice, some info is still necessary.
This website and most forums allow you to post anonymously (using a nickname of your choice).
Here's a list of the four important pieces of information you should try to provide:

2.1. Bicycle's make and model
Information about your bike's make and model (like "Cube Aim Race" etc.) helps us get an idea of what kind of bicycle we're talking about. This info is often written on the frame, in relatively big letters.
If you can't determine this, at least let us know what type of bicycle it is (like: MTB, road, women's city bike etc.).

2.2. Parts' make and model
Provide the exact model and make of the parts you have questions about. For example, if you have problems with brakes, write down the model of brake levers and of brake callipers. The same principle goes for the other parts of the bike.
This is important because different part models have different "peculiarities."
Make is usually printed in big letters, while the exact model is often hidden somewhere "behind" – look for it. Here's how this looks on a rear derailleur: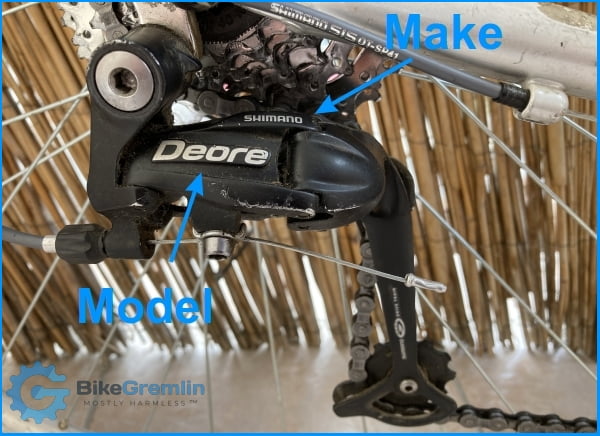 Looking from the opposite side, I could find the exact model: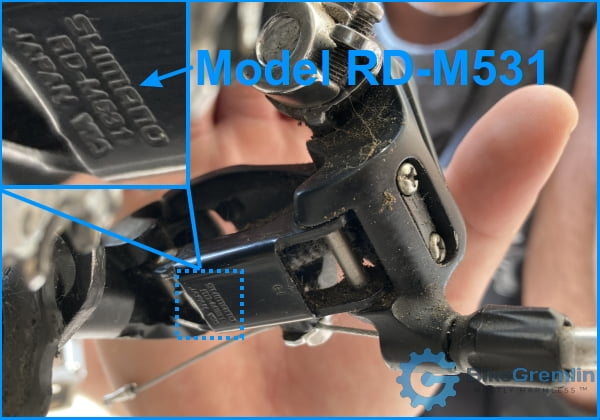 I almost forgot the most important thing: for any shifting or derailleur problems, let us know how many chainrings you have at the front, and how many at the rear. Because "18 speeds" could be 2×9, but also 3×6.

2.3. Clearly describe the problem
Assume we are a bit dumb and completely blind. 🙂
Don't leave room for any guesswork. Be specific, in detail, and don't make us presume anything.
If necessary, here's how you can add pictures with a comment/post.
For shifting and derailleur problems, don't use sentences like "I have problems shifting from 5th to 6th gear," because that's not clear enough. Instead, try this:
Tell us exactly how many front, and how many rear chainrings you have.
Refer to any gear combinations by stating which front chainring (small/mid/large for triples), and which rear chainring (first/second/third/etc. smallest, or first/second/third etc. largest) is engaged (has the chain running over it).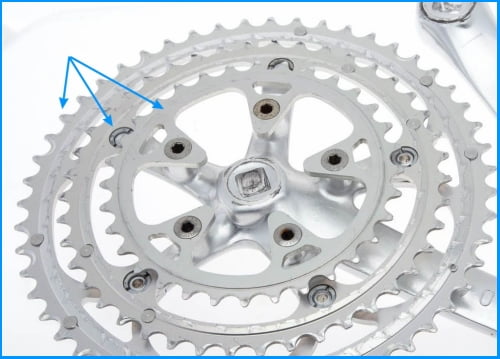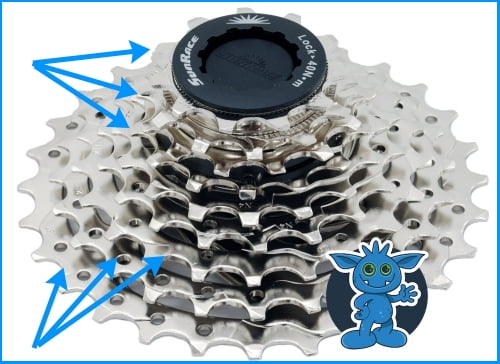 2.4. Describe your riding conditions
If you ride a lot in the rain, mud or up hills, it's a good idea to let us know. Some problems can be riding-conditions specific.
Similar goes if you often haul heavy cargo, or are a very strong or a very heavy rider.

3. IMPORTANT notes
Regardless of whether you ask for advice on this website or on some forum, please take the following four things into consideration:

3.1. Use the website/forum search
Many questions related to bicycle shopping, especially on forums, have already been answered. Questions like: "my cassette is wobbling, what should I do?" or "by disc brakes are squeaking" or "my bicycle makes creaking/strange noises" etc.
Most forums have a decent search option, and here's how to use BikeGremlin's search: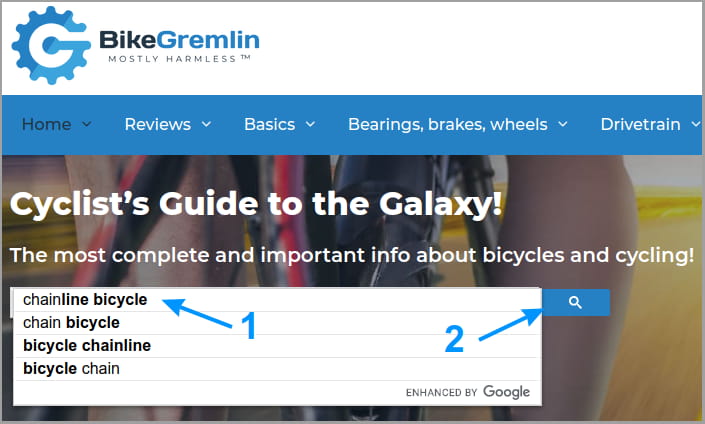 You can also check out the BikeGremlin website Table of Contents – it is sorted by categories and you might find the needed info right away.

3.2. It's not a chat or customer support
If you want advice that experts give of their own free will, in their own free time, for free, please be patient. It is quite normal to wait for a few days, or even a week to get a high-quality, helpful reply.
As far as I'm concerned, from March through August, each day I get dozens of questions about bicycle fixing and tuning. During that period, I really can't promise to provide any useful responses in a remotely reasonable time. I suggest you find a local cycling-related forum for help.
For the very urgent, or very personalized help/advice, I offer a paid consulting service.
Update, October 2023: for any questions, help or advice, please use the BikeGremlin forum.
Why I think a forum is a good idea.
The following two notes are related to using forums:

3.3. Choose the appropriate forum section
Most cycling-related forums have separate sections for road bicycles, mountain bicycles etc. Some even have a separate bicycle mechanics section – link to the bikeforums.net forum's bicycle mechanics section.
It helps a lot to start on the right foot – by posting in the proper forum section.

3.4. HELP?!? – forum topic title
Unless you need an ambulance (and haven't got a phone), please don't use ALL CAPITAL LETTERS for your topic's title, or use only the word "Help" or similar.
Name your topic so that it's clear what it's about. Here are a few well-written forum topic title examples:
"Play in the rear suspension link – MTB"
"Switching from 3×9 to 1×9 or 2×9 MTB cranks"
"Replacing cables and tuning the rear derailleur"
Here's how NOT to do it:
"Cassette"
– What about it? Just a few more words describing your problem in the title would help a lot.
"Noob needs help"
– Most questions are asked for this reason, but we can't have all the topics with the same name, for easier later search.
"Urgent!!!" or "HELP!"
– Unless you need urgent medical help and aren't able to use a phone, please don't give us a scare. Thanks in advance.

4. Conclusion and video 🙂
The goal of this article is to help you get expert advice faster and better – and to help the experts provide useful advice by receiving all the needed information.
With careful observation and detailed problem description, it can easily happen that you find the solution all by yourself! Don't be surprised. 🙂
It's best to ask questions on bikeforums.net forum, or on the BikeGremlin forum.
Here's my short video on this topic: