This post will explain bicycle rear chainrings standards. Since in cycling literature a term "sprocket" is used to refer to rear chainrings, that term will be used in the remainder of this post (and most other on this site). In cycling terminology, term "chainring" usually refers to front chainrings only.
If you have any questions (or additions and corrections), please use the BikeGremlin forum:
www.bikegremlin.net
Table Of Contents (T.O.C.):
Sprocket mounting on the hub standards
2.1. Freehub standards
…..2.1.1. Shimano Uniglide
…..2.1.2. Shimano Hyperglide and Hyperglide+
…..2.1.3. SRAM XD
…..2.1.4. Campagnolo freehubs

1. Introduction
Two things are important for bicycle sprocket standards: the way sprocket(s) are attached to the hub, and the number of "speeds" (i.e. the number of sprockets).
Mounting type is important because not every sprocket (set) can be mounted onto every hub. This will be explained in more detail in a separate post about bicycle rear hub standards, here it will only be briefly mentioned in one chapter.
Number of speeds is important for matching the chain and rear derailleur. This is explained in posts about compatibility.

2. Sprocket mounting on the hub standards
There are two main standards: freewheel and freehub. That is explained here: Freewheel vs Freehub (cassette).
Freewheel works by screwing sprocket(s) onto the hub, while freehub uses splines that sprocket(s) are slid onto and then locked. Freewheels can be found for cassettes with one, 6 and 7 speeds.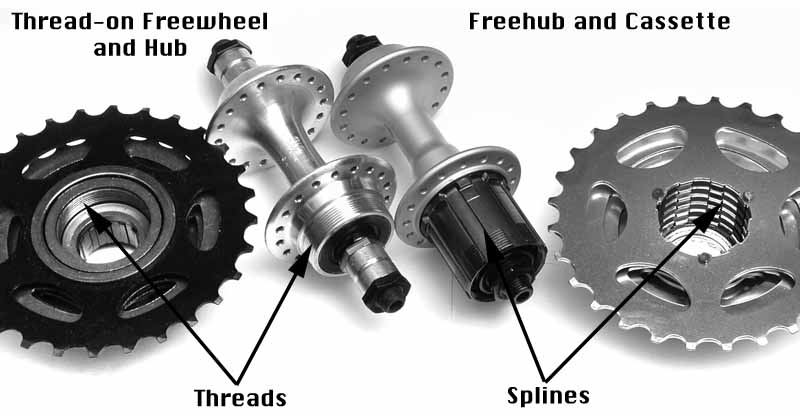 There are several freehub standards, and if cassette doesn't match the freehub standard, it will not fit. That is explained in the next (sub)chapter.

2.1. Freehub standards
2.1.1. Shimano Uniglide
Last sprocket is screwed onto threads cut into the last part of the freehub – acting as a lockring.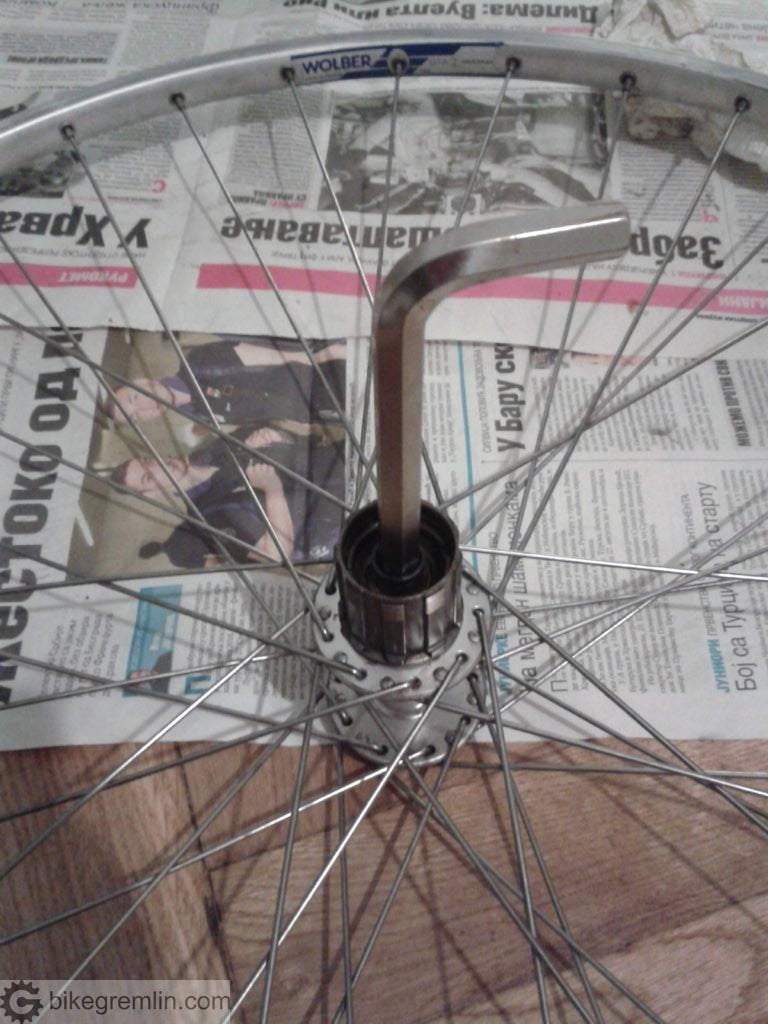 Splines of Uniglide freehub and cassette grooves are symmetric, of the same width and spacing, so a sprocket can be flipped and placed the other way round. Doing this with a worn cassette, enables using the other sprocket teeth side and getting a practically new cassette! 🙂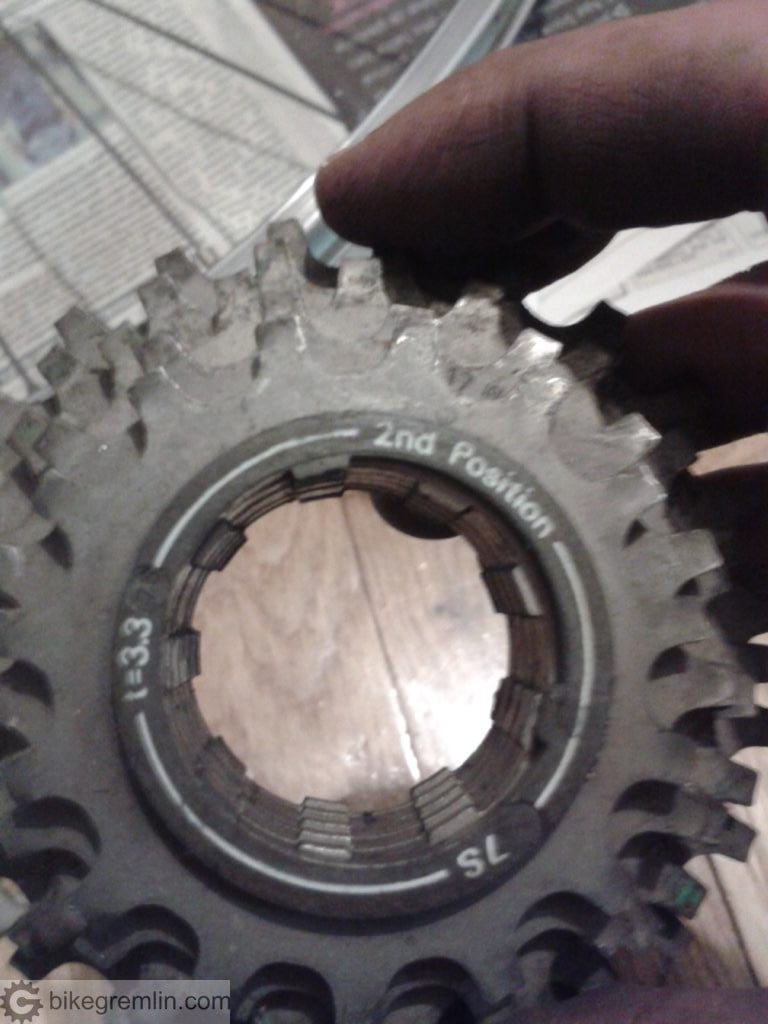 Uniglide cassettes are most common with (old) 7 sprocket systems.
2.1.2. Shimano Hyperglide and Hyperglide+
Many manufacturers make cassettes matching this standard. Splines are asymmetrical so sprockets can be mounted only one way. This insures planned sprocket teeth arrangement of adjacent sprockets for faster and easier shifting. It also prevents flipping sprockets when teeth get worn on one side. Take a little bad with the good… 🙂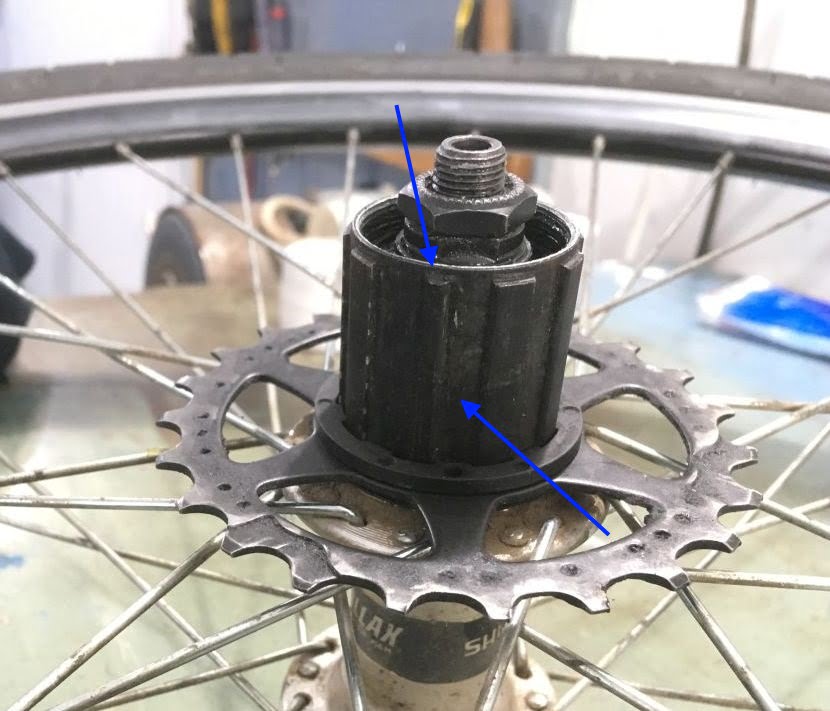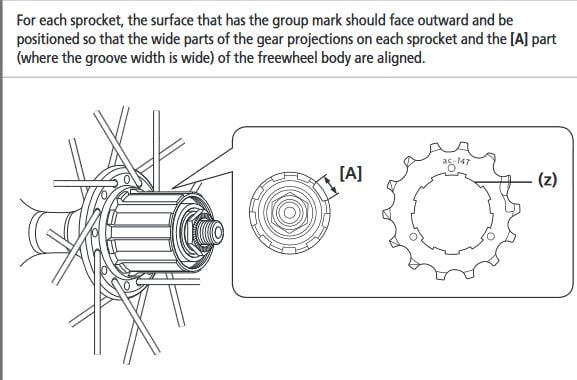 Last (smallest) sprocket of a hyperglide cassette has a toothed outer profile. Freehub body has threads on the inner side, that a toothed locknut is screwed into. This keeps the cassette in place.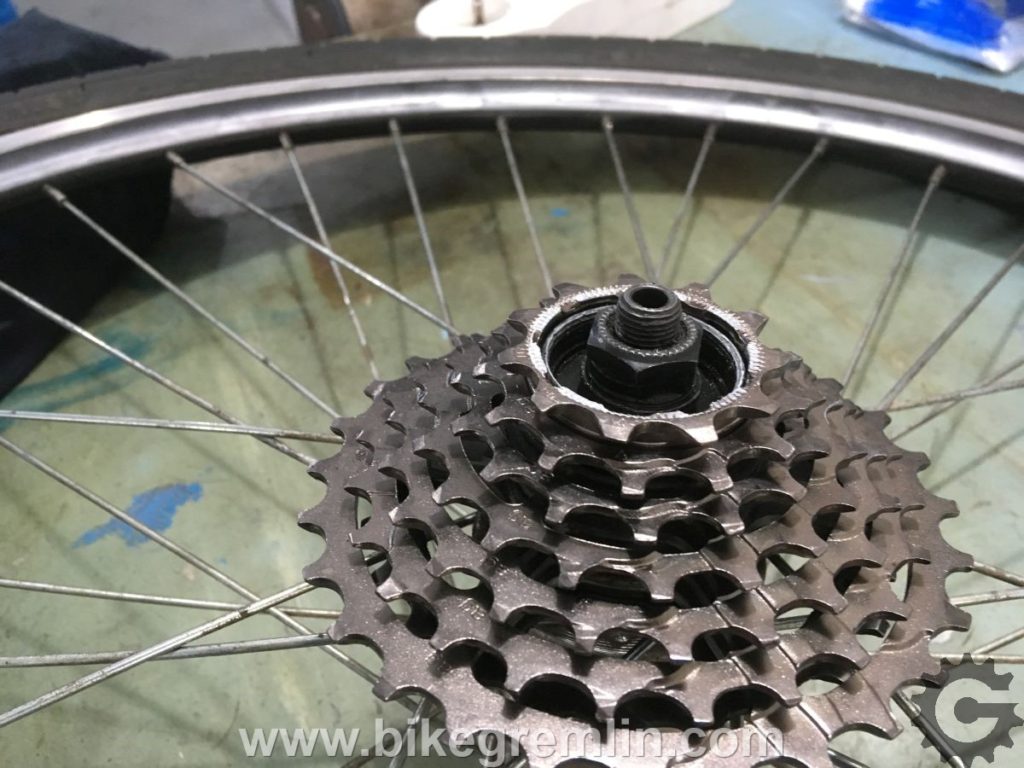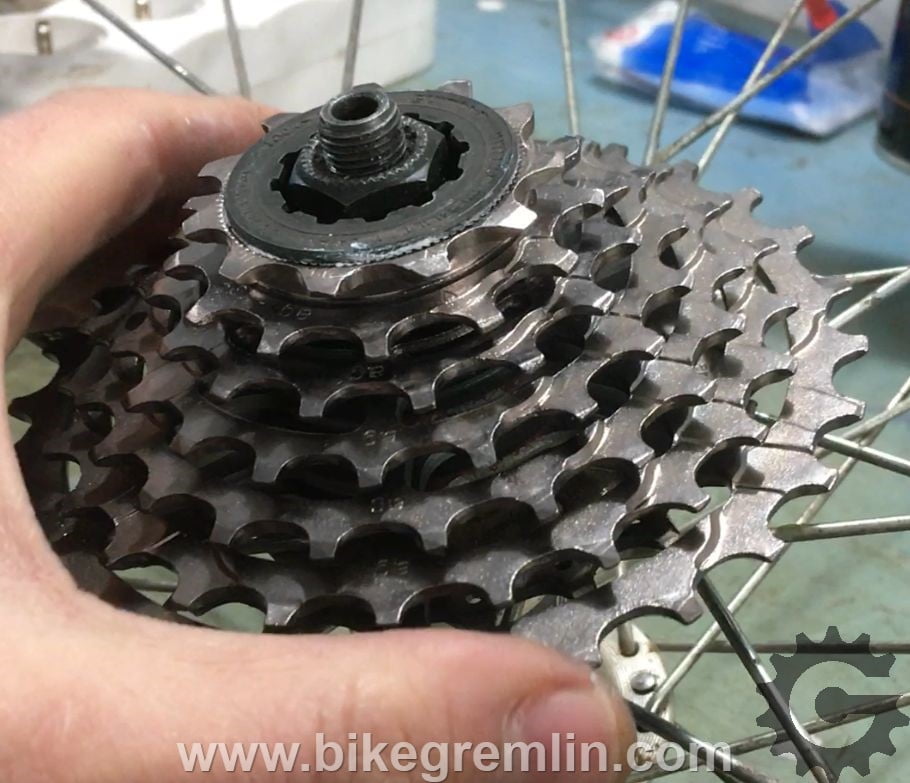 Hyperglide cassettes are made for systems with 7 to 11 sprockets, with an addition of SRAM NX Eagle 12 sprocket cassettes that fit hyperglide freehubs.
Since the summer of 2018, Shimano has introduced Hyperglide+ freehub standard. For now, it is meant for 11 and 12 speed Shimano MTB cassettes, so they can have the smallest sprocket of only 10 teeth. Along with the obsolete "Shimano Capreo", Hyperglide+ is explained with pictures in the post about Shimano XTR M9100 groupset (p)review.
2.1.3. SRAM XD
SRAM XD cassettes can have the smallest sprocket of only 9 teeth, thanks to the design of XD freehub body.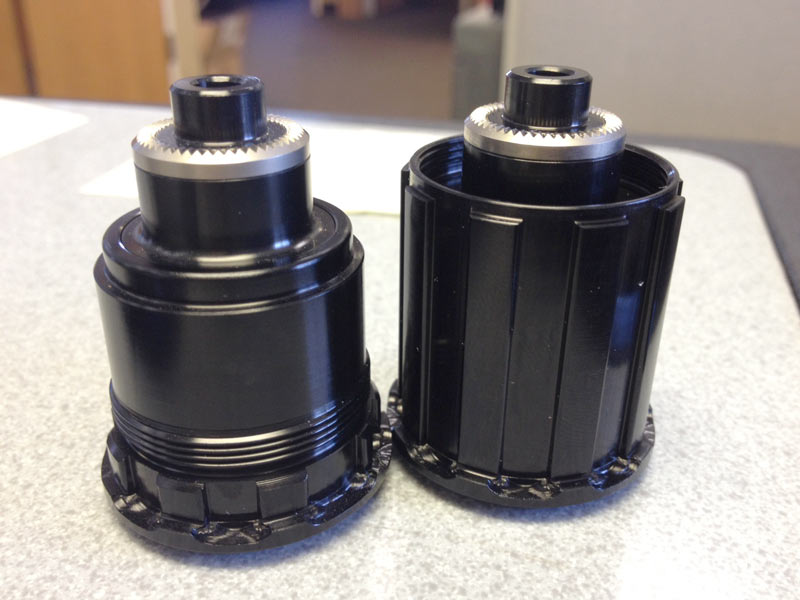 XD cassettes have a bearing system on the inside, that enables screwing cassette onto the threads at the bottom of the freehub body – from the outside, after the cassette is slid on the splines.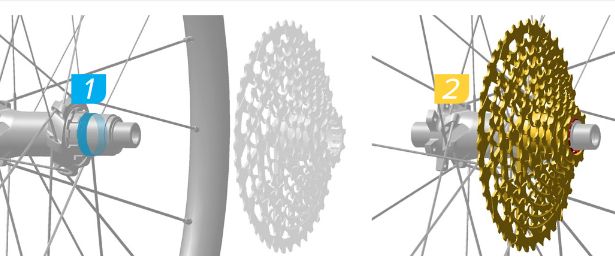 XD cassettes are available for 10 to 12 sprocket systems.
2.1.4. Campagnolo freehubs
Campagnolo cassettes have several old (discontinued, considered obsolete) standards and one current freehub mounting standard.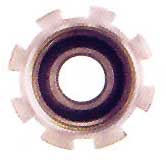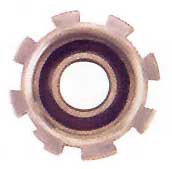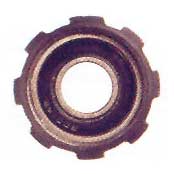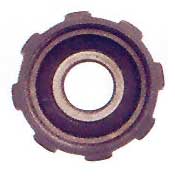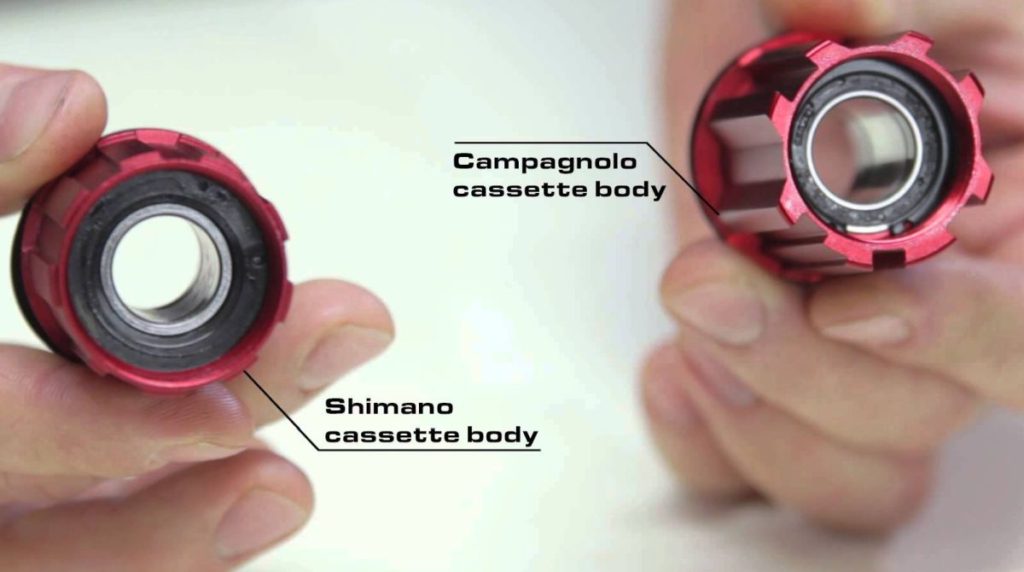 Cassettes also differ by teeth shape.

Exa drive cassetes are available for 7 to 9 sprocket systems, while Ultra drive come in 9 to 11 sprocket versions.

3. Standards by number of "speeds" and manufacturer
Cassette standards differ by number of speeds, i.e. by the number of sprockets on a cassette. Generally: the more speeds (sprockets), the thinner a single sprocket gets and the more densely they are packed (less distance between adjacent sprockets). Distance between the middles of two adjacent sprockets is called "cassette pitch" (different from sprocket pitch, that defines adjacent teeth distance).
Table 1 gives overview of important cassette dimensions. Most manufacturers make cassettes to match Shimano standard. Beside Shimano, there is a Campagnolo standard, and SRAM standard for 12 speed cassettes.
TABLE 1
Dimensions are in millimetres
Cassette type and number of sprockets
Cassette Pitch
Sprocket Thickness
Spacer thickness
Total width
most 5-speed
5 – 5.5
1.85 – 2
3.5
24
most 6-speed
5 – 5.5
1.85 – 2
3.5
29.5
Shimano, SRAM Hyperglide 7-speed
5
1.85
3.15
31.9
Freewheel 7-speed
5
1.8 – 1.85
3.15 – 3.2
32.4 – 32.8
Shimano, SRAM 8-speed
4.8
1.8
3
35.4
Shimano, SRAM 9-speed
4.35
1.78
2.56
36.5
Shimano, SRAM 10-speed
3.95
1.6
2.35
37.2
Shimano, SRAM 11-speed road **
3.74 **
1.6
2.14
39
Shimano, SRAM 11-speed MTB **
3.9 **
1.6
2.3
40.6
Campagnolo 8-speed
5
1.9
3.1
36.9
Campagnolo 9-speed
4.55
1.75
2.8
38.2
Campagnolo 10-speed
4.15 on average *
1.7
varies *
38.8
Campagnolo 11-speed
3.85 on average *
1.6
varies *
40.1
SRAM 12-speed MTB
3.65
n/a
n/a
n/a
Shimano Dura Ace 6-speed
6.07
n/a
n/a
n/a
Shimano Dura Ace 7-speed
5.52
n/a
n/a
n/a
Shimano Dura Ace 8-speed
5.3
n/a
n/a
n/a
* With some Campagnolo cassettes cassette pitch changes – increasing and decreasing between different position sprockets. The goal was to improve shifting in the middle part of the cassette.

** For more details on Shimano/SRAM 11-speed road and MTB cassette similarity, see the cassette compatibility article.
Cassettes with 10 and more sprockets are designed so that largest sprocket overhangs the freehub body and goes a bit towards the wheel spokes (without hitting them). This enables mounting wider cassette onto a standard sized freehub body (Shimano 11 speed road cassettes still require a longer freehub body).

Help BikeGremlin
stay online & independent
This website is educational, free, objective, and not commercial
(sponsors don't enjoy paying if you mention all the product downsides that you notice 🙂 ).
How much does a WordPress website cost?
If you find this site to be good and helpful,
and if $5 per month is what you can afford to set aside,
please consider supporting my work with a Patreon donation:
Current support in total: $30.00 per month
(Patreon support: $21.04
YouTube subscription: $4.29
Other platforms: $4.67)
Related post – Bicycle – how many speeds:

If you have any questions (or additions and corrections), please use the BikeGremlin forum:
www.bikegremlin.net