This post will give an overview of bicycle driving chains standard dimensions. Each chain has three important dimensions: pitch, inner width and outer width.
If you have any questions (or additions and corrections), please use the BikeGremlin forum:
www.bikegremlin.net
Table Of Contents (T.O.C.):

1. Bicycle driving chain pitch
Chain pitch is the distance at which the pins are placed. It is measured by measuring the distance between 3 links, then dividing it by two.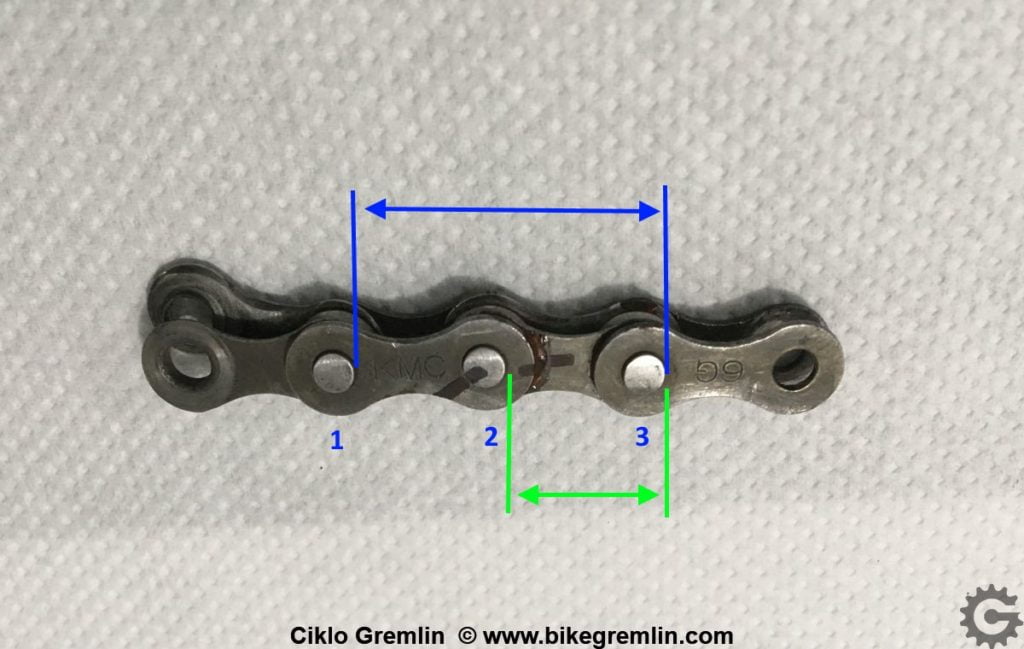 For detailed explanation of chain pitch, and why measuring three pins gives a more accurate result read the post Chain wear ("stretching"). For this post it suffices to say that bicycle chain pitch is exactly 1/2 inch (12.7 mm). This goes for all the bicycle chains, regardless of the speed number.

2. Chain inner width
Inner chain width is the spacing between a pair of inner plates. It is marked in the picture 2.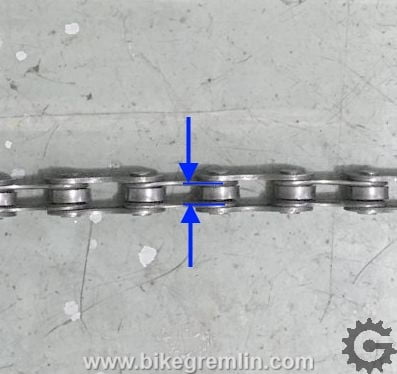 For inner chain width there are the following standard dimensions:
Single speed chains have inner width of 1/8″ (3.175 mm).
Multi speed chains, from 5 to 8 have inner width of 3/32″ (2.38 mm).
Multi speed chains from 9 to 12 speeds have inner width of 11/128″ (2.18 mm).
"Exotic" standard for freight bicycles is 5/32″ (4 mm).

3. Chain outer width
Chains for one and multiple speeds differ from each other by the outer width. The more "speeds" a chain is designed for, the thinner the outer plates and shorter the pins are (and they protrude less) – so the outer chain width is smaller (i.e. chain is narrower). Inner width of all the multi speed chains is almost the same – with only single speed chains having a significantly larger inner width.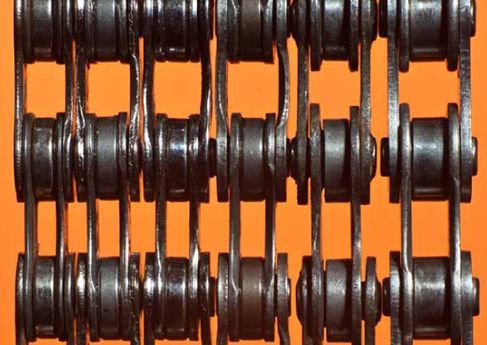 Note how rollers of all the multispeed chains are of almost the same width, only single speed chain being significantly wider on the inside.
Pitch is the same for all the chains – they are aligned by length.
As can be seen from the picture 3, the outer width differs mostly. This is important for bikes with multiple sprockets, so the chain doesn't get stuck (too wide), or drop between the sprockets (too narrow – this latter case is practically never a problem in practice).
See this great post by "Graeme_FK" on the Cycle Chat forum for an in-detail explanation of the "fine print" in terms of Campagnolo vs Shimano vs SRAM vs 1x chain compatibility and size differences.

Help BikeGremlin
stay online & independent
This website is educational, free, objective, and not commercial
(sponsors don't enjoy paying if you mention all the product downsides that you notice 🙂 ).
How much does a WordPress website cost?
If you find this site to be good and helpful,
and if $5 per month is what you can afford to set aside,
please consider supporting my work with a Patreon donation:
Current support in total: $30.00 per month
(Patreon support: $21.04
YouTube subscription: $4.29
Other platforms: $4.67)

3.1. Bicycle chain width standards table
Table 1 gives an overview of chain outer dimensions, by number of speeds.
Number of sprockets (speeds)
a chain is designed for
Chain's outer
width in mm
All 6 speed
7.8
All 7 speed
7.3
All 8 speed
7 ~ 7.3 *
All 9 speed
6.5 – 6.7
10 speed old Campagnolo standard
6.2
All other 10 speed
5.84 – 6.1
All 11 speed
5.46 – 5.74 **
SRAM 12 speed MTB
5.25
Shimano 12 speed MTB
n/a
Campagnolo 12 speed
5.15
Campagnolo Ekar 1×13 speed
4.9
Rotor 1×13
Uses SRAM 12-speed
MTB chain standard
* For details, see chapter 3 in the bicycle chains compatibility article.
** See the two comments by Klaus here (thanks for the valuable feedback),
until I double check and confirm.
My video explaining bicycle chain construction and dimension standards:
For overview of which chains can be combined with which sprockets, read this post: Bicycle chains compatibility:

If you have any questions (or additions and corrections), please use the BikeGremlin forum:
www.bikegremlin.net