Updated: 22/10/2020.
In this post I'll explain the basic terms and provide basic information important for bicycle wheel building.
I'll be using Amazon affiliate links and earn from qualified purchases as an Amazon associate (why Bike Gremlin uses Amazon affiliate).
Contents:

1. Introduction to bicycle wheel building
I explained the basics of how bicycle wheels carry load and what is needed for them to be strong (the choice of good quality components) and durable in the article: Bicycle wheels – how many spokes? I also made a series of YouTube videos on how to build bicycle wheels. In the videos I explained and demonstrated most things, but I like having it all in text format as well, for easier searching and reference – it's often faster and I like it. 🙂
In this post I'll write about the technical part, that is – the wheel building process. I'll also briefly recapitulate the information about the quality of components chosen.

2. Choosing good quality components
If one is replacing only a rim, or a hub, the component choice is somewhat "easier", simpler, since the other components do limit the available choices. So for this text, I'll start with an assumption that a wheel is being built from scratch.
I also made a YouTube video where I explain the types, quality and choice of bicycle wheel components.

2.1. Hubs
I'd start with the choice of hubs. Depending on whether a wheel is built for a road bike, or for a MTB, whether it is the front, or the rear wheel, whether one uses disc, or rim brakes – hub choice will differ. The choice of hubs depends on the frame as well – whether it accepts quick release, or requires a through axle.
Then, if it is a rear hub, it is important to know the width of frame's rear dropouts. In a separate post I wrote about the rear hub width standards. This will further narrow down the hub choice.
Another thing to determine is whether the bicycle frame is made for rim, or disc brakes (the linked article discusses pros and cons of each). Since there are hubs for disc brakes. Disc brake hubs will also work with rim brakes, but are (needlessly, if using rim brakes) more expensive and heavier.
For rear hubs, it is also important to note how many sprockets are used and which make of shifters and derailleurs are on the bicycle (Shimano, SRAM, or Campagnolo notably). I explained this in the article about rear hub compatibility.
Within all these parameters, that are determined by the type of bicycle the wheel is being built for, it is left to choose how many spokes should the wheel have. In terms of easier sourcing of good quality, reasonably priced rims, and for more durability, I would recommend 32, or 36 spokes. The number of spoke holes in the chosen hub will affect the number of spoke holes the matching rim should have.
Here I must note that there are some "exotic" hubs that require "exotic" spokes – that, in turn, sometimes require "exotic" rims as well. Here's an example: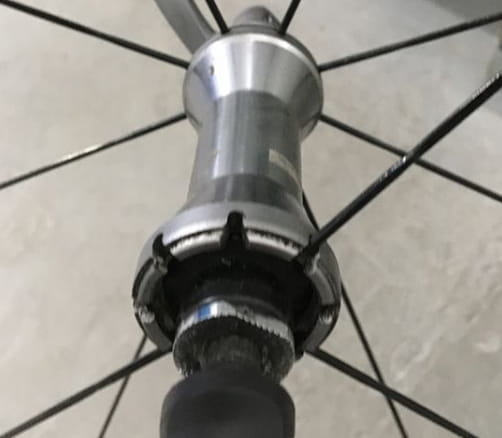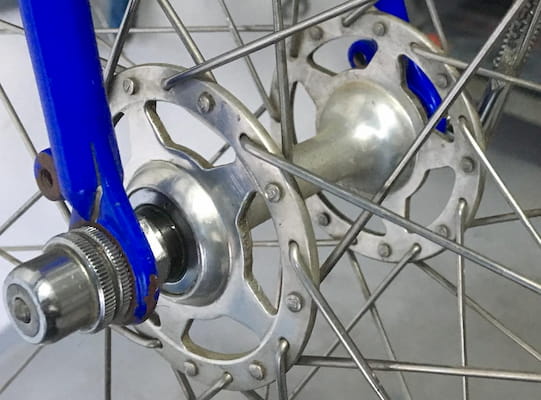 2.2. Rims
For rims it is important that they have the same number of spoke holes as the chosen hubs (and vice-versa).
I think that double walled aluminium rims are among the stronger, more durable, yet not too expensive, nor too heavy.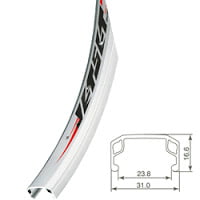 2.3. Spokes
Inexpensive and good quality solution are the standard, with a "J" bend at the elbow, 2 mm thick, preferably thinned down in the mid-section to 1.8 mm. Such spokes are also called "swaged" (some spoke manufacturers, like DT Swiss, refer to such spokes as "double butted", while the ones that have wider elbow part compared to the nipple thread part, with still having narrowed down mid section are referred to as "triple butted").
Narrower spokes are a bit lighter, "more aero" (the modern buzz-word), but are less durable.
2 mm swaged spokes thinned down to 1.5 mm twist a lot when they are tightened, making the wheel build very difficult, without providing much benefits.
Thinned down mid-section of swaged spokes acts as a kind of a shock absorber, being more flexible, thus relieving some stress from the spoke ends – which are the critical parts where spokes fail from material fatigue most often. Perhaps a bit counter-intuitive, but that's how it is. It should also be noted that this thinning down is done at the factory, by rolling, not by grinding, so that the material structure is kept in tact, without creating a weak spot prone to material fatigue.
With spokes, another important aspect is their length, but more on that later.
I've had great results with Sapim and DT Swiss spokes (Amazon affiliate links).
Note: modern spokes from most manufacturers are made with a head angle of 90 degrees, or even more obtuse (95 and similar).
Picture 5 shows a spoke with J-bend (elbow) angle of 94 degrees. This prevents it from getting hooked to spoke flanges using the strong part of the spoke (3), putting more pressure on the head (2), the part of a spoke where there already is a lot of stress concentration from manufacturing, and less material, making spoke heads more prone to breaking off and spokes comming loose.
This design makes spoke (wheel) lacing faster and easier, but makes spokes effectively weaker. Sapim makes these angles 95 degrees, while DT Swiss is better (less bad) with 90 degrees. Still, these are the best (or least bad) spokes that can be bought nowadays.

2.4. Nipples
Nipples should match the spokes. Spokes that are 2 mm wide at the threaded end will need nipples with 2 mm wide threads as well. Note that 2 mm nipples will fit 1.8 mm wide spokes, but the fit will not be strong enough and threads could get stripped under force. 1.8 mm wide nipples, on the other hand, will not fit 2 mm wide spokes, of course.
Nipple length of 12 mm is best in practice, unless the rim is exotic and needs longer nipples. Wheels are built most quickly with these and the interface is strong and durable. There are longer nipples available – notably 14 and 16 mm.
As for the material, there are aluminium and brass nipples. Aluminium ones are lighter, but also less strong and more prone to galvanic corrosion (Wikipedia article), so I avoid them.

3. Spoke lacing pattern
In this video, at 2:48, I explained the spoke lacing patterns (link should open YouTube, starting at 2:48). But here is the explanation in textual format.
Exotics aside, there are two ways of lacing bicycle wheels: radially, and crossed. Before more detailed explanation, a couple of pictures that speak more than words: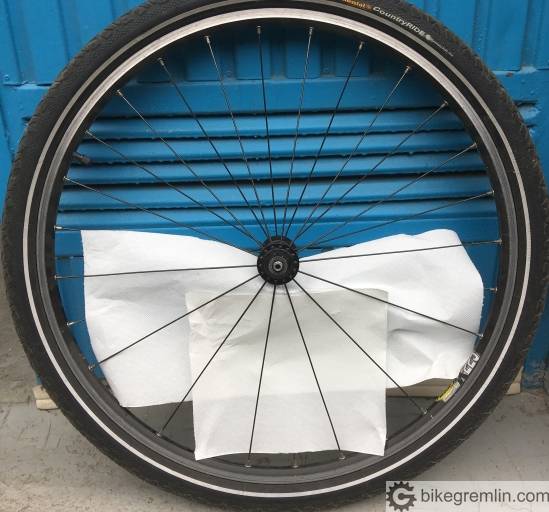 Radially laced wheels have spokes going straight from the hub to the nearest rim spoke hole.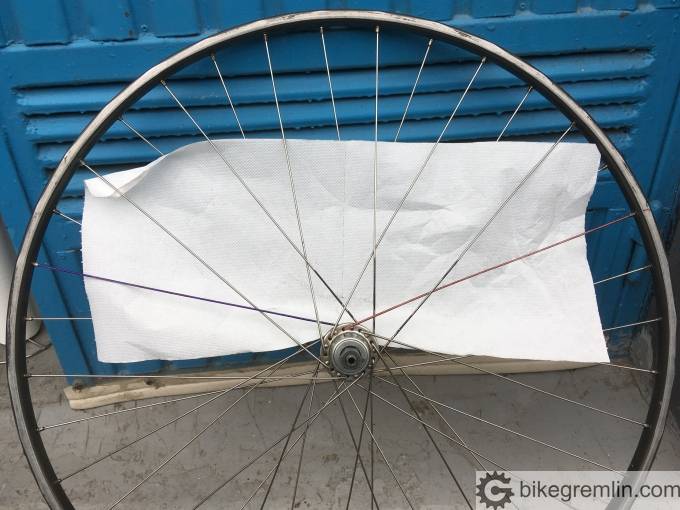 Cross laced wheels have spokes going at an angle, to a spoke hole in the rim, crossing over other spokes on its way. The number of crosses can be smaller, or greater. More on that later, but our wheel has 4-cross lacing pattern.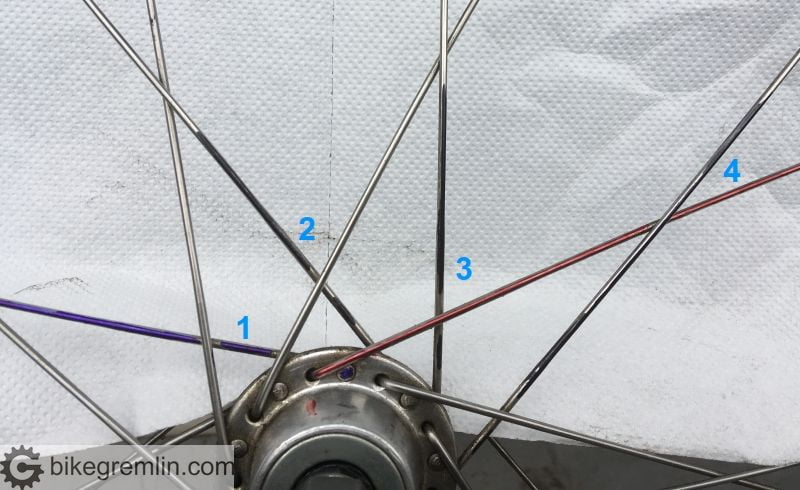 When counting the number of crosses, people often miss the first crossed, adjacent spoke (painted in blue in picture 8).
All else being equal, cross laced wheels can take a lot more load than radially laced ones. Radial lacing is practically only used for show (and minimal weight savings since they require shorter spokes). I'll explain why.

3.1. How cross laced wheels carry load
There are two main types of wheel loads. One is the torque, where hub tries to rotate on its axle, relative to the rim (in case of pedalling), or, when braking using disc brakes, the rim tries to rotate relative to the hub.
Picture 9 shows an example of pedalling force – wheel is depicted from the left hand side. When braking using disc brakes, the force acts in the opposite direction, by ground "pushing" against the rim.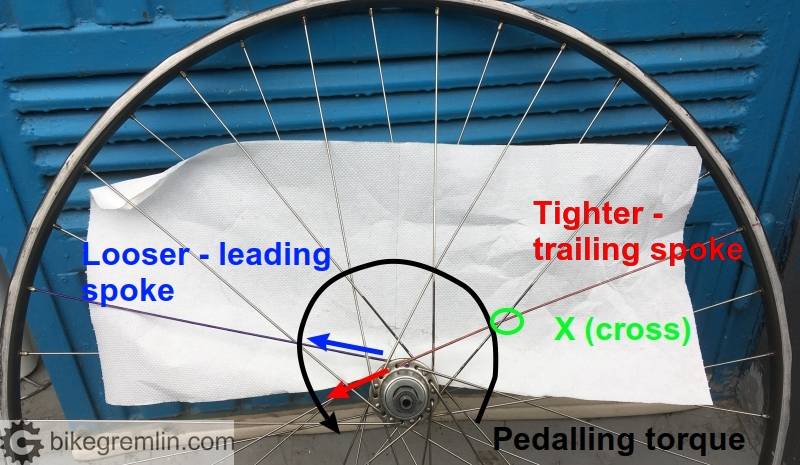 Spokes being pulled (trailing spokes) get tightened, while the ones laced in the opposite direction (leading spokes) get a bit less tight (loosened). Number of crosses can be smaller, or greater.
The part where the trailing and leading spokes cross, is the place where the further tightened trailing spokes push stronger against the leading spokes, thus reducing the amount of loosening that trailing spokes face – which is one of the benefits of the crossed lacing pattern.
The other force faced is lateral movement of the rim, relative to the hub – usually by ground pushing against the rim, over the tyre, of course.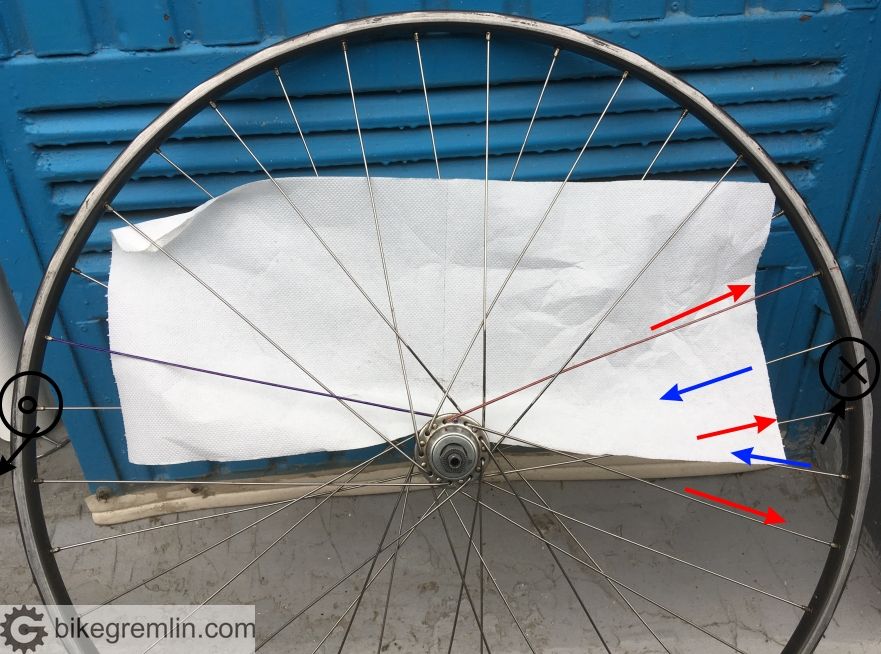 For an example, look at picture 10 and imagine the force acting on the right hand side of the rim, in the direction from the viewer, towards the blue door in the background. The spokes near the point where the force is used will be mostly affected. The ones closer to the door will become loosened (since the rim is moving towards them), while the ones closer to the viewer will be tightened.
To better resist such forces, spokes are laced at an angle relative to the hub, so that the hub's flanges can be used as a lever, to oppose this force.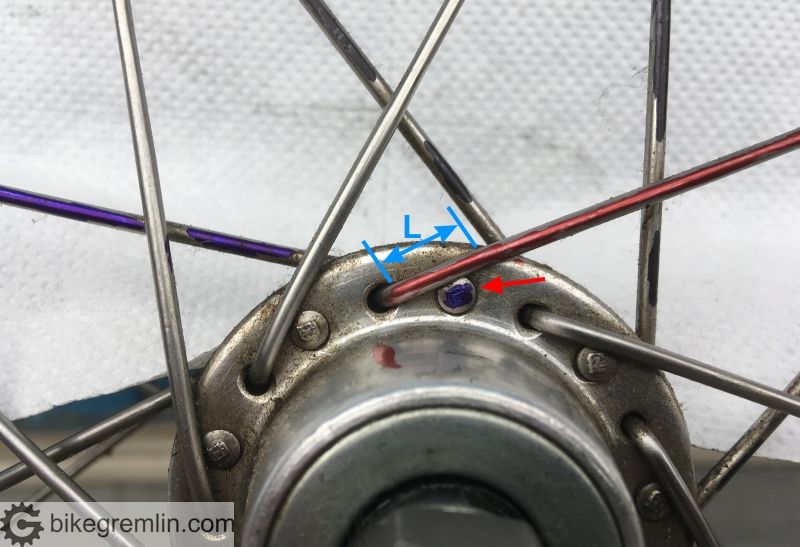 The greater the spoke angle (i.e. the more spoke crosses there are), the better will a wheel cope with lateral loads. Imagine if the red spoke in picture 11 were going all the way across the head of the adjacent spoke (painted blue and marked with a red arrow). That would make an even longer lever. However, that would make replacing a broken spoke difficult, because the access would be blocked. Also, head of the spoke would create a bend, kink, in the spoke going over it, making it weaker. That is why it is important to choose the optimal number of crosses. Picture 11 shows just a bit of overlap – borderline acceptable amount.

3.2. The optimal number of crosses
The number of crosses should be such that the maximum angle of spoke relative to the rim is achieved, but without the spoke going over the head of the adjacent spoke.
The actual number of crosses that achieves this mostly depends on the total number of spokes (and on the hub flange and rim diameter, to a lesser extent). How so?
A 36 spoked wheel has each rim spoke hole at 10 degrees angle (360/36), while each hub spoke hole on each side is at twice that angle (since half spokes go from one side, the other half from the opposite hub side).
If we took a 20 spoked wheel, each rim spoke hole would be at an 18 degree angle, with hub flange holes being at 36 degrees from each other.
Spokes go in groups by 4: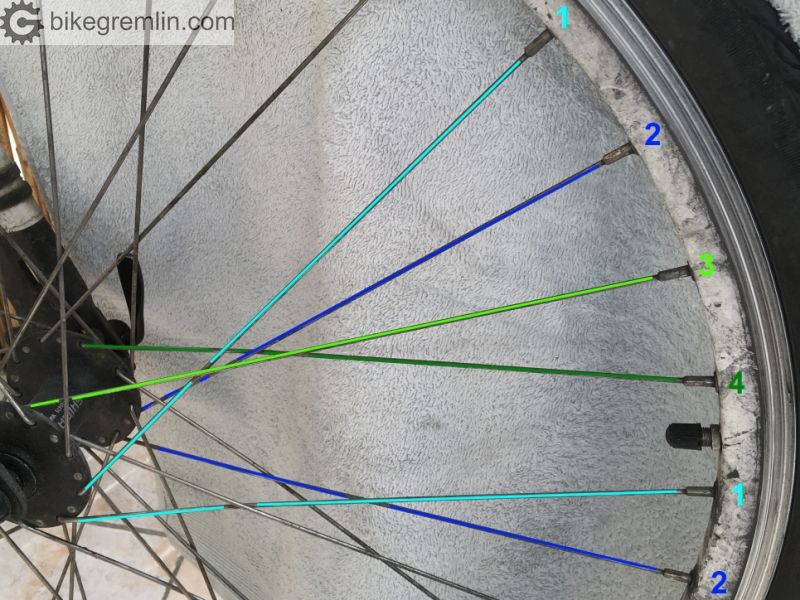 First come two trailing (or leading) spokes – one from each hub side.
Then two leading (or trailing) spokes – one from each hub side.
And so on – no matter how many spokes there are in total, and regardless of the number of crosses – this 4 group lacing pattern always exists.
Crossed spokes are 1 and 3, as well as 2 and 4.
To calculate spoke angle, one must multiply the number of crosses, by the hub flange angle. For a 36 spoked wheel, that would be 20 degrees multiplied by the number of crossings.
But how to tell when it is too much and when there will be spoke head overlap? For most rims and hubs, angle below 75 degrees does not lead to any spoke head overlap.
Simple, practical way of determining the optimal number of spoke crosses:
Divide the total number of spokes by 9, then round down to the first whole number.
Exceptions are 36 spoked wheels where with 4 across (36/9) you will often get some overlap, like shown in picture 11. And 16 spoked wheels, where you can get away with 2 across (because hub flange holes are at a great angle and distance.
To make things easier, here's a table:
Spoke count
Optimal
number of crosses
16
1 x (2 x sometimes)
20
2 x
24
2 x
28
3 x
32
3 x
36
3 x (4x sometimes)
40
4 x
48
4 x
Table 1

3.3. How radially laced wheels carry load
Poorly!
With radially laced wheels, there is some (not naked eye visible) hub twisting, giving a poor copy of cross laced spoke pattern for load bearing. In the picture below, I drew the spoke position, when they are stretched (in the direction depending on the force direction). It is exaggerated in order to demonstrate (and I didn't re-draw the whole rim as it moves with the spokes).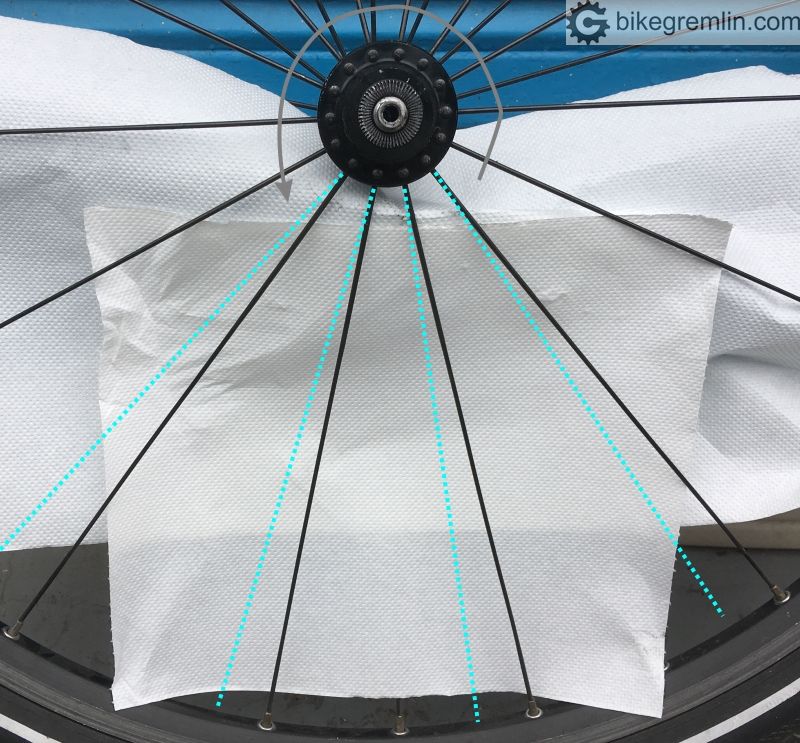 There's a lot more twisting and friction, which can break spokes. That is why only front wheels for rim brake bicycles are sometimes laced this way (and non-drive side of some exotic rear wheels).
Another downside of this lacing pattern is that it puts a lot of stress on the hub, with spokes trying to rip it apart. Note in the picture below how cross laced wheel spoke tension practically tries to compress the hub flange material, while radially laced wheel's spokes are trying to pull it outwards, rip it apart: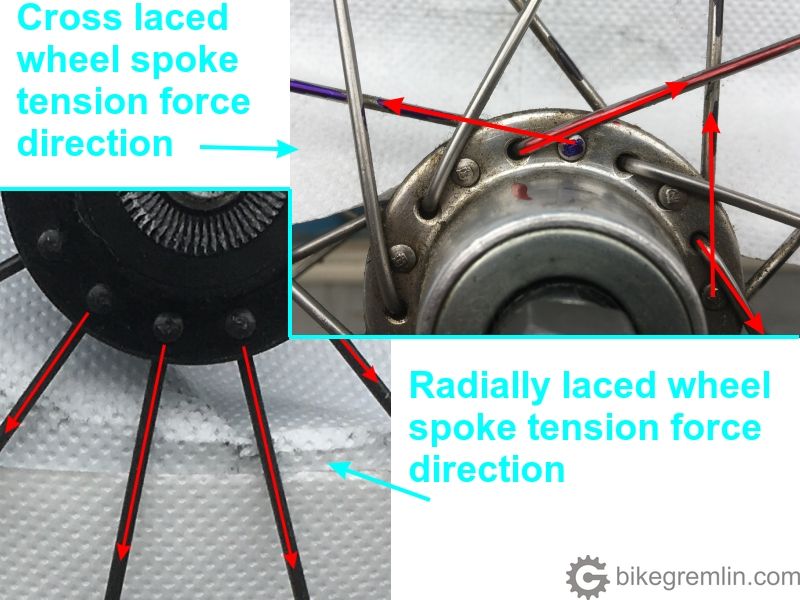 4. Why optimal spoke length is important
Ideally, spoke length should be such that the entire length of nipple's threads is used for carrying the load. Besides, on rims that are not double walled, spokes that are too long will protrude from the nipples and could puncture the tube. I cut a nipple in half to demonstrate this. Marked nipple and spoke thread start and finish, since it's not clear in every picture.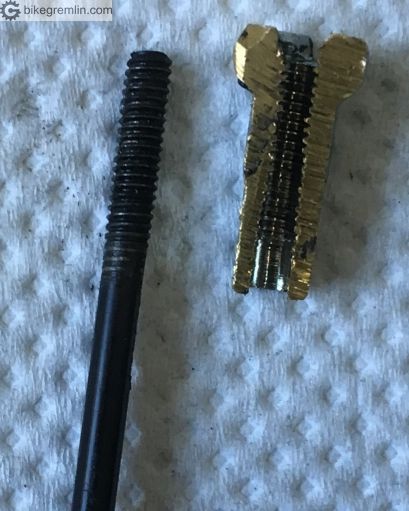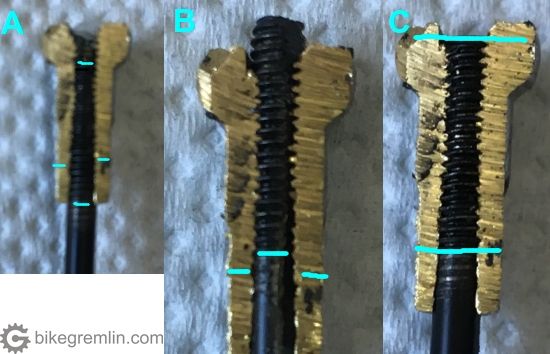 5. Calculating optimal spoke length
In order to calculate the optimal spoke length, the following measurements are needed:
I explained the number of crosses in this post, while for other terms I'll be adding links as I publish relevant articles.
Finally, all the measures should be entered in a spoke length calculator (link is towards the one I mostly use).

6. The importance of achieving even spoke tension
When spokes don't have an even tension, i.e. when some are significantly tighter, and others much looser, what happens?
Spokes that are tighter will carry more load than the looser spokes. Hence being more stressed, and also putting more stress on the spots where they are connected to the hub (at the flange) and the rim (where the spoke nipple is).
Looser spokes will be even looser as the wheel is ridden – when they are at the bottom (during every wheel revolution), and when the wheel is loaded in such way that they get lower tension (side loads from the opposite side for example). This will result in them, since they are already loose(r), having more (micro) bending and they will be more likely to break at the elbow, due to stress (fatigue).
With rear hubs, and the front ones on disc wheels, there is a caveat: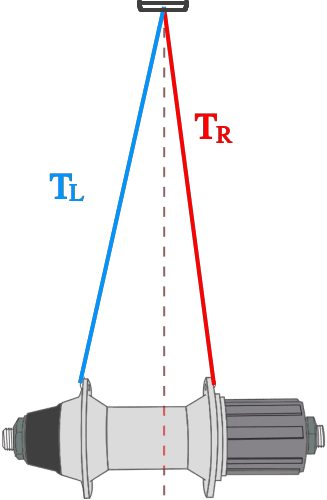 Right hand side spokes on the above noted hubs, have higher tension than the left hand side spokes, because their angle is sharper and the rim wouldn't be centred otherwise. However, tension of right hand side spokes should be as even as possible, when compared to the other spokes on the same side (right hand side). Same goes for the left hand side spokes – they should have an uniform tension when compared among them.
When building a wheel and choosing between 100% true rim, and more even spoke tension, go for the even tension. Wheel built that way may not be 100% straight from the start, but it will remain as it was even after 20.000 kilometres (unless a rim is dented/bent by hitting a rock). On the other hand, if a wheel is built to be 100% true, but with uneven spoke tension, it will come out of true relatively quickly, and spokes are more likely to break on such a wheel.
With another caveat: the rim should be true within the acceptable tolerances – as explained in the next chapter. That is: 100% uniform spoke tension is not good either, if it results with the rim being too much out of true.
How to measure and compare spoke tension?
Guitar pluck can be used to pluck the spokes and get the tension surprisingly uniform by comparing sound uniformity – like plucking guitar strings.
To me it is a lot faster and easier using a proper spoke tensiometer. I'm not very musical, plus plucking the spokes does not give the information of how high the tension is (only how uniform it is) – which is often important (70 kilopond is the minimum for most wheels). Most tensiometers are not very precise. Exception is this patent (designed by late Jobst Brandt), sold by Wheel Fanatyk (their tensiometer). Or a more affordable variant, made by our Macedonian brother Filip Kralyevski – tensiometer.

7. Acceptable tolerances when building a bicycle wheel
Nothing in this world is perfect – not even the bicycle wheels (it is just as close as it gets to that 🙂 ). In mechanics, things are usually built within the acceptable tolerances. What are those when it comes to bicycle wheels, i.e. when is a wheel considered acceptably true and well built?
We will first define the terms: "radial trueness", "lateral trueness", "rim dish trueness", while "spoke tension evenness" is already explained in the previous chapter.

7.1. Radial trueness

Rim distance from the wheel's centre should be even along the entire rim's circumference. Ideally:
D1 = D2 = D3 = … = Dn
Video where I demonstrate wheel radial truing.
Of course it will not be ideal, but it is important to keep within the acceptable tolerances (defined in chapter 7.4).
Until you get the feel for visually determining the gaps when checking on a truing stand, you could use feeler gauges (Amazon affiliate link).

7.2. Lateral trueness
Lateral (un)trueness is what we all notice first – how much does the wheel wobble (sideways).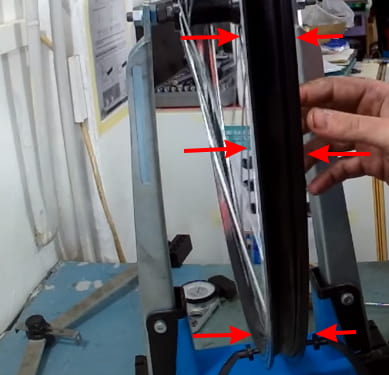 Here too you could use the above noted feeler gauges to measure the deviation, at least until you get the feeling.

7.3. Rim dish trueness
In this case, picture 21 speaks more than a 1000 words:
This is measured using wheel dish measuring tool (Amazon affiliate link).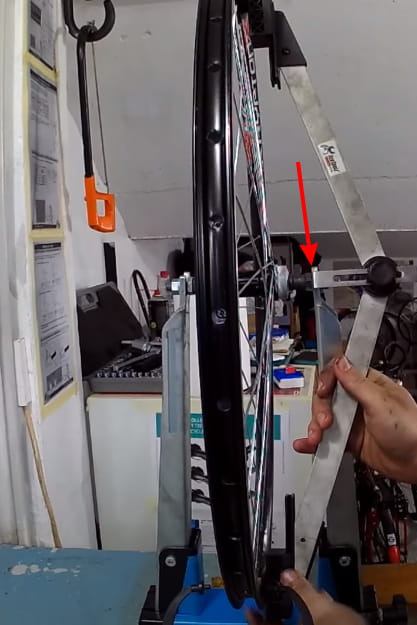 There are some caveats here as well. For the "exotic" stuff, see on this page the explanation what to do when using asymmetric rims, and/or offset frames.

7.4. Acceptable trueness, and spoke tension tolerances
Briefly, a list of acceptable tolerances for the above explained parameters:

8. Sources – highly recommended