What causes flat tyres on bicycles? How to prevent, or at least reduce the probability of having a flat tyre? Before we start, it is important to use a high-quality rim tape, and to properly mount the tyre and the tape.
Table Of Contents (T.O.C.):

1. Why do rear tyres get flats more often?
Nails, glass shards and other sharp objects that can puncture a tyre, usually lie on the ground flat (they aren't very stable when the sharp part is sticking upwards).
When the front wheel comes over a nail or a glass shard, they can pop up just enough (and stay that way long enough) to pierce through the rear tyre. The front wheel sort of "launches them."
An exception to this rule is if you are riding in areas that have a lot of thorns with more than one sharp end – like Goat's-head: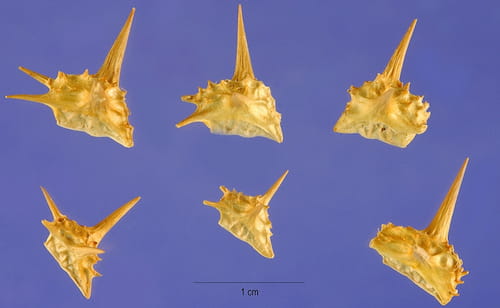 These kinds of thorns have more than one sharp edge and have a shape such that one of the thorns is likely to be pointed upwards. So you are more likely to have the front tyre punctured since it is the first one to come over such thorns. I've had a front tyre pick up to three of these in one go. 🙂

2. Why do you get more flats when it's raining?
Water acts as an effective lubricant. Making it easier for sharp objects to pierce and cut rubber.
Try cutting an old tube with a dry razor. Then dip the razor in some water and try again. 🙂 A wet razor will cut a lot more easily and make deeper cuts.
Also, wet glass etc. can stick to the tyre. Even if it's laying flat on the ground, when it sticks, it can move as the wheel rotates, getting lifted just enough to stay "hanging off the tyre" so when that spot makes contact with the ground, it gets pushed in with its sharp edge towards the tyre.
In addition to all that, water (and small ponds) can make the sharp objects be more difficult to spot and avoid – which leads us to the next chapter:

3. How to avoid getting punctures?
Paying attention
The most efficient method is to look where you are going. I know it sounds obvious, but it works wonderfully. After a while it gets instinctive – without any conscious effort I "automatically" ("instinctively") look for any sharp debris on the ground (glass shards, sharp metal etc.) and avoid it.
For the night (and rain) it helps if you have good bicycle lights.
Pressure and tyre width
It also helps if the tyres are inflated to optimal pressure. Tyres that are underinflated are more likely to get pinch-flats (snake-bite) when hitting a rock, or a pothole. On the other hand, if the tyres are too hard (pressure too high), they will more easily be punctured, compared to tyres that have some give, that aren't overinflated.
A few decades ago, 28 mm wide road bike tyres were considered a heresy – and many frames couldn't even fit tyres of that width. For my weight, 23 mm wide tyres need over 7 bars of pressure, while I can pump 28 mm wide tyres to under 6 bars. In my experience, with all else being equal (road quality, tyre make and model etc.), wider tyres get fewer punctures from sharp rocks, glass shards etc, because of the lower pressure.
Addition: are narrower tyres faster?

3.1. Puncture-resistant tyres
There are tyres with hard rubber and kevlar reinforced layers that are pierced with a lot more difficulty. A good example is Schwalbe Marathon Plus model (Amazon affiliate link):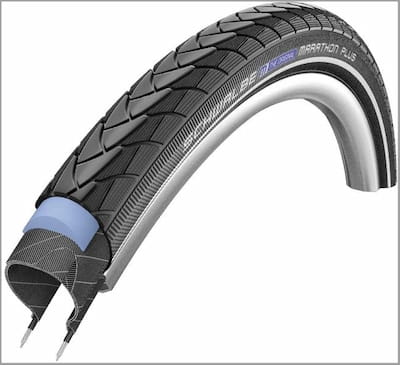 These tyres are more puncture-resistant, but you can get punctures with them as well (not puncture-proof).
The downsides of puncture-resistant tyres is they are heavier, less compliant (less comfortable) and more difficult to mount and dismount (for when you do get a flat). I prefer riding on "normal," fast, high-quality tyres, just minding where I'm going. Even for bicycle commuting.
Still, if you are riding in areas where the above-shown Goat's head is widely spread, puncture-resistant tyres can be a good idea.
There are also puncture protection tyre liners (Amazon affiliate link):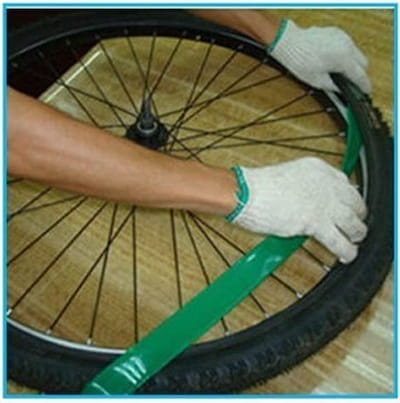 I find these liners a hassle to install and I think that puncture-resistant tyres are a better idea than using tyre-liners.

3.2. Tubeless tyres and tyre sealant
Tubeless tyres don't use a tube, so they are resistant to pinch-flats ("snakebite flats").
These tyres need sealant, which also helps "automatically fix" (seal) some smaller punctures – like a small thorn etc.
In case of larger cuts or some other problems, you get covered in the sealant ("slime" 🙂 ) and are likely to have a lot of fun, often requiring you to use a tube until you get to a garage/service.
I wrote here about the pros and cons of tubeless tyres.

4. Conclusion
What I do and has served me well:
Look where you are riding, and carry some tools for patching flats (and a spare tube just in case).
How to patch a flat bicycle tyre.

5. Video about avoiding flats