Updated: 24/12/2020.
In a separate post I explained the important hub dimensions and how they are measured, as well as how spoke length calculator is used. Here I will just make a list of data for hubs that I have worked with – filling it up over time. For a more general info on the topic, see the post about bicycle wheel building basics. The table is sorted by manufacturers first, then by wheels (front hubs first, followed by the rear hubs). Adding a picture here for a quick reference: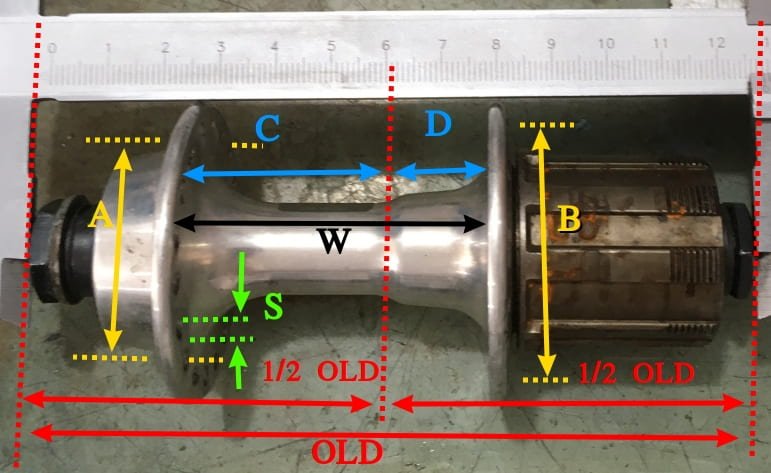 Another good (and mostly reliable) source for hub dimensions is kstoerz.com – hub dimensions secton.
Contents:

DT Swiss
Front DT Swiss hubs

Rear DT Swiss hubs

Quando
Front Quando hubs

Rear Quando hubs

Shimano
Front Shimano hubs
Model
no. of
spokes
A
B
C
D
S
DH-T8000-3D XT
Disc
32
70
70
18.5
26.5
2.6
HB-RS300 Sora
36
38
38
33
33
2.6
HB-7710 Dura Ace
Track
36
38
38
37
37
2.5
HB-7600 Dura Ace
Track
32
67
67
36
36
2.6
DH-3N20
dynamo hub
32
74
74
29
27
2.6
DH-3D32-QR
dynamo hub
36
74
74
20
28
2.6

Rear Shimano hubs
Model
no. of
spokes
A
B
C
D
S
M425
32
61
61
31.5
17
2.6
FH-M8000-3D XT
32
44
45
35.3
22.1
2.6
SG-3C41 Nexus
36
59
59
28
25
2.6
SG-8R31 Nexus
32
92.5
92.5
29.3
24.5
2.6
FH-RS300 Sora
36
45
45
35
19
2.6
SG-7C15 Nexus
36
84
84
31
21
2.6
HB-7710 Dura Ace
Track
Double thread
36
44
44
37
30
2.5
HB-7710 Dura Ace
Track
Double thread
32
67
67
36
36
2.6
FH-RM30 Altus
36
45
45
35
24
2.6
FH-M4050 Alivio
Disc
32
45
45
33.5
21
2.6
FH-M475
6-bolt disc
36
61
61
34
21
2.6
FH-M3050 Acera
centerlock, 135 OLD
36
45
45
33
20
2.6

Other manufacturers
Front hubs of other manufacturers
Rear hubs of other manufacturers