In this post I'll write about transporting children on a bicycle – so that it is fast, convenient and safe. Because children and child safety is a sensitive matter, I must make a disclaimer: I am not a pediatrician, nor some "bicycle safety expert". I do have almost 40 years of cycling experience, and for the past 10 years my friends and I have been transporting kids on bicycles. All the information and recommendations given here should be taken as "to the best of my knowledge". Everyone should judge and decide for themselves what is best done for them and their kids – taking any given advice at their own risk. I'll just write what has worked for me and give my personal opinion based on my knowledge and experience.
One more thing: in this post I'll be using Amazon affiliate links to show what products look like (and earn a commission from each sale made using those links). Clicking most images leads to Amazon's website, where prices, detailed description and customer feedback can be seen.
Table Of Contents (T.O.C.):

1. Introduction
Bicycle is a very safe, eco-friendly and practical means of transport. It can be used even during the "poor weather" – with the right equipment and clothing, of course (see the post about how to dress for winter/rain cycling and how to ride a bicycle in the snow).
In terms of using a bicycle as a main (only?) means of transport, I have heard this a lot: "You'll see when you have children". Well, many things have changed, but bicycle still is the most practical means of transport, at least in my city (Novi Sad, Serbia).

2. Ways of transporting children on a bicycle
There are two ways of transporting kids on a bicycle:
using seats that are mounted on a bicycle (chapter 3)
using a trailer that is attached to the rear end of a bicycle, and hauled (chapter 4)
Each of these ways has their pros and cons – as I'll explain in great detail. Choosing one over the other depends on your circumstances and priorities. Let us start with the seats:

3. Bicycle-mounted child seats
Here, there are two divisions. First one is based on the seat place, while the other is based on how the seat is mounted to the bicycle.

3.1. Front vs rear-mounted bicycle child seats
Based on mounting position, child seats can be put:
In front of the cyclist.
Behind the cyclist, above the rear wheel.

The advantages of front-mounted seats are:
Easier communication with the child.
For the really worried parents – you can always see what the child is doing. 🙂
The rear wheel, that carries most of the weight, won't get the extra weight of the child.
The advantages of the rear-mounted seats are:
The child is protected from any wind, or insects, by your body.
They usually can carry more weight (older kids – usually weighing up to 30 kg / 65 lb).
I would also add here that, based on my experience and the available statistics, most bicycle/car collisions are from the front – usually by a driver not giving the right of way.
Both options are pretty good. It boils down to personal preference. I opted for a rear-mounted seat (one child).

3.2. Frame vs rack/handlebars-mounted bicycle child seats
This division is based on the seat mount type:
Mounting directly on the bicycle – either hooking it on the bars or placing it on the rear rack.
Mounting using a bracket that is mounted on the bicycle's frame, while the child seat is mounted on steel rails, that are hooked to the frame mounting bracket.

The advantage of directly mounted seats (rack, or handlebar-mounted) is somewhat lower price.
The advantages of the frame-mounted seats are:
Usually greater maximum allowed load (weight).
Rails the seat is mounted on act as shock absorbers, dampening vibrations and bumps.
With the front mounted seats – since the seat is mounted on the frame, not hung on the handlebars, bicycle handling is not as difficult.
The seat can easily and quickly be dismounted and re-mounted, by pressing a quick-release button (and no, it won't easily fall out on its own).
If you buy two frame mounts, you can quickly and easily swap the seat from various bicycles.
I opted for a frame-mounted seat. Think that is a lot better option. This is what my chosen seat looks like:

Child seats made by Thule (Amazon affiliate link) are, generally, more expensive and of higher quality.

3.3. What to pay attention to concerning bicycle child seats
"Women's" bicycles (the ones without a horizontal top tube) are easier to handle with kids – the rider can more easily mount and dismount. The bicycle's frame should be strong – super-light racing frames are not the best choice for this.
Do not rely on any kind of bicycle stand to hold the bicycle upright while the child is on it (in the bicycle-mounted child seat that is).
Make sure to explain to your child that it should never mount, nor dismount from the seat until you say it's OK to do so (i.e. when you are ready and stably holding the bicycle).
Make sure to fasten the seatbelt, because kids often fall asleep during the ride.
Ride the bicycle cautiously and safely in traffic – note that the child's extra weight will make for a longer stopping distance and slower manoeuvring.
Your child will remember your rides together for the rest of their life – at least according to my experience. 🙂
4. Child bicycle trailers
The other way of transporting children via a bicycle is by using a trailer.

4.1. Pros and cons of using a trailer vs bicycle-mounted seat
The advantages of using a child bicycle trailer are the following:
It stands on its own – so it is stable while you are mounting and dismounting the bicycle. No need to balance with a child on the bicycle.
If you fall off the bicycle, the trailer is still stable.
The trailer has its own security metal cage – so the child is safe even if the trailer tips over (good quality trailers are very stable, at least in my experience, because of their low centre of gravity). The cage also offers protection in case a car hits you (I always hope for the best, but try to be prepared for the worst – being cautious and predictive in traffic goes a long way, but you never know when a driver will look at their phone instead of at the road ahead).
A trailer has insect/mosquito protection (with a zip-closed net) and rain/wind protection (see-through zip-closed plastic cover).
With a trailer, you get some extra storage space (similar to baby carriages that are pushed).
Good quality trailers come with an easily mounted/dismounted third wheel, so they can easily be pushed (while the bicycle is parked and locked).
Similarly to frame-mounted child seats, trailers can quickly and easily be dismounted, with just one small "hook" left on the frame.

Downsides of using a trailer:
It is more bulky and heavy than a bicycle-mounted seat. While a bicycle with a mounted seat can more-less easily be carried up the stair for example, with a trailer you need to do it in two goes.
Even the narrower, one-child trailers, are wider than a bicycle. So there are places where it is harder to squeeze through if you haul a trailer.
Because of the greater weight and wider profile that produces more air drag, a bicycle goes a bit harder and slower when you haul a trailer, compared to transporting a child on a bicycle-mounted seat.
You will need a spare tube for the trailer as well as for the bicycle.
They cost a lot more than seats.
Very small children (below the age of 3 years old) might feel a bit isolated in a trailer – being too far away from you, not able to hear you, nor you able to hear them clearly.

4.2. What kind of bicycle trailer to choose and what to pay attention to
There are trailers for one, and two kids. The one-kid trailers are narrower, hence lighter and more aerodynamic. You can also more easily squeeze through tight spaces with a one-kid trailer.
Good quality trailers have springs, or more complicated suspension, that absorbs road shocks, so the trailer is more stable, it doesn't jerk on the bicycle as much and the child is more comfortable.
The wheels should be as large as possible (more comfortable and faster rolling). Go with at least 20 inches (406 mm ISO – post explaining bicycle tyre sizing standards).
Choose a good quality trailer, preferably second-hand, so that it can be re-sold. Though, if storage is not much of a problem, once you get a bicycle trailer, you are likely to hang on to it. It is super handy for hauling tools, groceries etc, not just the little gremlins. 🙂
Good quality trailers can also be easily folded, which is also super-handy.
I bought an older (second-hand) model of this trailer: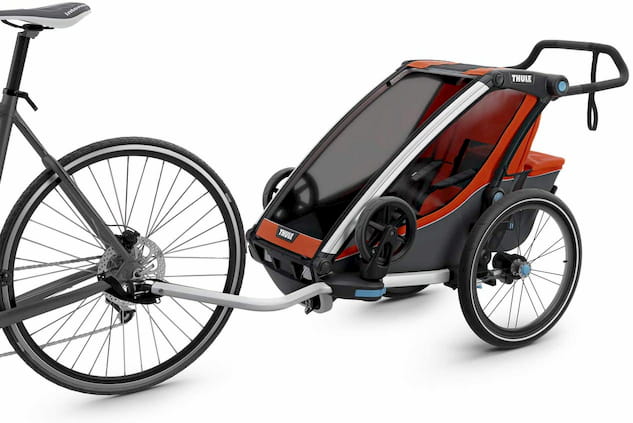 It also comes in a version for two kids: Thule Chariot Cross 2 Multisport (Amazon affiliate link).

5. Conclusion
I have heard from many well-meaning friends how dangerous it is to carry your kids via a bicycle. Because of the traffic, wind, rain… However, even more of my friends, like me, use bicycles to get around and transport their kids. It is very practical and a beautiful experience – both for the kids and the parents.
Sure, kids can ride their own bicycles – mine rode a push-stroller since the age of 2 (why training wheels are bad), and pedalled since the age of 4. But if you need to cover a large distance, are in a rush, or go where the traffic is heavy, it is better that you transport the kid(s) using your bicycle. At least until they are old enough.
Note: Serbian law, for example, forbids children under the age of 12 to cycle in traffic (which is nonsense – how and when will they learn?! I blatantly disregard this law at my own risk). It also doesn't say clearly whether the use of trailers for kids' transport is allowed. So I suggest you check and take into account your local legislation before making any decisions. Thanks to my friend Dušan for pointing this out.
My kid has been in a seat since under 12 months old, and in the trailer since 3 years old – and he always loved going for the ride. Finishing this post with a picture of a sleeping Lion. 🙂

6. Addition: at how many months of age can kids be transported on a bicycle?
Paediatricians and legislators of many countries say that you should not ride your kid on a bicycle before it is at least 12 months old.
My personal opinion, based on my experience, is different (with all the possible disclaimers – I'm not a doctor nor am I responsible for you or your child):
In a child trailer (or on a cargo bicycle), a child can be placed in a semi-lying position. Just like it is "placed" in a stroller, or in a car seat. You could even use straps to mount a car baby seat in a trailer (or on a cargo bike).
Once a child can hold its head upright and control the movements, one can see how it behaves in a bicycle child seat. Some kids are good to go at 9 months, some at 12. It depends on the child.
Whatever you decide to do, use common sense and caution. See how the child behaves and reacts. Don't ride very fast over bumpy terrain with small children on your bike (at least not until you've got months of experience riding with them on decent, paved roads).