Many parents, when buying a bike for the kids, make several mistakes. From wrong size and model of a bicycle (this will be addressed in separate posts), to the insisting on training wheels. This post will explain why training wheels are not good for learning to ride a bicycle and what is the easier way.
As was explained (in detail and length) in the post about "counter-steering", a bicycle needs active balance control in order to stay upright. It also needs to be leaned in a corner in order to turn efficiently at almost any speed higher than the walking speed. Both these things are practically hampered by training wheels. How so?
First: a bike with training wheels stays upright without any balance input from the rider. This way kids aren't stimulated to learn how to balance a bicycle.
Second: training wheels make any useful amount of leaning into a corner impossible.
Third, related to the previous two: leaning a bike in a corner is best done by first turning the bars in the opposite direction. Training wheels (and any tricycle) teaches the kids the opposite technique – to turn the bars where they want to go from the start.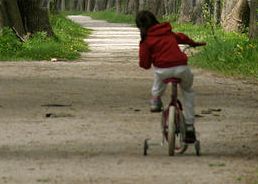 As can be seen in picture 1, child's body is leaned into the corner substantialy, because the training wheels prevent leaning the bike into the corner. Speed needs to be very low, or even the substantial body leaning will not be able to prevent the bike from tipping to the opposite side, because of the centrifugal force.
Proper cornering, with leaning the bike and body in line with the (leaned) bike is shown in the picture 2.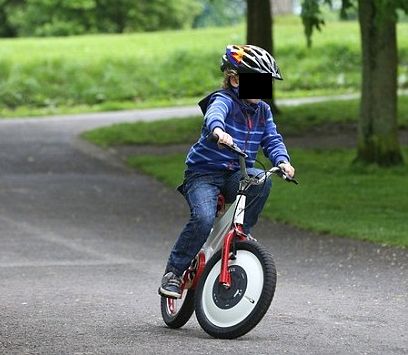 How can a child, without (obstructions by) the training wheels, learn how to balance and ride a bicycle? The best solution is a balance bike, shown in picture 3.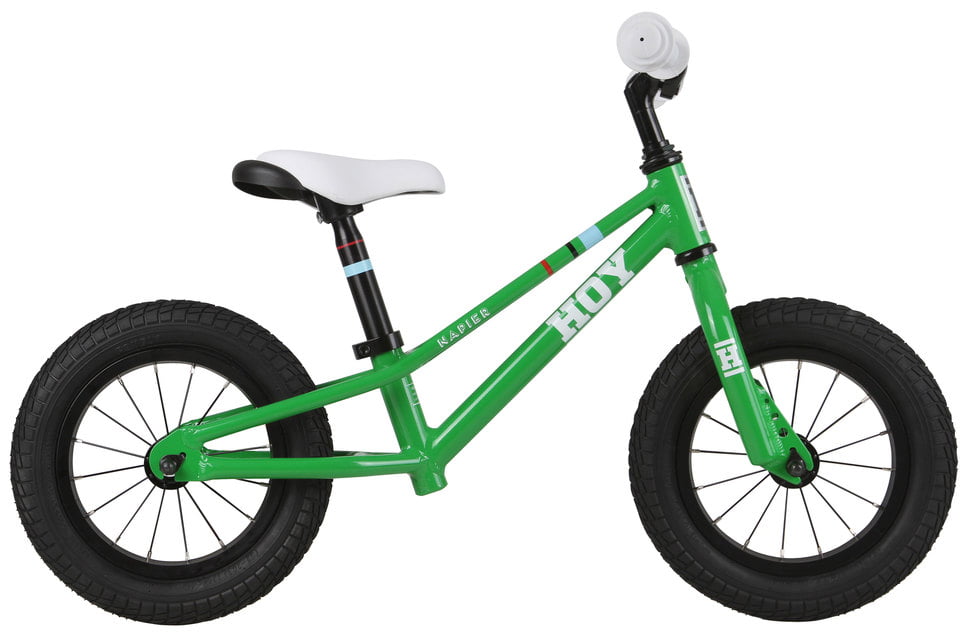 Balance bike is a bicycle without pedals, with the frame constructed so that it enables lowering the saddle enough that the child can comfortably reach the ground with both feed while seated and push off to go. This way, child easily achieves higher speeds, while legs are always there in case it looses the balance. It will, by itself, instinctively, rather quickly (often within couple of hours, or less) learn how to keep the balance while the bicycle rolls, with legs raised up. Same goes for turning (cornering) and leaning while doing it.