Reading a local (Serbian) Facebook group Bicikliramo, I came across a post showing a new 1×13 bicycle groupset. That got me interested. After some googling, looking into it, it turned out that a Spanish company called Rotor is "the culprit", so I wrote them an e-mail, explaining who I am, and said that I'm interested in learning more and writing a (p)review of their product with some info on the company, since it's not widely known (at least not in Serbia). They were kind and professional enough to answer rather quickly, providing pictures and some info, so here I'll give a preview of the upcoming (from the Spring of 2019 as Rotor says) 1×13 groupset. This post will first give some info on the Rotor company, preview of the 1×13 groupset and then a few words about their ROTOR Q RINGS® cranks and chainrings, finished by briefly going over some other company products.
Note: the provided info is based on my interpretations of the drawings, pictures and info provided by Rotor – I haven't tested any finished products. Any additions, or corrections are welcome.
Contents:
0. Rotor Bike Components company
1. 1×13 groupset – for MTB and road bikes
2. Cranks(et)
…2.1. Chainrings
3. Freehub
4. Cassette
5. Chain
6. Shifters and levers
7. Derailleur
8. Brakes
9. Mass ("weight") and prices
10. Conclusion – verdict
11. Sources
12. UPDATE: Official weights and prices

0. Rotor Bike Components company
Rotor is a Spanish company, founded in 1994, by two friends and cycling enthusiasts: Pablo Carrasco (an aeronautical engineer) and Ignacio Estellés (a lawyer). They say the goal was "to eliminate the dead spots in the pedal stroke" and place a lot of importance on their ROTOR Q RINGS® crank and chainring design (more on that later).
Like other big bike companies, they didn't let the existing standards "restrain them", so you can't expect their derailleurs, shifters etc. to work with Shimano, SRAM, or Campagnolo (but that goes for the mentioned other 3 big compaines as well, especially their products in this century).
Getting into the market with the big companies is certainly a great challenge. In this review, I will objectively compare the Rotor groupset with the "big three" and point out both the pros and cons. It is also fair to stress that, while I do have objections to the whole 1x system, that goes for all the 1x systems, not just Rotor's. The company has some interesting solutions/patents and I'm cheering for the Spaniards, hoping they are here to stay.
Most parts are made in Spain, with exception of brakes (cooperation with Magura) and chains (KMC).

1. 1×13 groupset – for MTB and road bikes
To the point – what's it all about? How is it better than the existing 1x groupsets? Well, the "best" other manufacturers have done so far is 12 rear sprockets. Rotor claims that their 13 sprocket system is what it takes to provide the following:
Big enough gearing range from "slowest" to "fastest" gear, even when using only one front chainring.
Small enough gaps between adjacent gear ratios for optimal pedalling cadence (even with only one front chainring).
They also explain in length how 2×11 setups only have actual 14 different gear ratios.
My post about gear ratios explains the gearing basics, as well as why the "overlapping gears" are not really a bad thing. I have made a separate post explaining 1x system pros and cons – compared to double and triple (2x and 3x) systems.
Compared to competition, this beats the maximum number of 12 sprockets. SRAM first introduced 1×12 systems in 2016, claiming the 12 is what it takes to provide all the needed gearing range and "tightness" of gear ratios. In the summer of 2018 came a Shimano 1×12 system, offering an even wider total gearing range (tooth count difference from the smallest to the largest sprocket), claiming that in their tests, the tooth count layout of their cassettes is the optimal one (I have no reason to doubt this, it does make sense).
Well, Rotor gives us 13 sprockets – which can be used for either even greater gearing range, or tighter gear ratios. In addition to that, they are the first to make a "real" 1x road bike groupset (at least to my knowledge)! In your face, Campagnolo/Shimano/SRAM! 🙂
Rotor's new 1×13 gropset comes with several new patents/solutions and these will be explained in the following sub-chapters.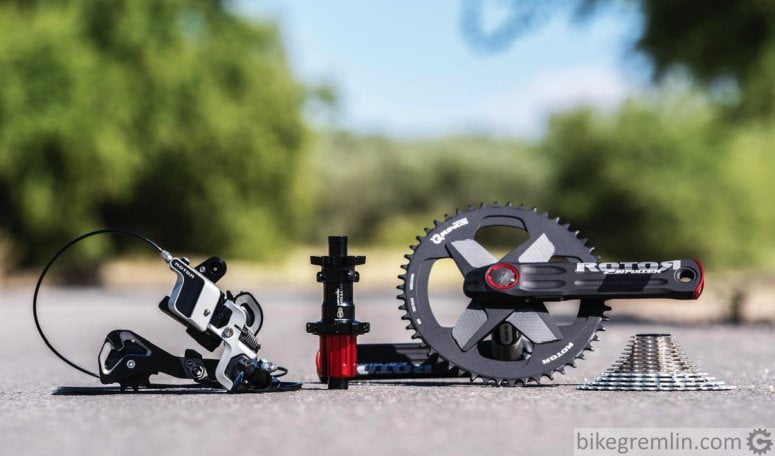 2. Cranks(et)
Rotor already offers a range of different cranks: for MTB, enduro, road, cyclocross etc. Most offered cranks have a modular design. That means most (not all) allow mounting a spider for either single, or double chainrings of various sizes, as well as mounting of various types of Rotor's powermeters. They have crank model(s) for each existing bottom bracket standard, whether threaded BBs, or press-fit BBs.
They offer BB axles of 24 mm diameter (with matching BBs for all the existing frame standards I can think of) as well as 30 mm wide axles (that don't fit threaded British and Italian BBs, but all else is "covered").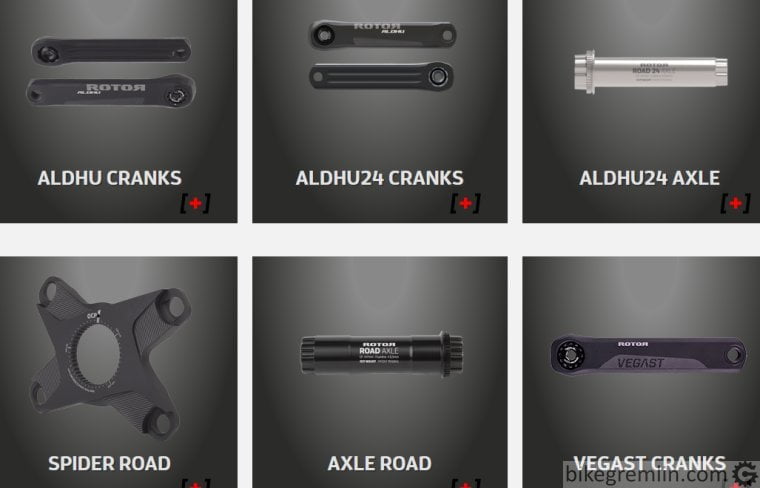 2.1. Chainrings
Rotor has developed a special oval chainring design, called ROTOR Q RINGS®. The idea is for chainrings to have a greater diameter when pedals are more horizontal, since then most pedalling force is applied, while having smaller diameter when pedals are more vertical, for easier pedalling through that part. This is the opposite philosophy to old Shimano Biopace oval chainring design. Other manufacturers have tried something similar, though less sophisticated before, with not very good results. Brief explanation why this "reversed Biopace" design doesn't work very well can be read if you click on the Biopace link in this paragraph. While Shimano Biopace works, I haven't had a chance to try Rotor's "reversed" design – maybe it's better from the rest, maybe not. Rotor's engineers have definitely put a lot of thought (and, apparently) testing into it.
With that shown in picture 3, engineers have designed fine… and finer adjustment options, to make the chainring's position sync with each rider's pedalling style. Fine chainring orientation tuning, by one degree, is done using Rotor's patented "OCP Mount" shown in picture 4.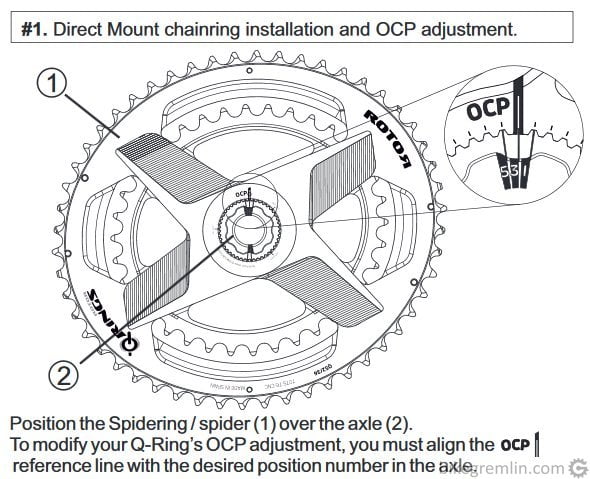 And there's more. Literally. 🙂 Rotor's patent "MAS" (Micro Adjust Spider and "mas" means "more" in Spanish), with matching chainrings, allows for even finer chainring position tuning, by a fraction of a degree, shown in picture 5.
Chainring sizes go from 26 to 40 for MTB and from 38 to 54 for road bikes, with all the sizes in between offered in 2 tooth increments (26, 28, 30… 50, 52, 54).

3. Freehub
Hubs are called "RVOLVER" and rear one has an interesting ratchet system, shown nicely in this YouTube video. The idea is to provide a bit less friction when coasting.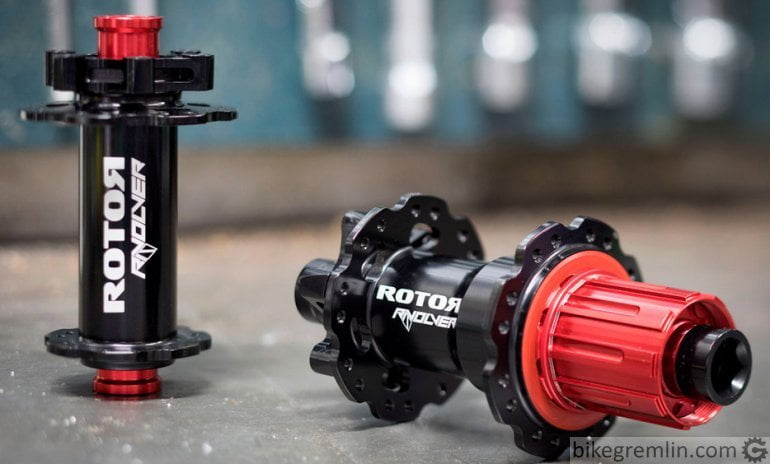 Rear hub comes in 2×1 setup (16 spokes on the drive side and 8 spokes on the non-drive side). Hubs use an "intelligent flange design" for reduced weight and easier lacing – see how there are "cutouts" between two pairs of spoke holes. I'm not sure how much this affects and complicates calculating an optimal spoke length, but as far as low weight with no strength reduction – it looks like a good engineering solution. For 148 mm wide MTB hubs, standard lacing is also available.
Cassette splines are basically Shimano Hyperglide type, with an extension for a 13th smallest 10 tooth cog – which requires a special lockring. Right flange is moved by some 3 mm inward (compared to an 8-10 speed Shimano Hyperglide freehub), to provide enough space for a 13 tooth cassette. This much offset benefits from 2×1 lacing, so that left hand spokes can have a decent tension for normal operation. Too much offset ("dishing") could also be the reason rim brake hubs (while made by Rotor as well) are not planned for 1×13 system – with too much dish rim might move left-right too much for modern rim brakes not to rub (this especially goes for road bike rim brakes).
Ratchet mechanism is attached to the hub body without using any threaded parts, Rotor promises a tool-less freehub maintenance. Cartridge bearings are used and a thru axle (no quick release from what I could see).
Brake discs are mounted using the 6-bolt system (less reliable patent in my opinion and experience), but (the proper) centerlock is announced.
13-speed freehub is made as an "open standard", so other manufacturers can offer their hubs (and wheels) for this groupset.

4. Cassette
Cassettes are 13 speed, of course, with the following tooth count ranges: 10-36, 10-39, 10-46 and 10-52.
Typical "road" 10-39 cassette has the following sprocket layout: 10, 11, 12, 13, 14, 15, 17, 19, 21, 24, 28, 33 and 39 teeth.
MTB 10-52 cassette, with the biggest gear ratio range, looks like this: 10, 11, 12, 13, 15, 17, 19, 22, 26, 31, 37, 44, 52.
Moderately spaced gears, with lots of range as well. While there are lots of MTB cassette options from other manufacturers (up to 12 speeds though), this is the first time I see a 1x cassette with gearing suitable for road cycling.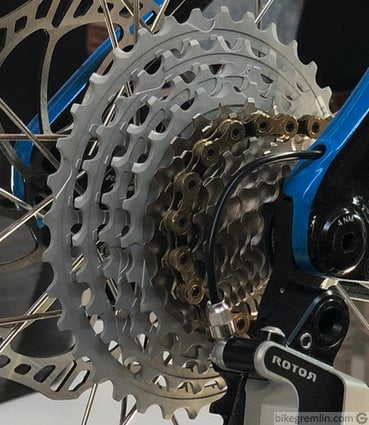 Interesting solution is the possibility of running these cassettes on Shimano (compatible) Hyperglide freehubs. For that option, a 12 speed cassette version is offered, with the smallest 10-toothed sprocket removed. Largest sprocket overhangs the right flange, without getting into the spokes thanks to its large diameter – similar "trick" to the one used by Shimano to fit 11 speed MTB cassettes onto 8-10 speed freehubs.
Cassette is made of two parts, fitted onto a single spider carrying them. Smallest 7 sprockets are made of steel, while the largest 6 are made from aluminium – for lower weight with acceptable durability. Steel and aluminium parts are screwed together, so that various combinations can be made to suit one's preferences (that's Rotor's plan from what I could gather – offering some extra customization). Individual sprockets can't be change, cassette is, like I've said, made of two parts. Advantage of this is spreading the load over a larger area, which enables making aluminium (lighter) freehub bodies, without sprockets cutting into them.
Sprocket spacing (pitch) is the same as SRAM Eagle 12 speed, so SRAM Eagle wheels (freehubs) with SRAM 12 speed cassettes can be used as well.

5. Chain
Since cassette pitch is the same as SRAM Eagle 12-speed, the chain is a 12 speed one. Rotor have opted for KMC X12 12-speed chains. Nothing left to add here. As the following chapters will show, the whole system was made to be compatible with the existing 12-speed systems, which is a smart choice for entering the market in my opinion.

6. Shifters and levers
Road bike combined shifter/brake lever is offered (hydraulic brake lever is the only option) and a separate MTB shifter.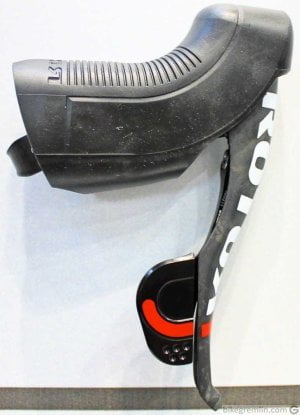 Shifters themselves are hydraulic – the first hydraulic shifters on the market! 3 mm hydraulic housing is used. Elimination of cables in favour of mineral hydraulic oil results in lower overall weight (compared to both cable/housing system, and batteries for electronic systems) – according to Rotor. Housing routing doesn't affect this system's performance – unless the housing is pinched so fluid can't flow.
Interesting thing is that indexing is sorted within the rear derailleur – shifters just push/pull the hydraulic fluid. This means that the same shifters work with both 12 and 13 speed cassettes. Even older Rotor hydraulic shifters will work with this new system!
MTB shifter has two levers, with some extra options:
It can be set up so that only one lever is used for both shifting up and down, depending on whether it is pushed partially, or all the way down. The other shifter lever can then even be removed (that is a designed option).
Both MTB and road shifters allow the following:
(when used in two-lever mode for the MTB) one lever push can do up to four downshifts in one stroke.
With road shifters, lever resistance can be fine tuned – to take more, or less strong pushing for shifting, using a barrel adjuster.

7. Derailleur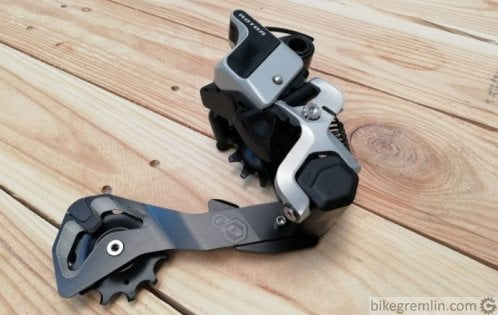 Rear derailleur has the following (interesting) characteristics:
Chain wrap capacity of 42 teeth, sufficient for the largest 10-52 cassette.
Clutch mechanism that prevents chain drop even on bumpy terrain.
A lever for releasing the cage spring tension – to loosen the chain tension for easy wheel removal.
Indexing is built and executed within the derailleur mechanism, not using the shifter lever.
A button for selecting 13, or 12 speed operation.
Clutch system allows the derailleur to be fixed in one position – in case the shifter housing gets torn by any chance – a clever "limp-home" solution.
An obvious advantage of a closed hydraulic derailleur control system is resistance to external influences (moisture, dirt, electro-magnetic interference etc.). Downside is not being able to do a quick roadside repair in case the housing gets torn (in 30+ years of cycling I've had cables break, but never housing get that damaged).
If it's not obvious already: the same derailleur is used for both road and MTB.

8. Brakes
For brakes, Rotor cooperates with German Magura – a company experienced in this field. This makes sense, especially for a company that is still relatively small and developing. So the brakes should be of decent quality. 13 speed hubs are made for disc brakes only (though no one forbids you to lace a disc hub with a rim-brake rim), but for 12 speed (and the front hubs) Rotor makes a rim brake option as well, though not as a part of the new 1×13 groupset.
New groupset will be distributed only in the disc brake version – both for road and MTB.
Digression:
In terms of rim brakes, Rotor's 11 speed Uno groupset (already on the market) offers hydraulic road bike rim brakes, in addition to disc brakes. Rotor Uno road brake/shifter levers work with the new 13-speed derailleur.
I haven't got a picture of the new disc brakes, but the existing road bike rim brakes are very interesting. Who remembers old, problematic Campagnolo Delta brakes? Rotor's Uno rim brakes have a similar, elegant and aerodynamic design, but without the inherent flaws – no increase of mechanical advantage during the caliper (pad) travel, which caused Delta brakes to lock the wheels when it's not desired and cause wheel slide. Unlike Italians, the Spaniards have apparently made both the looks and the proper function. Note: haven't tested, this is just judging from the few tech drawings and videos I've sen.
Using the new 13speed shifter with the "old" hydraulic rim brakes seems possible, although Rotor's reply to that assumption was that it "would require mechanical chopping by the user and is not something we would recommend however is technically possible".

9. Mass ("weight") and prices
Table 1 gives an overview of component mass and price. As that data gets known, fields will be filled. So far there's not much data, except Rotor's assurance that prices will be competitive and the total groupset will weigh less than the competition's. Most of the data given here is unofficial (for now).
| | | | |
| --- | --- | --- | --- |
| Table 1 | | | |
| Component type | Model | Mass (g) | Price ($) |
| Shifter | Road shifter/brake levers | n/a | n/a |
| | MTB | n/a | n/a |
| | | | |
| Cranks(et) | 2INpower Road Cranks with axle | 608 g | * |
| | | | |
| Rear Derailleur | 1×13 derailleur | 350 g | n/a |
| | | | |
| Cassette | 10-36 13-speed | 236 g | n/a |
| | 10-39 13s | 241 g | n/a |
| | 10-46 13s | 290 g | n/a |
| | 10-52 13s | 321 g | n/a |
* Rotor has a wide range of different cranks, axles, chainrings for road, MTB, cyclocross etc. Best to look up on their site what matches your riding style and preferences.

10. Conclusion – verdict
Rotor has made something new and different. Positive side is the possibility of free combining of road and MTB components, cranks, chainrings etc. System works with both 13 speeds and with 12-speed cassettes matching SRAM standard. Note that SRAM has made NX Eagle 12-speed cassettes that fit Shimano Hyperglide freehubs. In addition to the previous XD 12-speed standards for SRAM XD freehubs. This means that people can use Rotor's group (at least the 12-speed version) with any Shimano Hyperglide, or SRAM freehub (wheel). Either with Shimano, or a SRAM cassette. I am not sure if Shimano's 12-speed cassettes (Hyperglide+ standard) have the same pitch so they too can be combined with Rotor's groupset.
Hydraulic shifting is more resistant to external influences which is a good thing. "Set and forget" as Rotor says. 🙂 In the 12-speed range, it doesn't lag behind Campagnolo, Shimano and SRAM – they each have their pros and cons, so it's a matter of choice, priorities and preferences. In the 13-speed "area" – Rotor is the only one.

11. Sources

12. UPDATE: Official weights and prices
I got the official data, so will share it here:
Component:
Weight (mass):
1×13 groupset including shifters, derailleur, brakes and hydraulic hosing
(Flat mount callpiers, uncut hoses: 1,800 mm x 3mm / 1,800 mm x 5 mm / 950 mm x 5mm, 160 mm rotors and all hardware included),
10-36 – 13s cassette, chain (uncut 126L)
1,785 g
Right hand shifting brake set
*Inc: Right Hand Shifting & Brake Lever, Rear Derailleur, Rear Brake Calipers, Brake Rotor & Hardware
863 g
Left hand brakes set
*Inc: Left Hand Brake Lever, Front Brake Calipers, Brake Rotor & Hardware
443 g
12s Cassette 11-36 / 11-39
225 / 221 g
12s Cassette 11-46 / 11-52
282 / 314 g
13s Cassette 10-36 / 10-39
236 / 241 g
13s Cassette 10-46 / 10-52
290 / 321 g
Q RINGS Chainring 48T
131 g
2INpower Road Cranks (includes axle)
608 g
ALDHU Cranks (without axle)
352 g
Standard Axle (ALDHU)
96 g
RVOLVER 1×13 Rear Hub (Centerlock lock-ring included)
246 g
RVOLVER 1×13 Front Hub (Centerlock lock-ring included)
124 g
Chain (uncut)
269 g
Carbon Wheels (Centerlock lock-ring included)
1,476 g
Aluminium Wheels (Centerlock lock-ring included)
1,556 g
Component:
Price (MSRP):
Right hand shifting brake set
*Inc: Right Hand Shifting & Brake Lever, Rear Derailleur, Rear Brake Caliper, Brake Rotor & Hardware

€1,229.00 / £1,099 / $1,350
Left hand brakes set
*Inc: Left Hand Brake Lever, Front Brake Caliper, Brake Rotor & Hardware
€438 / £399 / $480
12s Cassette 11-36 / 11-39
€334.00 / £299 / $365
12s Cassette 11-46 / 11-52
€349 / £309 / $365
13s Cassette 10-36 / 10-39
€379 / £339 / $415
13s Cassette 10-46 / 10-52
€399 / £359 / $415
Chainring
From €115 / £109 / $115
2INpower Road Cranks
€1,299 / £1,149 / $1,400
ALDHU Cranks (without axle)
€249 / £225 / $300
Standard Axle (ALDHU)
€49 / £55 / $60
RVOLVER 1×13 Rear Hub
€344 / £299 / $344
RVOLVER 1×13 Front Hub
€155 / £139 / $155
Chain
€55 / £49 / $60
Carbon Wheels
€1,499 / £1,328 / $1,650
Aluminium Wheels
€658 / £588 / $658
Bleeding kit Shifters
€115 / £99 / $125
Bleeding kit Brakes
€39 / £35 / $45
| | | |
| --- | --- | --- |
| Groupset profile | Description | Total price (MSRP): |
| 1×13 Ultimate performance | 1×13 Groupset Kit 2Inpower | €4,499 / £3,999 / $4,900 |
| 1×13 Super Light | 1×13 Groupset Kit Super Light | €3,449 / £3,050 / $3,800 |
| 1×13 Adventure | 1×13 Groupset Kit | €2,599 / £2,299 / $2,800 |
| 1×13 Compatible | 1×13 Ready Groupset Kit 12 Speed | €1,999 / £1,750 / $2,200 |