For basic terms explanation and history of BBs, as well as threaded BB standards, read this article: Bottom bracket standards – 1st part.
BBs with press fit (threadless) cups usually use cranksets with the spindle (axle) attached to the right crank arm. For installing, and especially for replacing, BB cups, special, expensive tools are needed, in order to avoid damaging the frame when installing/removing BB cups. Finally, left crank arm is bolted onto the left hand side of the spindle, as it protrudes through the frame's BB shell.
Most press fit standards use spacers on the spindle to eliminate play and make fine chainline andjustments.

1 a) BB30 (Cannondale)
First pioneer of press fit BBs was Cannondale, with their BB30 standard. Spindle diameter was increased to 30 mm (compared to previous Shimano Hollowtech II standard). To accomodate that, it requires frames with BB shell 42 mm wide (up to then, standard was around 34 mm for British and Italian threaded BB shell standards). BB shell remained 68 mm for road and 73 mm for MTB frames.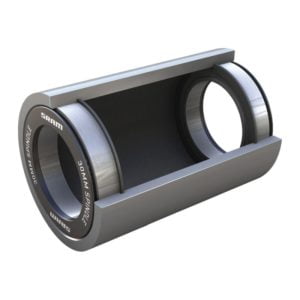 Bearings are pressed directly onto the frame, all the way to the snap ring, for which a groove is manufactured inside the frame's BB shell. This requires precise frame BB shell manufacturing, with very strict tolerances, or it squeaks badly!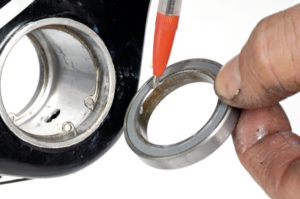 BB30 is the lightest and the stiffest current standard. It is an open standard (Cannondale didn't protect the patent), so all the manufacturers can use it at will. The main weakness of the standard is it requires a unique crankset (spindle) dimension, incompatible with the existing ones, but that can be overcome using various adapters. Because cups are installed directly into the frame shell, frames must be manufactured with strict tolerances.

1 b) BB30A
Like BB30, but left bearing is moved by 5 mm outward, so they are asymmetrical.

2 a) PF30 – PressFit 30 (SRAM)
Unlike direct pressing of bearings into the frame, PF30 uses a plastic sleeve as an interface. This allows slightly looser frame BB shell manufacturing tolerances, than BB30.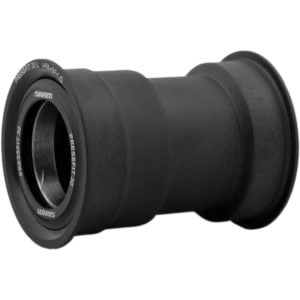 The frame shell diameter for this standard is 46 mm and the width is 68 mm for road and 73 mm for MTB frames. The spindle diameter is 30 mm (like BB30).

2 b) OSBB (Specialized)
Similar to BB30 and PF30, but BB shell is measured and drilled all the way from one side and with slightly stricter tolerances.

3. BB86, BB90 and BB92 – Shimano Press Fit (Shimano)
Also uses a plastic sleeve (like PF30). A bit wider BB shell – 86.5 mm (BB86) for road and 89.5 mm (BB90), or 92 mm (BB92) for MTB frames. Shell diameter is 41 mm. The spindle width is 24 mm (Hollowtech II crankset compatible).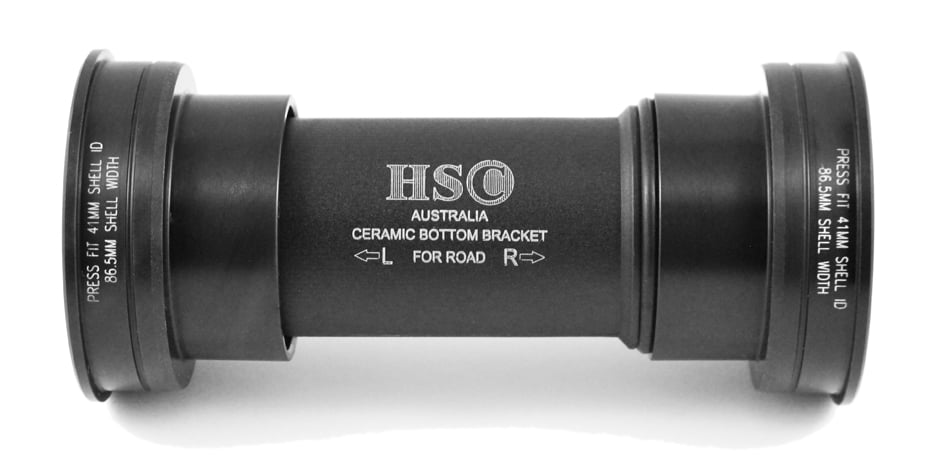 4. BBright (Cervelo)
Uses plastic sleeve as an interface between the bearings and the frame. Shell diameter is 46 mm and width 79 mm. It is asymmetrical, so the left hand side bearings sit 11 mm further out than the bearings of the BB30 standard. It is mounted outside the frame, like externally mounted Hollowtech II cups. Spindle diameter is 30 mm (like BB30 and PF30).
Asymmetric bearing placement enables for wider BB shell tubing, making the frame stiffer and lighter, without widening the horizontal distance between pedals (Q factor). It is an open standard that other manufacturers can freely use.

5. BB386EVO
Shell diameter 46 mm, width 86.5 mm. Also uses plastic sleeve interface. Spindle is 30 mm wide. It uses the same cups and bearings as PF30 and BBright.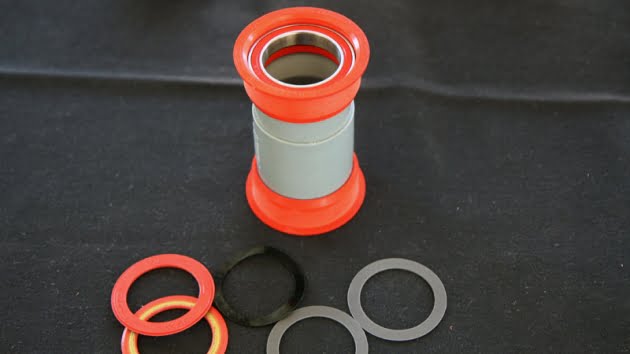 6. BB90 and BB95 (Trek)
Bearings are pressed directly into the frame, like BB30. Shell width is 90 mm (BB90) for road and 95 mm (BB95) for MTB frames, with a 37 mm diameter. Spindle diameter is 24 mm.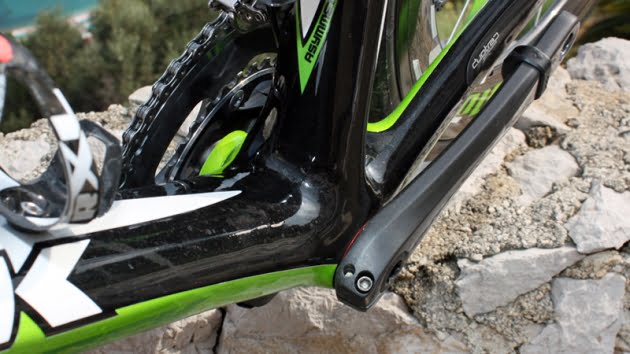 7. PF86 and PF92 (Scott, Giant, Pivot)
Spindle diameter is 24 mm. Shell diameter is 86.5 mm (PF86) and 92 mm (PF92). Standard similar to BB86 and BB92.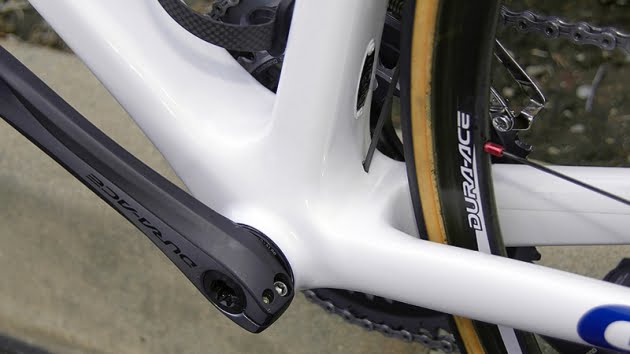 8. Overview
| | | |
| --- | --- | --- |
| Standard name | Frame shell diameter | Frame shell width |
| 1. BB30, BB30A | 42 mm | 68 mm, 72 mm |
| 2. PF30 | 46 mm | 68 mm, 72 mm |
| 3. BB86, BB90, BB92 | 41 mm | 86.5 mm, 89.5 mm, 92 mm |
| 4. BBright | 46 mm | 79 mm |
| 5. BB386EVO | 46 mm | 86.5 mm |
| 6. BB90, BB95 | 37 mm | 90 mm, 95 mm |
| 7. PF86, PF92 | | 86.5 mm, 92 mm |
This concludes overview of press fit BBs. Next post will explain the new threaded standard T47 (back to the beginning?). 🙂
Link: T47 – new threaded BB standard
Here is a short overview of threadless (press fit) BB standards.