Updated: 07/09/2020.
Previous posts in this series have explained: 1. saddle materials, 2. padding thickness (and softness), 3. saddle shapes and 4. measuring one's sit bone width. This post explains how to choose an optimal saddle width. Apologies in advance if some parts resemble an anathomy notebook. 🙂 The last chapter (5.) gives a simple formula and the reader can jump straight to it. Previous chapters are given to provide an explanation why it is so. Because choosing a saddle is very individual and can hardly be put in a formula, the given explanation can help in search of a good fitting saddle (as well as the previous four posts on this topic).
Contents:
1. Why is it important to choose an optimal saddle width?
2. Prerequisites neded for determining the optimal saddle width
3. Sit bone curvature
4. Usable saddle width
5. Which saddle width, get to the point?!

1. Why is it important to choose an optimal saddle width?
After choosing a saddle material, padding and shape, it is important to choose an optimal saddle width. A saddle that is too wide can cause thigh chafing and irritation, while a too narrow one can cause discomfort in the pubic area.

2. Prerequisites needed for determining the optimal saddle width
When choosing an optimal saddle width, two factors are important:
Sitting position (how straight/leaned forward is one riding)
Sit bone width
Sitting position can be straight (back at a 90 degree angle), slightly leaned (60 degree angle), more leaned/"aggressive" (about 45 degrees), or (almost) completely flat forward – see picture 1.


Measuring sit bone width is explained in the post: Measuring sit bone width. Sit bone width is an obvious factor when choosing a saddle width, but why is the sitting position important? That is explained in the next chapter:

3. Sit bone curvature
Sit bones have a curved shape, narrowing from the rear towards the front. Shown in picture 2.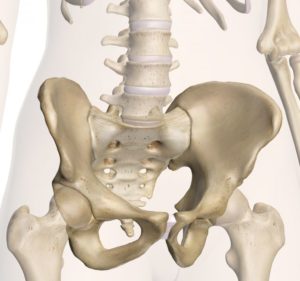 Saddle should provide support of the sit bones, so that body weight is not distributed over some other, more sensitive body parts. As the body is leaned forward, sit bones usually rotate forward as well (more, or less, depending on rider's flexibility).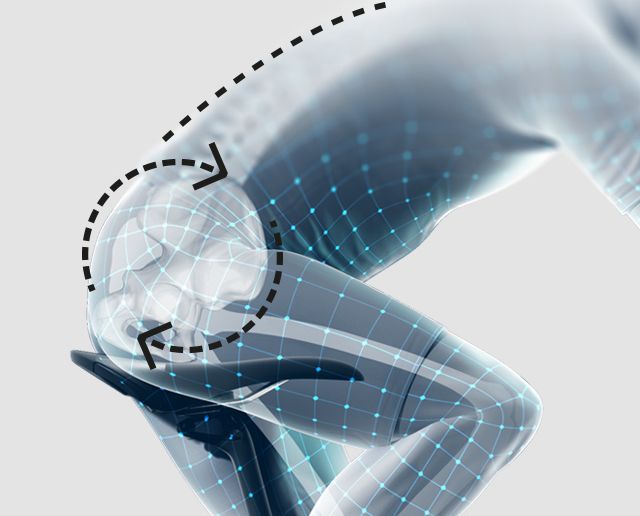 As the pelvis is rotated forward (picture 3), a narrower part of the pelvis is leaned on the saddle (picture 2). That is why the optimal saddle width depends on the riding position (picture 1).
Picture 4 shows this on a pelvis model: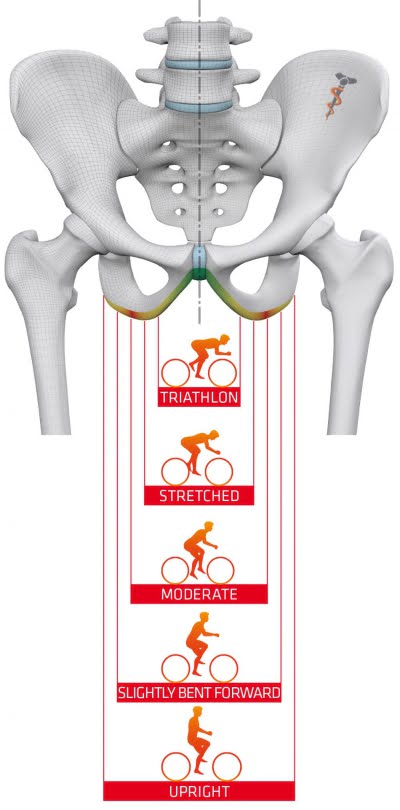 Saddle that is too narrow for an upright sitting position can be of optimal width for a leaned forward riding position, and vice-versa (picture 5).


4. Usable saddle width
Manufacturers usually note saddle width in milimeters on the part of the saddle where it is the widest. However, depending on saddle shape, not all of this width can be used to support the body (sit bones). The more a saddle is curved, the more it is important to make note of this.

Excess width is often important – but for reasons other than supporting the body. It has it's merits in centering the rider on the saddle, eliminating sharp (chafing) edges, leaving the padding some room to flex etc. For this reason, width of the saddle (or the part of the saddle the sit bones are leaned on) should be at least two cm (one cm to each side) greater than the width of the part of the sit bones that are leaned on it.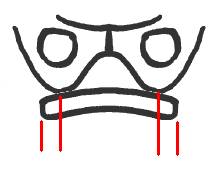 Sounds complicated, it is simplified in the following, last, chapter.

5. Which saddle width, get to the point?!
Picture 8 speaks more than a thousand words:


Picture 8 shows a simple guide: how many cm to add to the measured sit bone width in order to get an optimal saddle width.
For example, if a road bike is used, with very leaned forward position (like in the 2nd drawing from the left in picture 8), and if measured sit bone width is 125 mm, then a saddle should be 1 cm (10 mm) wider, which is about 135 mm.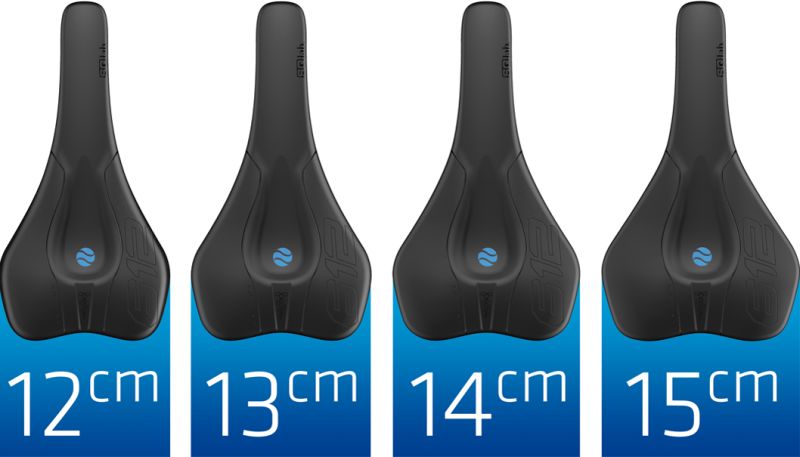 It should be noted that this too is just a guide, a starting point when trying out new saddles. Optimal saddle width is also individual. Some riders prefer "one size" wider saddles, while others prefer slightly narrower.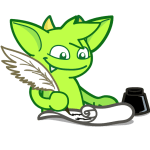 When trying out a new saddle, give it a week or two time for the body to adapt, then decide whether it is comfortable or not. Once one, finally, finds a very good fitting saddle, it is best to buy 3-4 saddles at once, since shapes and models are changed almost every year. That way the search for a perfect saddle can be avoided for a long time.