In this article I'll explain the basics of drum brakes (including the "Shimano roller" brakes), and compare their pros and cons to disc and rim brakes. The emphasis is on bicycle brakes, but the principles are the same for motor vehicles (cars and motorcycles).
Cover photo attribution: Michael Denney (mikedvb.com link) – thank you 🙂
Separate articles explain the proper bicycle braking technique (and why you should primarily use the front brake), and disc brake pros and cons.
Table Of Contents (T.O.C.):

1. What are drum brakes (& "Shimano roller")?
Drum brakes got their name because of a "drum-shaped" (cylinder) that houses brake pads. Braking is done by pressing the pads against the "drum," from the inside.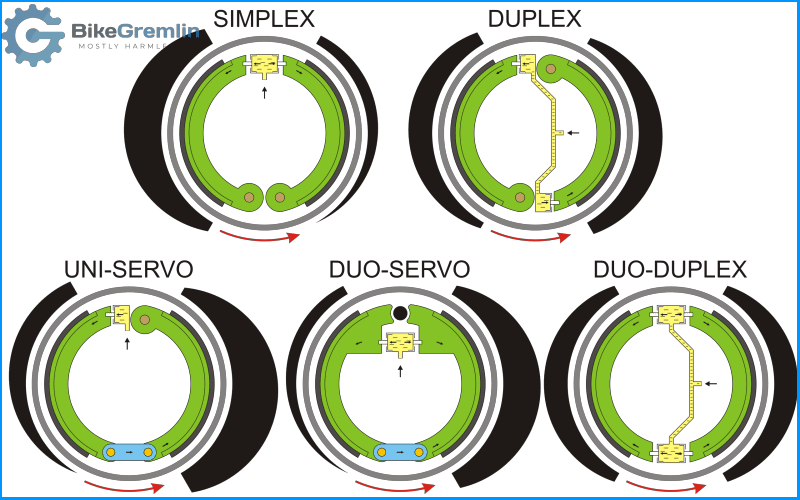 With most auto and bicycle drum brakes, the drum is fixed to the wheel and rotates with it, while the brake pads are stationary on the inside of the drum. Once a brake lever is activated, the pads are pushed outwards, against the drum, creating friction and braking torque (link to my video about torque).
Shimano roller brakes are a bit different. There, the drum is fixed to the bike's frame, while the pads rotate along with the hub (and the wheel). But the working principle is basically the same.

2. Drum brake advantages (pros)
Drum brake design is over half a century older than disc brake design, but they are still widely used, for a number of reasons:
Relatively long service interval (less frequent pad replacement etc.).
Excellent protection from physical damage/impacts.
Huge stopping power, greater than disc brakes with a similar disc diameter.
Cheap to manufacture.
No inherent rubbing by design – unlike disc brakes.
Because of these pros, drum brakes are an excellent choice for automobile and truck parking brakes, and rear wheel brakes of many motor vehicles. Also, they are a good choice for urban city bicycles, at least in flat areas.

3. Drum brake disadvantages (cons)
In mechanics (like in football), there's no "best." There's only an optimal choice, when all the pros and cons are weighed against the priorities and the intended use. So let us take a look at some cons that often prevent drum brakes from being the first choice:
Self-energizing effect (further explained below) prevents brake modulation, making these brakes dangerous for any fast riding/driving.
Poor heat dissipation, which can lead to a total loss of braking ("brake fade") when braking intensively (racing, winding downhill riding etc.).
There are other disadvantages (and advantages), but the here-noted are the most important to consider, in my opinion.
Whoever's had the pleasure of "spiritual" classic (drum brake) motorcycle riding in the wet knows what the self-energizing effect looks like. When brake pads are pressed against the drum, there's friction. Thanks to the pad pivot point mount relative to the drum's rotation, this friction presses the pads more strongly against the drum. Which creates even more braking force and even more friction. You see where this is going? Yup – wheel lockup!
To prevent this, it's often necessary to (almost) completely release the brake lever/pedal, and wait for a split second for the spring to pull the pads back, away from the drum.
Disc and rim brakes don't have these problems because the pads engage the disc/rim from the sides, perpendicular to the braking surface.
A solution for this doesn't exist as far as I know. Shimano tried to alleviate this problem with their roller brake design: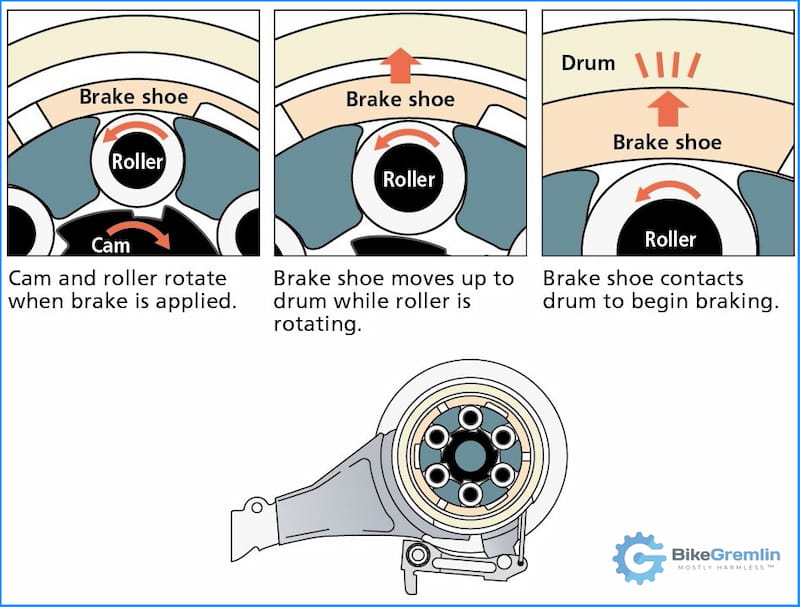 Unfortunately, any reduction of the self-energizing effect results in drastically reduced braking power, especially compared to the amount of generated heat. So Shimano roller brakes have noticeably lower stopping power compared to the "classic" bicycle drum brakes, but also a lower tendency to lock up the wheel. This makes them suitable for leisure riding on flat land (in my opinion and experience).
All in all, you can choose between a wheel lockup, and a fading brake with the existing drum brake designs. Those are the limits of that technology, and among the main reasons why rim and disc brakes were introduced.

4. Conclusion
Drum brakes are neither good nor bad in and of themselves. There are use-cases when they are a good idea, and when they are a poor choice. For riding in hilly terrain or for "spirited" ("sports," "competitive") riding, they would not be my first choice.
In other words, to be blunt (at the cost of sounding like a fear-monger):
Because of their poor modulation, I consider (at least the front) drum brakes to be not perfectly safe, especially for hilly areas or faster riding.