In my bike shop I use lots of various bicycle tools. Many of those tools are made by Unior. That's why I decided to write this article about Unior bicycle tools, in general. Separate reviews of each tool I use will follow – both for Unior and other manufacturers' tools. Note: this entire text is based on my personal opinion, knowledge and experience, while all the prices are mentioned in terms of local Serbian prices, so your situation may differ (Park Tools for example are often cheaper in the USA).

1. Unior's history
Unior company, in their first form, started in 1919, in Slovenia (a part of Yugoslavia at the time) – Zreče. Turning 100 this year. 🙂 However, only after the Second world war had it started making long dashes towards what it is now. More details on Unior's history can be found on their website. Here I won't go into those details, but will note that for many Yugoslavs, Unior was a symbol of reasonably priced tools with decent quality (especially for hobby use). If there were any tools in a house, at least some were Unior's. 🙂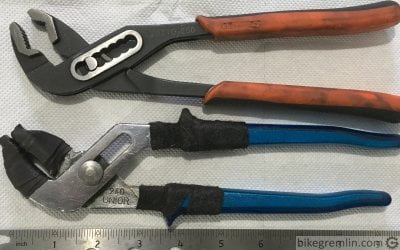 Pictures above show joint and long nose pliers I had inherited from my father – they've been in use for around 40 years now. Unior "general use" tools have been widespread in Yugoslav households. My "relation" to Unior was: "our tools", that I'm used to using and know its quality and attributes. It brings back nice memories from the early childhood: getting my first tools, first toolbox… In the remainder of the text (and in tool reviews), I will be objective and to the point, but it's clear that for me "Unior" does strike some special chords that aren't just about working metal.

2. Unior tools quality
Back to the master works, after a brief semi-lyric excursion. 🙂 Unior has always been some lower/middle class of tools. For about 1/3 of the price you could buy tools that are half as good (first Russian, now Chinese made) and for triple price you could always get tools that are twice as good – the likes of Facom, Metabo etc.
I've had very good results/experience with Unior's allen wrenches (hex keys), and most wrenches (open end, combination, offset ring…).
Unior joint pliers, on the other hand, are something I'd avoid – Bahco (Amazon affiliate link), for example makes cheaper and better quality ones. Most other Unior pliers generally have a problem with handle insulation moving, or coming off relatively quickly and too easily. But they work fine apart from that (picture 1b shows about 40 year old long nose pliers that I still use).
Screwdrivers and other "general" tools are mostly mid-class: there are better tools, but Unior's are still quite OK even for every day workshop use.
Next chapter deals with bicycle repair/maintenance tools separately, since that is the main theme here. 🙂 On a more general note of tool production and quality, BikeRumor has made a nice article after a visit to Unior's tool production facility in Slovenia.

3. Unior bicycle tools
What's the situation with bicycle tools? Here I'll go into more details – though not for each tool, of course (that will be done in separate reviews).
3.1. Quality
By quality I mean robustness (durability) and manufacturing precision (especially important for threads).
My experience and impression is that Unior has made a move towards upper-middle class with most of their bicycle tool line. They have occasional "misses", but most of the tools are built with good quality tool steel and with good precision.
3.2. Ergonomy/ease of use
Most of the tools are well designed for easy handling and working. I don't know if they just copied best designs of other manufacturers, or included experienced mechanics in testing and development (though I suppose one doesn't exclude the other), but the end result is such that I've got no complaints. Unior bike tools are nice to work with – period.
3.3. Price and availability
I'd say that Unior bicycle tools are reasonably priced/affordable for the quality they offer (at least compared to other prices in Serbia and the neighbourhood). Plainly put: unless you find a good discount/sale, you're not likely to beat Unior in terms of price-quality ratio. This goes for many, though not all the Unior's bicycle tools. More detail in separate reviews.
In other words, as a mechanic, I'd like these tools for free, delivered at the shop, preferably with a cup of coffee, or a bottle of ale – depending on delivery hours. 🙂 If I were Unior, however, I wouldn't decrease the prices for two reasons:
Low price sends a signal that the product is "cheap" (both in literal and metaphorical meaning of poor quality).
There won't be enough room for research, development and marketing – which is all very important for staying in business nowadays.
Another very important aspect is availability. Serbia for example is a small market and most products aren't available at all – one has to buy them from abroad. Unior has distributors for most of the world's countries. My experience with the Serbian distributor has been exceptional – if the others are half as good, there will be no problems. Other Unior distributors:
3.4. Brief tool overview
I'll give a short list of some Unior tools that I use at my garage, with a short description of each.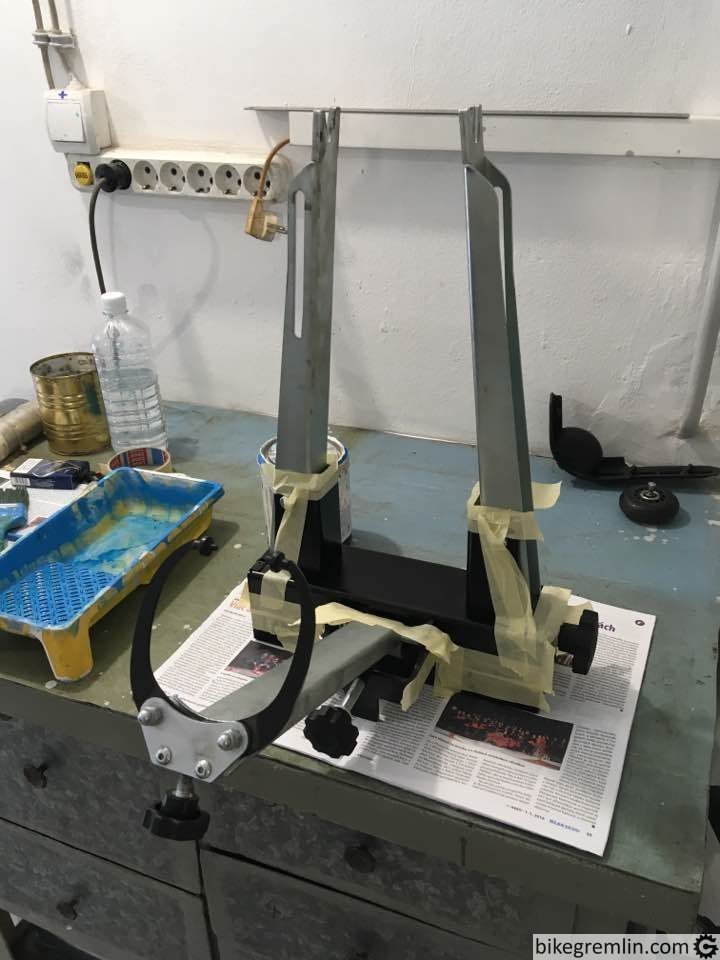 Unior Pro Truing Stand 1689. Picture 2a shows the preparation of the truing stand for painting. Black and grey background were not practical for seeing gaps when truing black, or white/pale coloured rims. Apart from this alteration, it's a top class truing stand.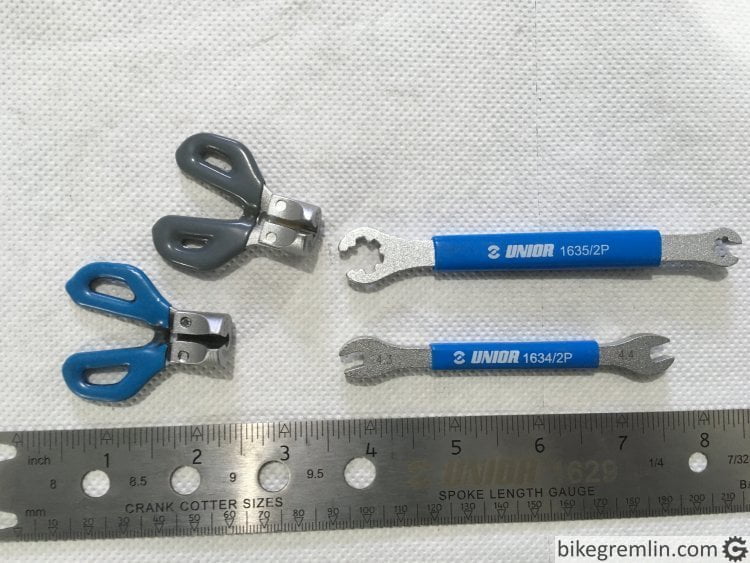 Unior spoke keys for various nipple types and dimensions. For 3.3 mm nipples, the one in pic. 3b is my favourite key.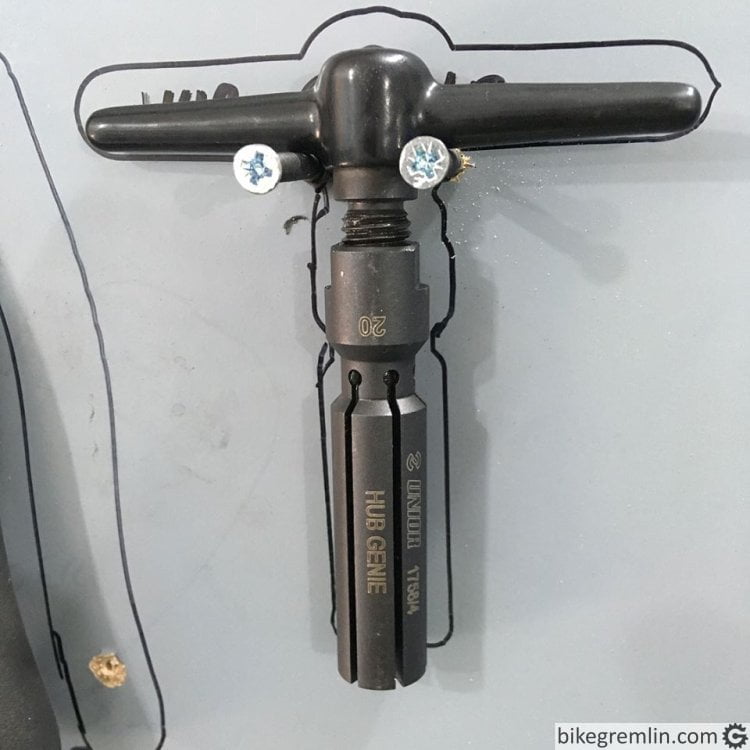 This was just a short overview of some good quality and innovative tools from Unior. Each of these tools deserves a separate article, explaining all the good points and advantages, as well as downsides, of course. Will do so, when I find the time.
I've already made a short "preview" of Unior's modular bicycle frame and fork tools. More "real" reviews will follow.

4. Conclusion
When talking with other mechanics about Unior tools, the experiences are usually along the lines: it's fine, but I prefer some other brand depending on the mechanic's field of expertise. Except when it's about bicycle tools! There Unior is often the first choice – and not because of a low price.
Unior has seriously entered bicycle tool market. Copying some proven designs and making some innovations as well (both things are positive in my opinion). The likes of Park Tool and Var have got a serious competitor now. In some markets, like Serbian, Unior is without competition, simply because no other tools are available (looking at you Park Tools 🙂 ).
For buying Unior tools, you can look for you local distributor, local bicycle, or tool shops, or shop online, using my Amazon affiliate link (as an Amazon Associate I earn from qualifying purchases), or other e-store that sells bicycle tools.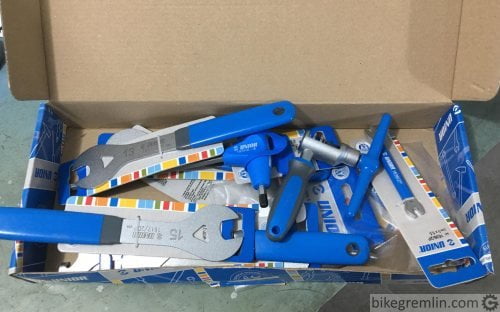 Unfortunately, it is hard to find Unior tools on Amazon – either by model name, or number, unlike some other tools. So although I'd love to be able to provide links for particular tools that I've been happy with, the supply is not stable and always available.
Video about Unior bicycle tools: