This post will explain bottom bracket compatibility. Which bottom brackets (BBs) can be combined with which crankset standards.
Before you start, to avoid any misunderstanding:
please take the 5 minutes needed to read the compatibility articles use instructions.
Posts that explain in detail the history and construction of each BB standard can be found here:
1 History and threaded BB standards
2 Threadless (press fit) bb standards
T47 – a new threaded BB standard
Note: crankset for mounting on externally screwed in bearings, with a hollow axle 24 mm in diameter, is compatible whichever manufacturer produces it. So: Race Face X-type, FSA MegaEXO, Truvativ/SRAM Giga X Pipe (GXP), Campagnolo Ultra Torque – they are all compatible with Shimano Hollowtech II standard, so only Hollowtech II will be named in tables and remainder of the post.

1. Compatibility of bottom brackets
Table of BB standard and compatible cranksets of different standard (all the BBs accept the same standard cranksets, of course, others require an adapter, as is explained in chapter 3):
BB standard
Crankset compatibility
Threaded (brit, ital.)
square taper, ISIS, Octalink, Hollowtech II, BB386EVO
The first 3 require BB cartridge of their standard to be installed. HTII and BB386EVO require HTII BB shell
1 a) BB30
Hollowtech II, BB386EVO,
1 b) BB30A
Hollowtech II, BB386EVO, BBright, BB30 if they have spacers on the left side
2. PF30, OSBB
Hollowtech II, BB386EVO, OSBB, BBright, BB30
3. BB86, BB90, BB92
Hollowtech II
4. BBright
Hollowtech II, BB386EVO
5. BB386EVO
Hollowtech II, BBright, OSBB, BB30 if the spindle is long enough
6. BB90, BB95
Hollowtech II
7. PF86, PF92
Hollowtech II, BB386EVO
T47
All – if the spindle length is appropriate

2. Compatibility of cranksets and different BBs
Table of crankset standards and compatible BBs (all the cranksets are compatible with the BBs of the same standard, of course, the others needing a special adapter):
| | |
| --- | --- |
| Crankset standard | BB compatibility |
| Square taper | Threaded (british, italian) |
| Octalink | Threaded (british, italian) |
| ISIS | Threaded (british, italian) |
| Hollowtech II | Threaded (british, italian), BB30, BB30A, PF30, OSBB, BB86, BB90, BB92, BB95, BBright, BB386EVO, |
| BB30 | PF30, OSBB, BB386EVO if it matches the spindle length, BB30A if the crankset has spacers on the left side |
| BB30A | BB30 with use of spacers on the crankset |
| PF30 | / |
| OSBB | BB386EVO |
| BB86, BB90, BB92 | / |
| BBright | BB30A, PF30, OSBB, BB386EVO |
| BB386EVO | Also available as threaded (British, Italian), BB30, BB30A, PF30, OSBB, BBright, PF86, PF92 |
| BB90, BB95 | / |
| PF86, PF92 | / |
| T47 | Fits all the BBs – if the spindle length and diameter match the required for the BB used |

3. Combining different standards
There are several adapters made by various independent manufacturers that can match certain BB standards with certain crankset standards. They are usually placed directly into the frame, replacing the "standard" BB bearings. Solutions vary from case to case.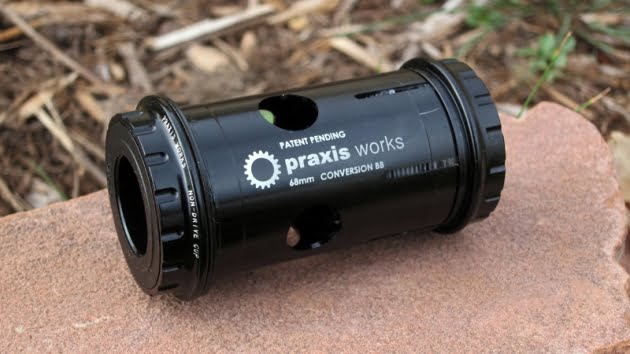 Amazon.com search of bottom bracket adapters (as an Amazon Associate, I earn from qualifying purchases).

4. What to pay attention to when buying bicycle, cranksets, or BBs?
In terms of both BBs and cranksets, of course. There are so many (in)compatible standards and how not to get confused or get mismatching equipment? Just follow these simple steps:
Always check for the frame you have, or are planning to buy, what standard of BB does it's BB shell have. Pay attention to all the details.
If buying a BB, make sure it fits the frame BB shell (as determined in step 1).
If changing cranksets
BB30 and PF30 cranksets won't fit frames with different BB shell standard, because their spindle will be too short.
Cranksets with 30 mm wide spindles won't fit into frames with BB86, or BB90 BBs, but with correct BB some can be made to fit into threaded frames.
Cranksets with 24 mm spindle diameter are the most versatile and, with the right BB, or adapters, can fit almost any frame.
Cranksets with 24 mm spindle diameter are not all the same! SRAM and some other manufacturers make spindles that are 24 mm wide at one end, and 22 mm wide on the other, so the correct matching BB needs to be acquired.
If the frame has a press-fit BB shell (without threads, threadless), then you need quite expensive, special tools to install and remove/change BBs. If not using such tools (like a bearing press), bicycle frame can be damaged.
On the other hand, threaded BBs allow the use of simple, inexpensive tools.
When it is all set up correctly, differences between different BBs (e.g. stifness) are never perceivable when riding the bike – basically they are unimportant. So there is really no need to buy a frame with a certain BB standard because it is marketed as stiffer, better. Just see what kind of frame you like, or what components you already have, and go for the simplest, easiest, cheapest solution to make it all work.

5. Author's personal opinion
For ease of installation and replacement, threaded BBs rule! 🙂
Square tappr and Octalink BBs are by far the most durable, long lasting ones.
New T47 standard looks promising, but still not enough first hand experience data to confirm durability and ease of maintenance.
Related post – Bicycle cranks ("crankset") compatibility:

Compatibility posts are also available in eBook (printable and Kindle) and paperback editions on Amazon: