This post explains the tools needed and the proper procedure of removing rear sprockets of rear wheels that have them.  🙂   Tools needed will be listed after the preparation procedures are explained, for reasons that will become apparent after reading paragraphs preceding the tool list.
If you have any questions (or additions and corrections), please use the BikeGremlin forum:
www.bikegremlin.net
Table Of Contents (T.O.C.):

1. Removing the wheel
First, of course, the wheel needs to be removed. Procedure and tools are explained in this post:
How to remove a wheel.

2. Determining whether the wheel has a freehub, or a freewheel
Before choosing the correct tools, it is necessary to first determine which of the two systems is used (unless that is already known). This article explains the differences and how to tell:
Freewheel vs Freehub.

3. Tools required
Adjustable wrench, big one, or a wrench that matches the freewheel, or freehub key's nut.
Copper grease. Any grease at hand can be used, but copper grease is the best for this application.
Cotton cloth or some kitchen paper wipes.

3.1. If freewheel is used
Key for freewheel removal.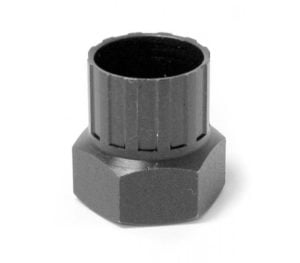 3.2. If a freehub is used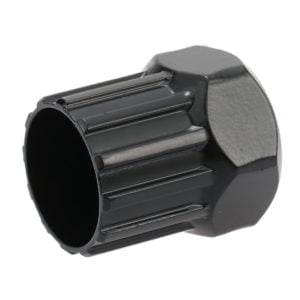 Freewheel key can fit cassettes as well. However, because of the smaller "teeth", it will not fit splines deeply enough and this can damage the interface. With cassettes, use a cassette key.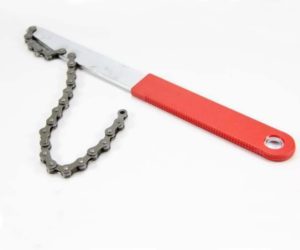 For old freehub standard "Shimano Uniglide" (current one is called Hyperglide – current as of 1990s), two chain whips are needed.

4. Putting the freehub, or freewheel tool in place
Make sure the freewheel key slides nicely into the frewheel splines.
If the key doesn't slide in, perhaps the axle needs to be turned a bit (quarter of a turn), or even a locknut holding the cones needs to be removed from that side.

5. Removing (unscrewing)

5.1. Freewheel unscrewing (for freehub cassette, go to 5.2.)
For those having a vice, it is best to mount frewheel key into the vice (removing it first once it's confirmed it slides easily, in step 4. Make sure it is horizontal and tightly held in place, so that the splined part protrudes up. Then carefully place the wheel onto the splines, make sure it is well seated.
All that is left now is to turn the wheel counter clockwise and the freewheel will unscrew. Sometimes getting it to move takes quite a bit of force.
If not using a vice, first make sure the tyre is mounted onto the wheel and well inflated.
Then place the wheel on the floor, against a wall. Insert freewheel key into place. Use wrench to turn it counter clockwise and with quite a bit of force.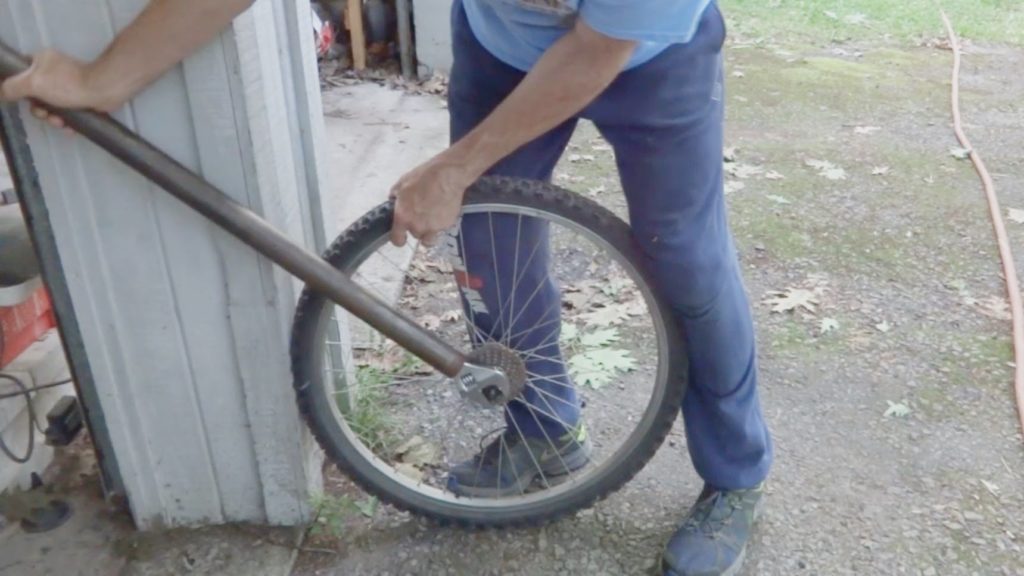 Once it gets tarted, it goes easily. Freewheel key can be turned by hand.

5.2. Cassette (freehub) removal
Once a cassette key was put into place (step 4.), place the wheel on the ground so that cassette is facing you, wrap the chain whip on the right hand side and bring the wrench clamping and turning the cassette key from the left.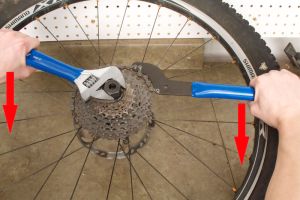 It will go very hard, suddenly unscrewing after considerable force is applied. Make sure not to hit something, or loose balance. After that, it is easily continued with bare hand – just turn the locknut all the way out.
When the lockring is unscrewed, the cassette is simply slid off the freehub splines. Make sure not to mix sprockets and spacers, they might come loose when removing cassette.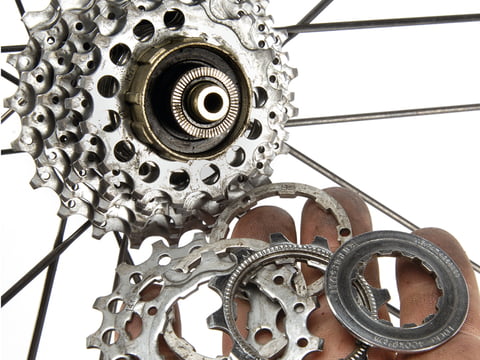 With old, Shimano Uniglide freehub types, the smallest sprocket acts as a lockring.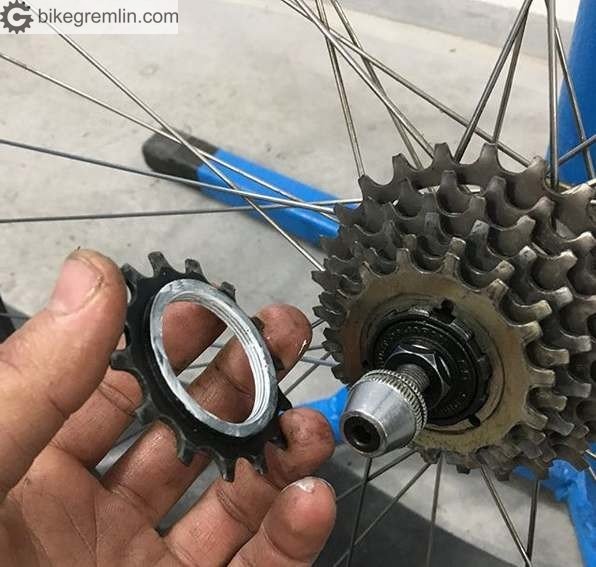 For removing this type, it takes two chain whips. One to hold the cassette, preventing it from from turning, and the other to loosen the smallest sprocket – anti-clockwise.

6. Mounting

6.1. Mounting a new freewheel (for freehub go to 6.2.)
Clean the freewheel threads on the hub and on the freewheel. Put some copper grease onto the hub threads for frewheel mounting (or on the freewheel itself). Or any other grease at hand, but best use copper grease. That will prevent frewheel from getting stuck by the next time it needs replacing.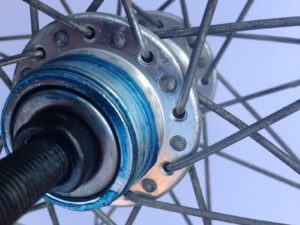 Carefully screw the frewheel onto the hub. Make sure when starting that it's parallel and it goes on nice and easily. If there's resistance when starting, there's cross threading, it wasn't screwed in parallel. Use a frewheel key to unscrew (the key should be turned easily, by hand) and start over. When it starts screwing in smoothly, screw it all the way. Tighten by hand, just make sure to avoid cutting palms on the sprocket teeth. Use cloth or gloves. It is enough to tighten by hand. It is further tightened when pedalling.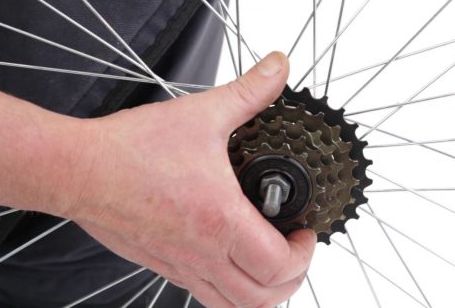 6.2. Cassette mounting
Place sprockets and spacers back in order they were removed. Modern hypeglide cassettes and freehubs have one spline wider than the others, to help with correct rotation alignment of sprockets.
Smear some copper grease over locknut threads and the part where it presses the smallest sprocket, then gently screw it in place by hand. Check visually whether it is all properly seated.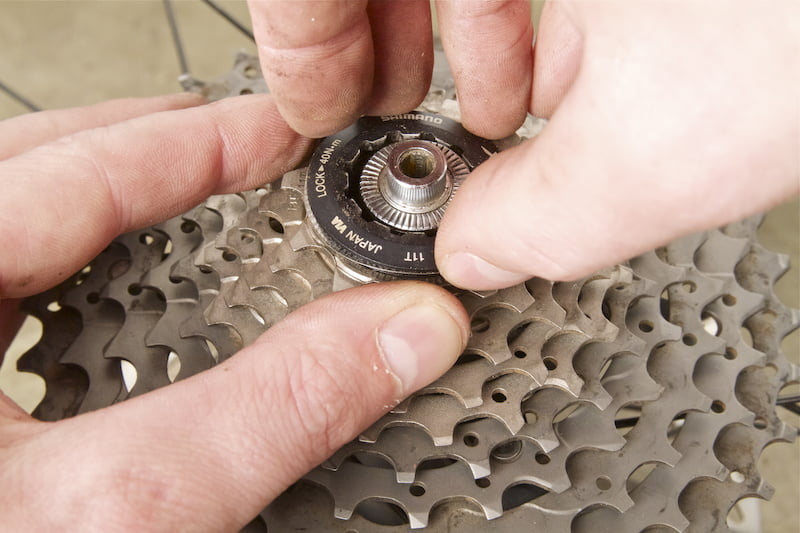 Finally, with a lockring key and a wrench, tighten the locknut to the appropriate torque.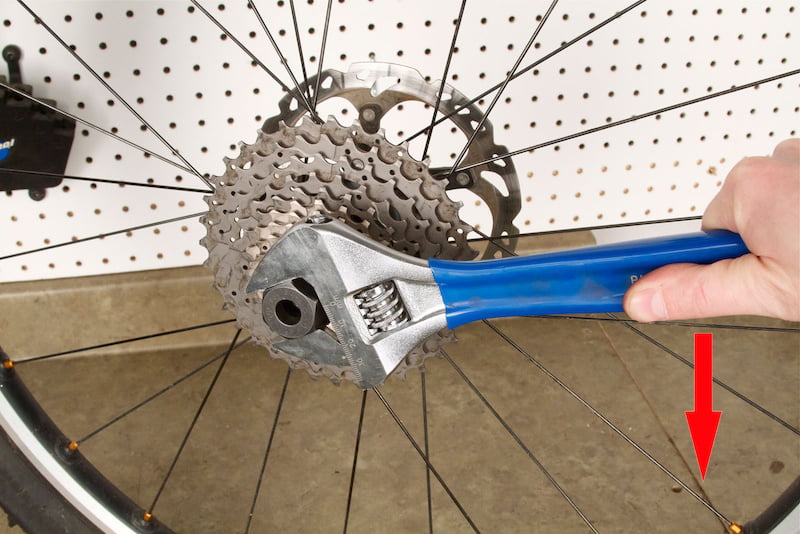 Related post – Bicycle rear hub compatibility:

If you have any questions (or additions and corrections), please use the BikeGremlin forum:
www.bikegremlin.net